(Other names : Janaki, Maithili, Vaidehi, Janaknandini, Sita Mata, Seeta , Siya)
Sita was the daughter of Janak, the King of Mithila (modern day Janakpur in Nepal – refer to the map). Her mother's name was Sunayana. It was part of the divine plan to annihilate the Rakshasa's (demons or evil forces), that led to her birth in Raja Janak's house.
Sita was actually the human incarnation of Goddess Lakshmi (Goddess of Wealth), who is the wife of Lord Vishnu (the Preserver of the Hindu trinity of Gods), who incarnated as Shri Ram. Hence the divine couple played the role of being together on the earth as they are in the heavens. The story of Sita's birth is truly amazing and awe-inspiring.
Once upon a time, a great famine befell Janak's kingdom. The subjects were in dire straits, and miserable. When the royal priest was consulted, he suggested that the King should conduct a Yagna (a fire sacrifice) and then till the land with a golden plough.As the King took on the task, he found the plough stuck in the field. No amount of effort would make it move. The earth around the plough was dug out. Lo and behold! A divine baby girl appeared at that spot. Raja Janak did not have any daughter of his own, so he was overjoyed to find this baby girl. The tip of the plough is called Sita in Sanskrit, and thus the baby was named. As the daughter of Janak, she also came to be known as Janaki. Sunayana brought up Sita with lots of tender care and love.
There are many other legends linked to the birth of Sita.
According to one of the tales in the Puranas, the traditional texts of ancient lore, Vedavati, an incarnation of Lakshmi, the Goddess of Wealth, was observing severe penance in the forest, when Ravan came along and saw her, and was captivated by her beauty.
He could not resist touching her with his hand, overcome as he was with desire. Vedavati was enraged at his presumption, and cursed him that a woman would be the cause of his death. "In the future, if you ever try to seduce any woman against her wishes, you will be instantly reduced to cinders", she said. Ravan crept away, hapless. Vedavati then used her yogic powers to reduce her own body to ashes. It was then she appeared as Sita from the earth's depths.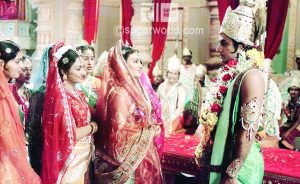 There is yet another legend. Ravan sent a messenger to some sages who were meditating in the Dandaka forest and asked them to pay him tax. The sages declared, "All we own is our bodies; the only tax we can give is our blood.They collected the blood from their veins into a 'matka' (earthen pot). They sent the matka off via a messengerwith a word of warning. "This will bring about Ravan's destruction".
Their words kindled fear in the heart of Ravan and he sent the pot far, far away to be buried in the distant land of Mithila in a field. It was from this pot that Vedavati appeared from the land.
When Sita was a child, she picked up and held the enormous bow of Shiva in the Mithila armoury. To date, no man or god had beenable to move that massive divine bow, which Lord Shiva had used to destroy Tripurasura. Thereafter, the bow had been placed in King Janak's armoury. When Janak saw how easily Sita handled the bow with one little hand, he decided to search for Sita's match on the basis of Shiva's bow. Any man who can lift and string this bow will win my Sita's hand in marriage, he had declared.
On coming of age, Sita's Swayamwar (ceremony for prospective bridegrooms) was arranged. Mighty warriors like Banasura and Ravan could not even move the bow. But young Ram, Prince of Ayodhya, who had arrived with his Guru Vishwamitra, picked up the bow with great ease with just one hand. As soon as he picked it up and went to string it, the bow of Shiva broke into two halves, and thus Sita's hand was given to Ram in marriage.
When Ram was exiled to the forest for fourteen years, Sita too followed her husband into exile. In the Dandaka forest, when Shoorpanakha tried to convince Ram to marry her, Lakshman cut her nose and ears off. She ran off to complain to Ravan, her brother and the king of Lanka, reported how brave asuras like Khar, Dooshana and Trishara had been destroyed, along with their armies, by Ram and Lakshmana.
To avenge the insult to his sister, Ravan sought the help of Mareech, the man of many miracles. While Sita was alone in the forest, Ravan tricked her into leaving the magic circle of protection, and carried her away. But bearing in mind the curse of Vedavati, he did nothing more than keep Sita in a garden of Ashoka trees in Lanka.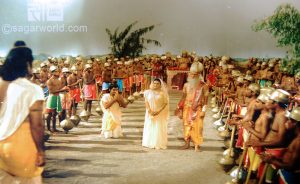 In search of Sita, Ram and Lakshman met Hanuman and befriended Sugreeva. Eventually Hanuman reached Lanka and found Sita. Assisted by Sugreeva, Ram had built a bridge over the sea to Lanka, and with his Vanar Sena (monkey army) Who had crossed over the Sea.
A mighty battle ensued. Except for Vibheeshan, Ravan's brother, who had sought refuge with Ram, the entire clan of Ravan was destroyed in the battle. This was the reason for the incarnation of Sita. With Ram, Sita returned to Ayodhya.
But, a washerman's remark that Ram had accepted Sita even after she had stayed in a strange man's house stung Ram. As a King, he had to be beyond any such criticism of his conduct. Ram told Lakshman to take Sita away and abandon her in the forest. She was pregnant at that time. She found refuge in the ashram of Sage Valmiki, where her twin boys Luv and Kush were born.
When Ram conducted the Ashvamegh Yagna (horse sacrifice), Sage Valmiki sent Luv and Kush to narrate the text of the Ramayana he had written, for the occasion. When Ram realised that Luv and Kush were in fact his own sons, he called for Sita, and requested her to prove her sanctity and purity in the court before the crowd.
Sita agreed. Then, before the assembly, she declared, "If I have never thought of any man but Ram, let the earth now burst asunder and take me back into her bosom!" Then and there, the floor cracked open and a magnificent throne arose out of the depths.Sita seated herself on that throne, and descended back into the earth from which she had originally arisen. No plea or command of Ram could make her return; Sita was gone for good.
The pure character of Sita is an inspiration for all womankind. Her values of being a one-man woman, of her sacrifice and her virtues make her an ideal in these times when values have become eroded and sacrifice has only become a word in the dictionary.