Soon the invitation and message sent by King Janak reached Ayodhya and the messenger narrated the details of the "Swayamvar" and Ram's lifting of the mighty arrow of Lord Shiva, thereby winning Sita's hand. A proud Dashrath knew his son had great potential to be King, but he waited to declare Ram as King until the marriage ceremony was over.
King Dashrath, along with the leading citizens of Ayodhya, Bharat, Shatrughna and others immediately prepared and then set out in a resplendent wedding procession or "baarat" for Janakpuri. The groom's party was accorded a warm and ceremonial welcome at Janakpuri. The two kings, now bound by the children's alliance, embraced warmly.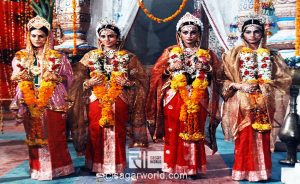 As advised by Vishwamitra and his guru, King Janak arranged for the wedding of the other princes at the same time. Thus Lakshmana was married to Urmila, Mandavi to Bharat, and Shrutkirti to Shatrughna, there at the same wedding pavilion as Ram and Sita.
Even the gods from heaven appeared there to witness this wondrous spectacle. The women sang auspicious songs, while the "apsaras" in heaven danced with joy. After the wedding, Janak bade a tearful farewell to Sita, distraught at being parted from his beloved daughter.
The groom's party returned to Ayodhya with the four new brides. The three mothers-in-laws welcomed them ceremoniously, with auspicious music, song and celebration. They stepped into their new households with the ceremony of "griha pravesh" (Vedic ceremony of entering into a new house). The whole city of Ayodhya rejoiced with song and music.
Vishwamitra was given a warm and cordial farewell by King Janak. Bharat and Shatrughna went with their Uncle to stay with the maternal grandfather of Bharat, who lived at Kaikey (present day Caspian Sea, Kaikey was called thus because she was originally from that area). The days passed by in peace and joy.
King Dashrath then held counsel with his ministers regarding the appointment of Ram as "Yuvaraj", designating him as the heir to the throne. His decision was approved by his court and hailed by the senior citizens and the prominent people of Ayodhya
People burst into celebration hearing the news of the choice of Ram as Yuvaraj (young King) and Ayodhya resounded with music and celebration, while "Mangalkalash" (auspicious pots) were placed at the crossroads and gates of the city. But when Kaikeyi's favorite maid Manthara saw this spectacle, she became very envious.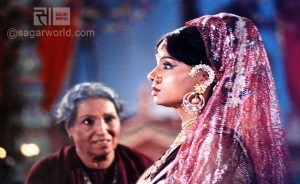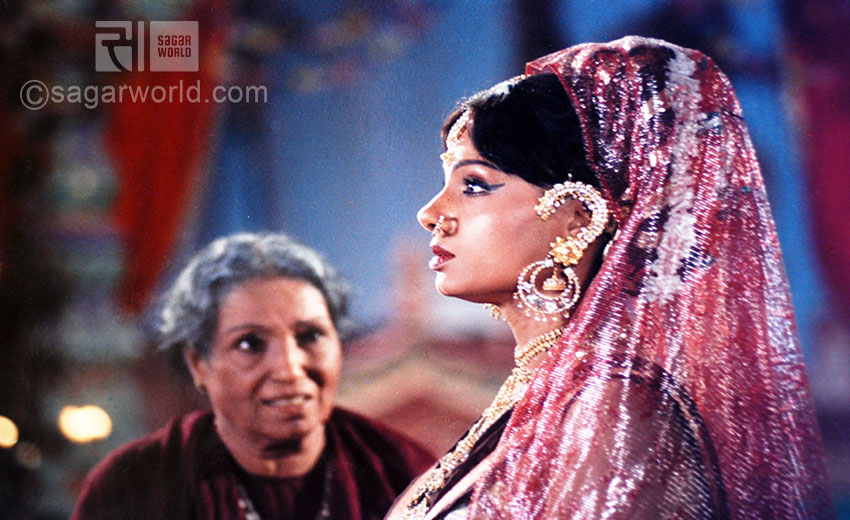 She burnt with anger and resentment when she saw people making merry, singing and dancing as they rejoiced at the choice of Ram as heir apparent. Accordingly, she went to Kaikeyi's palace and began to fill her ears with devious bits of gossip and malicious insinuations.
She assured her that if Ram became king, then Kaushalya would then become the most important queen, and Kaikeyi as the third wife would then be treated little better than a slave. When Manthara saw that the queen was being swayed by her words, she launched another strategy.
She advised Kaikeyi that she could still turn the game around to her advantage if she were to use the two boons granted to her long ago by Dashrath when she had saved his life during a battle. 
Influenced by Manthara's evil insinuations, Kaikeyi went into the "Kopbhavan" (room in the palace kept for sulking purposes), threw off her jewels, put on a drab black garment, her hair disheveled and flopped down on the bed in an angry pose.