Shri Ram, Lakshman and Sita reached the hermitage of Bhardwaj, The Sage welcomed them and they spent the night there. Ram requested Bhardwaj's advice on finding a place where they could spend their years in the forest.
Bhardwaj said, "Your ideal place is in the hearts of your devotees, but from a worldly perspective, there is a place nearby, by the banks of the River Mandakini, at Chitrakoot. It is a very peaceful and picturesque place. Many sages spend their ascetic lives around there."
Bidding farewell to Bhardwaj, Ram, Sita, and Lakshman reached Chitrakoot. The forest dwellers Bhils and tribals welcomed them with delicacies from the forest, flowers and fruits. At Chitrakoot, on the slope of Kamadgiri hill, Ram and Lakshman built a small hut for their home. They lived there, surrounded by ascetics and tribals.
Story of Shravan Kumar and Death of Dashrath
When Sumantra finally returned to Ayodhya alone, without Ram, and told Dashrath that he could not persuade Ram to return, the king fell into deep sorrow and could not be comforted.
He could not bear the idea of separation from his beloved Ram. It was then he recalled an incident from his youth, when he had gone hunting one evening.
A young man, Shravan Kumar, was fetching drinking water for his old, blind parents from the river Sarayu. It was a moonless night. Young Dashratha heard the sound of the pot in the river and thought it was an animal drinking the water.
He shot a "Shabd Bhedi Baan" (an arrow aimed by listening to the direction from where the sound came from), and to his horror, he heard a human cry instead of an animal one.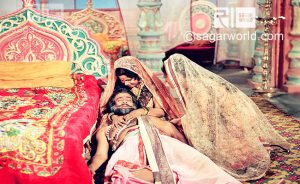 He ran to the riverbank and found that he had fatally wounded a young man. The dying Shravan Kumar asked Dashrath to take the water to his parents, who were thirsty, and to give them the news of his death.
When Dashratha told Shravana's blind parents that he was the cause of their son's death, they cursed him that he too would someday die of the sorrow that came from parting from a beloved son, and then threw themselves into the flames of their son's funeral pyre.
After recounting this memory, Dashrath then uttered a last sorrowful cry of 'Ram!' and breathed his last. That night, in his grandparent's house, Bharat had a sad nightmare, and told Shatrughn about it. Just then, some messengers arrived from Ayodhya, requesting them to return home at once.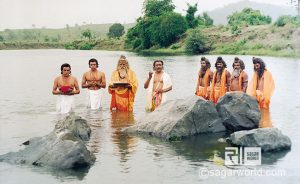 When the two princes reached Ayodhya, they found it in deep mourning. When they learnt of their father's untimely death, and that the cause of it was the devious designs of Kaikeyi, Bharat's mother, they were stunned and shocked.
They criticized Kaikeyi with harsh words, and Shatrughna caught hold of Manthara and dragged her by hair plait in anger.
As instructed by Guru Vashishtha, they performed the funeral rites for Dashrath, and made oblation to their ancestors with sampoorna pindodaka kriya (complete last rites).
Bharat wents to forest to bring back Ram
Bharat was asked to accept the throne, and that the coronation ceremony to install him as king of Ayodhya was ready to be performed. But he declined, and insisted that according to Suryavanshi code, only the eldest son could ascend the throne.
Bharat then declared that  his mother may have sent Ram to the forest, but that he himself would now fetch him back, after performing a "Rajtilak" (ritual of coronation) to crown him king.
Everyone hailed his decision. Bharat, Shatrughna, Guru Vashishtha, the ministers, courtiers, senior citizens, the queens and kingsmen all set out to meet Ram in the forest and bring him back.
With his entourage, Bharata reached Shrngaverapura, the City of Nishadraj Guha. At first Guha suspected Bharat's motives. He wondered if after attaining the throne, Bharat had come with some evil intentions against Ram. Guha planned to attack Bharata with his army, but an ill omen gave him pause, and on the advice
of a wise old man, he instead sent two spies to discover Bharat's true intentions. When he learnt that Bharat was in fact planning to persuade Ram to return as king, he then befriended Bharat and personally escorted them to the ashram where Ram was staying.
The entourage reached Bhardwaj's ashram, where the Sage welcomed Bharata, Shatrughna, GuruVashishtha and the others. They rested there in the ashram for the night and next morning, all of them set off towards Chitrakoot to meet with Ram.