विघ्नेश्वराय वरदाय सुरप्रियाय, लम्बोदराय सकलाय जगत्‌ हिताय ।
नागाननाय श्रुतियज्ञभूषिताय,
गौरीसुताय गणनाथ नमो नमस्ते ॥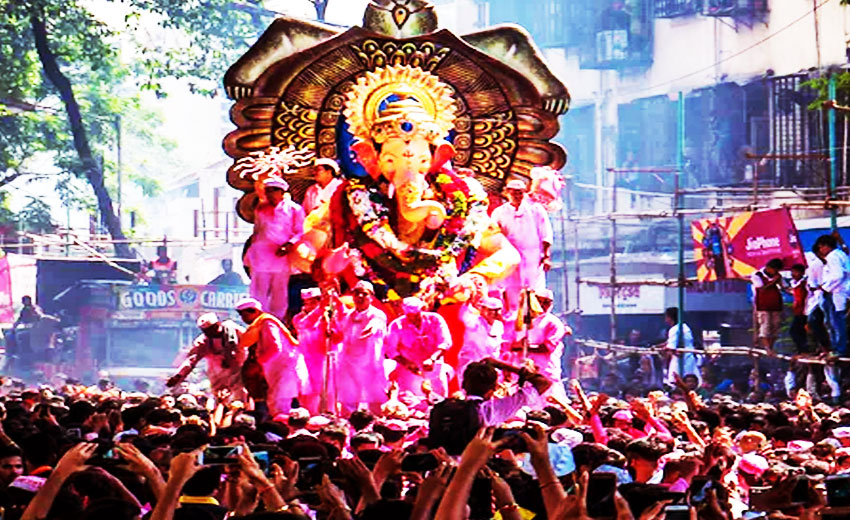 Indian Festival Ganesh Chaturthi is undoubtedly & officially Maharashtra's most revered & famous festival. It falls on the 4th day of the bright fortnight of Bhadrapada (August – September). It is celebrated  throughout India, by devoted Hindus in all parts of the world.
If one has to see the true Maharashtrian colours, the free spirited jovial marathi's, visit Mumbai in the festive celebrations of Janmashtami & Ganesh Chaturthi. While Janmashtami is celebrated 1 day celebration, Ganesh Chaturthi is a ten day celebration in absolute exuberance.
The day of Ganesh Chaturthi marks the arrival of Lord Ganesh in this mythical world. He is the second son of Bhagwan Shiv & Bhagwati Parvati. The birth story of Lord Ganesh is in fact unusual:
Birth of Ganesha
Once Bhagwati Parvati created a boy out of the dirt of her body and named him Ganesh. She blessed her dear son with divinity and left for bath. She clearly instructed Ganesh to make sure no one disturbs her seclusion. Ganesh promised to guard the doors till she comes back. Unaware of the events, Bhagwan Shiv arrived, only to find a young boy halting his way.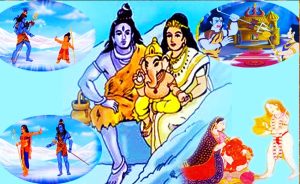 He did not allow Shiv, his father to go inside as he did not recognize him. Ganesh was resurrected in a newer form and the world got a new deity who later was renowned as 'vighnharta', remover of obstacles.
The reason why Shiv beheaded Ganesh was due to the arrogance and stubbornness ingrained on him, the reason behind it was his formation. Made from Devi's dirt, there were flaws in his conduct and Shiv removed that to purify his son; sending a message, that harder steps must be taken, if needed, even if it involves family.
Ganesh is represented as a short, pot bellied man with yellow skin, four arms and an elephant head with only one tusk. In his four hands, he customarily holds a modak, an axe, a lotus flower and the fourth one blesses the devotees.
He is the presiding deity of the Muladhara Chakra, the psychic center in the body in which the Kundalini Shakti resides. Muladhara Chakra is first Chakra and gate to enter the spiritual world. His Bija Akshara (root syllable) is "Gung", pronounced to rhyme with English word "Sung".
Story of Pratham Pujya
Ganesh rose to fame and reverence when he taught the world significance of father & mother in our daily life. Once Ganesh and his brother Kartikeya had a dispute as to who was the venerable of the two. The matter was referred to Lord Shiv for the final decision. Shiv decided that whoever would circumnavigate the world and come back first to the starting point had the right to be the elder one.
Kartikeya flew off at once on his vehicle, the Peacock, to make a circuit of the whole world. But Ganesh chose wise over labour he circumambulated in loving worshipfulness, around his parents and asked for the prize of this victory.
Bhagwan Shiv said, "Beloved and wise Ganesh, how can I give you the prize? You did not go around the world". Ganesh replied "No, but I have gone around my parents, my parents represents the entire manifested universe and hence I have gone around the world".
Thus, the dispute was settled in favour of Lord Ganesh who was thereafter acknowledged as the venerable of the two brothers. Shiv also blessed him that from then, no ritual or worshipping would be deemed complete without Ganesh-archana. The devotee has to worship Ganesh first and then continue with the rituals. This boon garnered him the title "Pratham-pujya".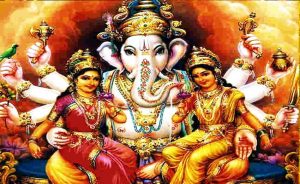 That is why he is known as "Prathmesh" which means "First Deity". The importance and respect given to Ganeshji is reflected by the fact that the person who heads Lord Shiv's group of followers is called Ganpati or Ganadhipati. Lord Ganesh has few other names like Ekdant (the Lord with one tooth), Lambodar (Pot bellied Lord) and Gajanan (elephant headed Lord).
Shree Ganesh is married to Riddhi and Siddhi. Mouse is the carrier of Lord Ganesh and his favourite food is Modak (round sweet balls made out of gram flour). Due to his marriage, he is also revered as Lord of Riddhi Siddhi (Riddhi means materialistic achievement and Siddhi means intellectual power) that is why he is also known as "SIDDHI VINAYAK".
Famous Ganpati Temples:
SIDDHIVINAYAK TEMPLE at Dadar, Mumbai is most widely worshipped Ganpati Temple. On Tuesdays, (day of Ganpati which is also ruled by the planet Mars (Mangal) who is symbolic of Ganpati ji in astrology) devotees in lakhs visit this Temple. out of their ardent faith in Ganpati walk miles  barefoot to the Temple, Also famous are the ASHTAVINAYAK GANPATI (eight Ganpatis at eight different places in Maharashtra).
There is Ballaeshwar in Pali, Maha Ganpati in Ranjhangaon, Moreshwar in Moregaon, Varad Vinayk in Mahad, Chintamani in Theur, Girijaatmaj in Lenyadri, Siddhi Vinayak in Siddhitek and Shri Vighnahar in Ozhar. Ganesh Chaturthi is the most important of all Mumbai and Pune festivals are celebrated with great aplomb amongst Marathi community worldwide.
On the occasion of the Ganpati festival, a large number of idols are made of all possible sizes and people buy them to keep in their houses as a divine guest for one and a half, five, seven or ten days or twenty one days in exceptional cases after which the idol is taken out ceremoniously and disposed off into the river, sea or well for immersion (Visarjan).
The pooja can be a simple one performed by the head of the family and witnessed by family members, close friends, involving a priest who would come home and perform the pooja. People gather around chanting Sanskrit shlokas/verses when the idol is installed. Aarti (prayers and hymns in worship of Lord Ganesh) is done several times every day after that. After the aarti, flowers, haldi and kumkum are offered to the women and prasad is distributed to all those present. Modak is the most famous and most typical food preparation of Ganesh chaturthi celebrations.
During the festival days, beautifully sculpted Ganesh Idols are installed in the mandaps (large pandals) that are colour fully decorated, depicting religious themes or current events. There are huge public displays of Ganesh idols with aarti and loud music, dancing by devotees.
The Public Ganpati festival held at Lal bagh, Mumbai is the most famous Ganpati in Maharashtra and is renowned as " LAL BAGH CHA RAJA"(King of lal bagh).
It is famously believed that whatever one wishes for from the Lalbag Ganpati is sure to be fulfilled. There is always a long queue for the darshan of this Ganpati and people don't mind waiting for hours just for glimpse of their favorite God.
When the idols are immersed in water, people sing, "Ganpati Bappa Morya, pudchya warshi lavkar ya", this means, "O lord, Please come early the next year.