(Other names : Sampatee, Samapti, Samapati)
Sampati was the elder brother of Jatayu and the son of Arun, who drove the chariot of the Sun God. Kashyap Rishi's wife Tamra had a younger daughter called Shuki who had a daughter called Lata, who gave birth to Vinata and whose son was Arun.They were giddha (vultures) of the Deva (celestial) dynasty. Their uncle was Garuda, the vehicle of Lord Vishnu. Sampati and his brother Jatayu could fly high, higher then any other bird in the sky.
One day Sampati and Jatayu decided to go near the Sun God to see him from close. They began to fly higher and higher. They flew so high that their wings began to be burnt and scorched.To protect his younger brother from the Sun's rays, Sampati spread his wings over him. As a result, his own wings were completely scorched and he fell down to the earth, near the Vindhya Mountains by the Southern Sea.also was no longer able to fly, and fell to earth near the the banks of the Godavari River. This way, the two brothers got separated from each other. Sampati's wings were completely burnt, his body was wounded and his feathers gone.His eyesight was also weakened. He spent his time in a cave in the Vindhya Range. His son, Suparshav, used to hunt animals for his food. Bereft of his wings, he had to face a lot of problems and his life had become pitiable.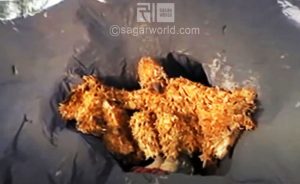 One day he managed to somehow reach Sage Chandrama. Earlier, the two brothers used to assume human form and visit him often. However, Sage Chandrama did not recognize Sampati for he looked very different after being burnt by the sun. Sampati narrated all the events leading to his scorched state and asked him if he could regain his health and restore his earlier looks.
Sage Chandrama said that in Tretayuga (one of the four periods the earth goes through each extending for millions of years before creation is destroyed by the great Pralaya (deluge) and started all over again), Suryavanshi King Dashrath will have a son called Ram.He will go to the forest for fourteen years. In Dandaka forest, Ravan will take away his wife Sita to Lanka. The Vanara king Sugreeva will send his envoys in search of Sita and reach the Southern Sea. When they find from you the whereabouts of Sita, your feathers will sprout and your body will be whole again.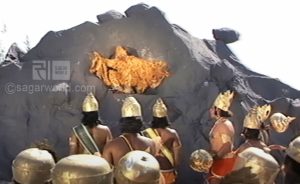 Sage Chandrama lived his life out and ascended to heaven. Thereafter Sampati waited for fourteen thousand years. He had become quite old and weak. One day his son Suparshav could not bring any food for him so he ventured out of his cave in search of food. On the seashore he saw a group of monkeys. He thought perhaps he could eat one of them. But then he heard them talk about Jatayu's death. They were saying, blessed is Jatayu, for he died while serving Ram. We have been searching for so long but have not been able to locate Sita.
Sampati introduced himself as the brother of Jatayu. He requested the monkeys "Please help me up to the edge of the ocean so I can offer jalanjali (an offering of water) for the final rites in the memory of my brother. Then I will tell you about Sita's whereabouts."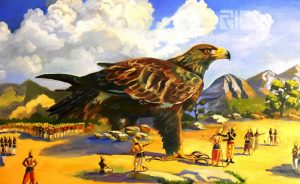 Hanuman, Angad and other Vanaras helped Sampati to reach the seawater and lift jalanjali (palmfuls of water as an offering). He then told them that his son Suparshav had seen Ravan carrying away a lady in his aerial chariot."She was crying out 'Hey Ram! Hey Lakshman!' and sobbing. When my son told me this, I scolded him for not helping the hapless lady but he had gone in search of food for me and could not help her."
Sampati then said "If any of you can jump a hundred yojanas (1 yojana = 8-10 miles) over the sea, you could reach Lanka. My divine sight enables me to see Sita there." As soon as he gave them the news about Sita, Sampati became healthy, his wings and feathers sprouted and he flew away.Based on Sampati's information, Hanuman was able to make the leap to Lanka and found Sita in Ravan's palace garden. Sampati and Jatayu are crucial to the story of Ram and their role can never be forgotten.