(Other names : Aangad, Anghad, Angada)
Angad friend of Ram, was the son of Bali, the elder brother of Sugreeva. His mother was Tara. When Ram killed Baali, before he breathed his last, he had given over his son, Angad, to the care of Ram.When Sugreeva was appointed the king of Kishkindha, Angad was made the Yuvraj (prince designate). Angad was a great favorite of Lord Ram. In the battle between Ram and Ravan, Angad was made the commander of the army.
When Sugreeva sent Hanuman and Jambavat to the southern directions in search of Sita, Angad was put in charge of the main search party. When a month had passed in the search for Sita, Angad was very distressed at their failure to find her. It was Jambavat who reassured him. When Hanuman returned with the news of Sita at last, Angad breathed a sign of relief.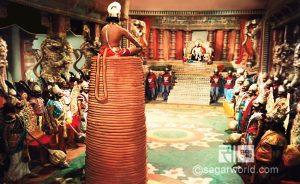 On crossing the bridge made over the ocean, Shri Ram, Lakshman and Sugreeva reached Suvela Mountain in Lanka. Then, on consultation with Jambavat, Shri Ram sent Angad as his envoy to the court of Ravan.
When Angad was on his way to the court, Ravan's son saw him and blocked his path, hurling many insults at him.
Ravan's son mistook Angad for the same vanar (monkey) who had set Lanka on fire, which was Hanuman. He challenged Angad to a fight, but with one mighty blow, Angad killed him at once. There was a tremendous uproar in Lanka when the news of his death spread.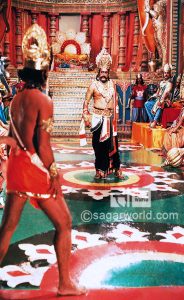 In Ravan's court, Angad strongly advised Ravan to return Sita at once to Ram, and seek refuge at Ram's feet. Else, he warned, all of Lanka and his Rakshasa (demonic) army would be completely destroyed. While giving his introduction, Angad said of himself: "I am the son of Bali, the monkey in whose armpit you stayed for six months." Ravan was humiliated to be reminded of this incident. 
Displaying his prowess, Angad put one foot forward, and declared "If anyone can move my foot, then we will give up our demand for Sita's return and Ram will depart from Lanka."Many powerful warriors from Ravan's court tried and tried to lift Angad's foot but in vain. Then a group of rakshasa's tried to collectively lift Angad's foot, but they could not do so.
Filled with rage, the arrogant king Ravan came forward. As soon as he bent down to lift Angad's foot, Angad, the friend of Rama said to him, "O Ravan, would it not be better to touch the feet of Shri Ram instead?" Ravan was again embarrassed and crestfallen.As he bent down, his crown fell off his head.
Angad seized it and threw it, the symbol of Ravan's kingly authority, far away, and it fell at the feet of Shri Ram. Filled with rage, Ravan cried, "Seize this vanar (monkey)! Kill him!"  But no one had the courage to approach Angad, much less capture him. Without any opposition, Angad returned to Shri Ram.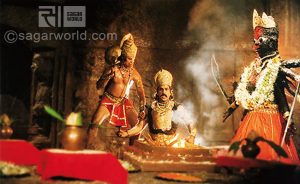 On the next day, during the battle alongside Hanuman, Angad, the friend of Ram, waged a furious assault and killed many demons and warriors. He cut their heads off and hurled them into Ravan's palace courtyard, where they burst like clay pots.Angad also joined Hanuman in obstructing and interfering with the Yagna (fire sacrifice) that Meghnad was conducting to ensure the demons' victory. During the battle, Angad killed Ravan's mighty commander, Akampan, and hundreds of Ravan's soldiers.
When they saw Angad, the friend of Ram, from afar, the soldiers of Ravan's army would flee with fear. He played a very important role in the battle at Lanka. He was a true devotee of Shri Ram.
After the battle, when Ram returned to Ayodhya on the Pushpak Viman (a vehicle that could fly in the air), he took Hanuman, Sugreeva, Jambavat, and Angad with him to Ayodhya. During the coronation ceremony of Shri Ram, Angad had a place of honour, and on the list of Ram's devotees. Angad was a valued vanar (monkey) bhakta.