(Other names : Vasudev, Madhavan, Narayan, Govind, Rishikesh, Padmanabh, Sridhar, Vaman, Aniruddha)
Purshottam, Damodar, Janardan, Upendra, Pradyumna  Vishnu is considered as the lord of maintaining the universe. The word Vishnu means Prevailing all over. He has many names, he is also known as 'HARI' which means 'the one who relieves pain and sins. He is also known as Narayan. The word Narayan means "Naar" that is the one who lives in water.
Vishnu is four handed with a shell, wheel, mace and lotus in each hand. Pitambari, Vanmala (made of wild flowers, that symbolises love which binds him to his devotees), Kirit Kundal (earrings) and Shri Vatsa  (symbolising Lakshmi, it is a lock of hair situated on the right chest, curling towards the right, its colour resembles that of Jasmine) are his ornaments. He rests with His wife Lakshmi in the Kshirsagar and sleeps over the Sheshnaag and resides at Vaikunth lok.
Since the time of Vedas to Puranas many forms of Vishnu has been described. There is a mention of this in Brahmin books and Upanishads also. In Vedas, Vishnu is considered to be a replica of Lord Sun.
By the time puranas came, Vishnu was worshipped as omnipotent and Lord with great valour whose incarnation takes place whenever injustice rules over justice so that he destroys the evil and looks after the welfare of gentlemen. Vishnu has vowed for the honour of religion and this oath is the precious treasure of Indian civilization.
"Vishnu is considered as the lord of maintaining the universe. The word Vishnu means – Prevailing all over."According to Puranas, there are twenty-four incarnations of Lord Vishnu of which ten are considered to be main and important. This is approved in all the puranas.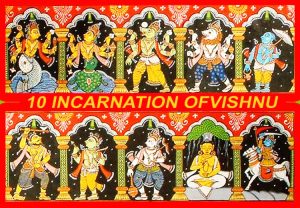 The ten incarnations are – Matsya, Kurma, Varaad, Nrusinha, Vaman, Parshuram, Rama, Krishna, Buddha and Kalki.
Out of these, nine incarnations have already taken place, and according to the ancient belief, the tenth incarnation "Kalki" will be in Kalyug. In Vishnupuran, Lord Vishnu has been paid homage by depicting him as "Lord of Lords".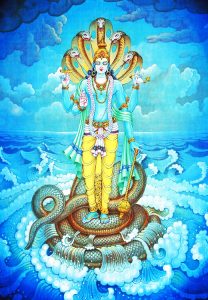 This Lord of lords as Brahma and with his passion creates this universe in the form of Vishnu and then with horrified form as "Mahesh" destroys the universe. With these three different forms he is Lord of Lords, which means three lords or "Tridev".
According to puranas men should not indulge himself with another man's wife, money and violence and with this, Lord Vishnu remains leased with mankind.The Incarnations of Vishnu are the most honest depiction of Indian civilization,
which has mutual relations of principles like attraction to beauty, philosophy, morals, strength, honesty and the humanitarian values of life.Today, in the age of selfish, fast, restless, perception less mechanical life, Vishnu's incarnations give us inspiration to attain trust and virtue in life.
"According to puranas men should not indulge himself with another man's wife, money and violence and with this, Lord Vishnu remains pleased with mankind."