Tridevi
The Hindu female holy Trinity – Sawaswati, Lakshmi, and Parvati
The combined form of Hindu female holy trinity – Saraswati, Lakshmi and Parvati, the respective consorts of male holy trinity – Brahma, Vishnu, and Shiva. All three goddesses are the aspects of primordial feminine, "Adi Shakti", and represents Creation, Preservation and Destruction respectively
Sri Mahalakshmi or Lakshmi, as the Goddess is also referred to, is the Goddess of wealth, auspiciousness, purity, prosperity and generosity. She also embodies charm, beauty and grace. Lakshmi is a very popular and powerful Goddess in Hindu mythology. Lakshmi, the Consort of Sri Maha Vishnu, also incarnates as Sita (during Lord Vishnu's avatar as Rama) and Rukmini and Radha (during Lord Vishnu's manifestation as Krishna).
Parvati devi, in Hindu mythology, is a representation of the ultimate female divinity, the Shakti. In spite of her being a gentle mother goddess, she is known for unleashing her true power and strength in times of crisis. The Shaktas consider her the ultimate Divine Shakti, the embodiment of the total energy in the universe. Parvati, the daughter of Himavan, the king of the Himalayas, is a reincarnation of Sati, the first consort of Lord Shiva, and is the mother of Ganesha, the Elephant-Headed Lord and Kartikeya (Muruga or Skanda). The Devi is usually portrayed with two arms, seated on a lion or tiger. Generally benign, this goddess is also known to take on more powerful and fearful aspects such as Kali, Durga, Chandi and the Mahavidyas. Her other names include Lalita, Gauri, Girija, Girirajaputri and Shailaja. Yet other names include Shyamala (the dark one), Amba, Ambika, Bhairavi, Aparna and Uma.
Saraswati is the Hindu goddess of learning, knowledge, music and the Arts. Saraswati has also been identified with and likened to the Vedic Saraswati River. She is the consort of Brahma, the Hindu god of creation. Thus, with the goddesses Parvati and Lakshmi, she completes the set of the divine Tridevi (the three goddesses, just like the divine Trinity. According to Hinduism, Saraswati's offspring are the Vedas. Saraswati is a very popular Indian goddess and is propitiated to attain knowledge and wisdom.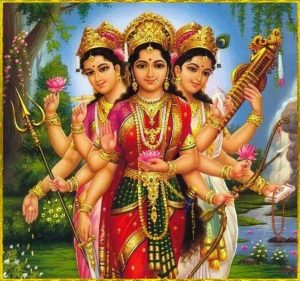 Shakti or Vimarsh is the power that is latent in pure consciousness, required to reach pure consciousness and essential to create, sustain and destroy. Just as Energy can never be created nor be destroyed, but changes from one form to another; Adi Parashakti took many incarnations to do different tasks. God is both male and female. But all different forms of energy or powers of God are with the Trimurti in the form of Mahalakshmi, Mahasaraswati and Mahakali. That is to say, a non-dimensional God creates this world through Srishti-Shakti (Mahasaraswati or Sound or knowledge), preserves through Sthiti-Shakti (Mahalakshmi or Light or resources), and destroys through Samhara-Shakti (Mahakali or Heat or Strength). It is also seen that God cannot create, generate or destroy because God does not possess any attribute. So True Energy or Adi Shakti does everything on God's behalf. Parabrahman Adi Parashakti herself creates three bubbles that are the source and energy to be generated. From the first Bubble which is expansion of same seed complete, arose Pratham Purush and Pratham Prakriti i.e. Narayana and Narayani (not to confuse with Goddess Lakshmi, Narayani here is identified as Goddess Parvati, the sister of Lord Vishnu). Narayani is also known as Gowri Devi. This time she was not evolved in Sakaar Swaroop. When Shiva worshiped Adi Shakti, then Gowri Devi arose from the left half of Shiva in Sakaar Swaroop. The second Bubble is the transformer and complete knowledge i.e. Shiva and Saraswati. Shiva is evolved from the seed as "Pradhan Purush" and Goddess Saraswati was evolved in Nirakaar Swaroop and gave birth to four Vedas. Her Sakaar Swaroop took birth on the day of Vasant Panchami, when Brahma required complete knowledge. The third and last Bubble evolved from Narayana comprises Manifested form and Adi Shakti created Shri Sevi by herself i.e. Brahma and Lakshmi. Brahma appeared as the Father to create the universe and Lakshmi appeared to provide him with resources. However Vishnu sustains the universe and thus requires complete resources to sustain it. Likewise, Brahma needs Complete Knowledge to create; and Shankar requires a complete source of power to lead change in beings from life to death. Parvati/Gowri/Durga require the same.
Benefits of Tridevi Painting 
Goddess Parvati is said to bring about marriage, resolve conflicts between couples and help prevent miscarriage. She is also worshipped for fertility, marital felicity, and devotion to the spouse, asceticism and power.
Goddess Saraswati is the goddess of wealth. Keeping her portrait is believed to help the students excel in academics. She is the goddess of knowledge and blesses her devotees with eternal wisdom. She removes the darkness of unawareness and showers intellect upon the devotees.
Wealth plays an important role in the preservation of life upon earth. Hence, as the goddess of wealth, Lakshmi rightfully fulfills her duties as the nourisher, preserver and provider. Lakshmi not only represents material wealth but wealth of all kinds. Hence she is also worshipped for abundance in courage, knowledge, strength, victory, material wealth, progeny, education etc.
The Artist – Pieter Weltevrede
Pieter Weltevrede – is a Master "Sacred-Artist" based out of the Nederlands. After a many years of guidance, under his guru Late Harish Johari a successful author, a gifted painter and sculptor, a lifetime scholar, an inspiring teacher, a splendid cook, an ayurvedic massage miracle, etc., Pieter embarked on his own journey amalgamating ancient Indian knowledge with his own western sensibilities evolving an art form that appeals to todays international audience. He has been practising his art form from the last 40 years now.
His original paintings are in water colours on silk with a wash-technique that gives them a very three-dimensional feel. The complexity and detail in his works are a super-human endeavour as he continues to live a mundane life travelling between the Western World and India.
Here, 'Goddess Saraswati' paintings are printed on coated matt paper by inkjet printer.
Click Here to visit our Shop Site.