Bhagirath wondered what was going to happen next.  He went to Lord Shiva and pleaded, Lord, now that Ganga is under your complete control, please release her gently from your hair locks and instruct her to follow her to there ancestor's  ashes at Sage Kapil ashram. 
Shiva assured Bhagirath that he would release Ganga for his holy job, and then Shiva asked Ganga to follow Bhagirath to the ashram of Sage Kapil.
"He wanted Ganga to come with him to the place where the ashes of his ancestors were lying, but Ganga was now caught in the hair locks of Shiva.
"My dear son." Lord Shiva said to Bhagirath."you may now lead Ganga to your ancestors' ashes. Blow your conch shell to clear the way.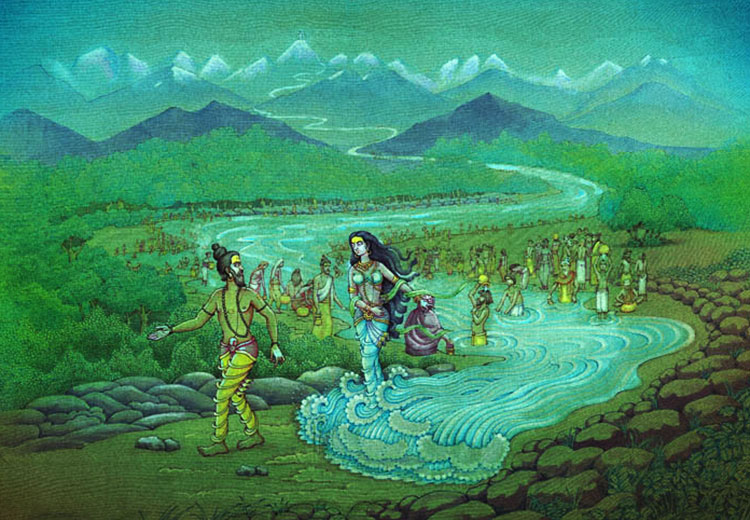 She will follow you." Saying this, Lord Shiva released Ganga by squeezing one of his hair locks.
Freed from the hair locks of Shiva, Ganga, in the form of a beautiful lady stood with her hands folded in front of Lord Shiva.
After paying homage to him, She bid Lord Shiva farewell and started following Bhagirath, who was moving forward blowing his conch shell.
Wherever she walked, the touch of Ganga brought new life to the plants and vegetables in her path.
Bhagirath was moving toward Sage Kapil's ashram but before he could get out of the mountain area he reached the ashram of Rishi Janu.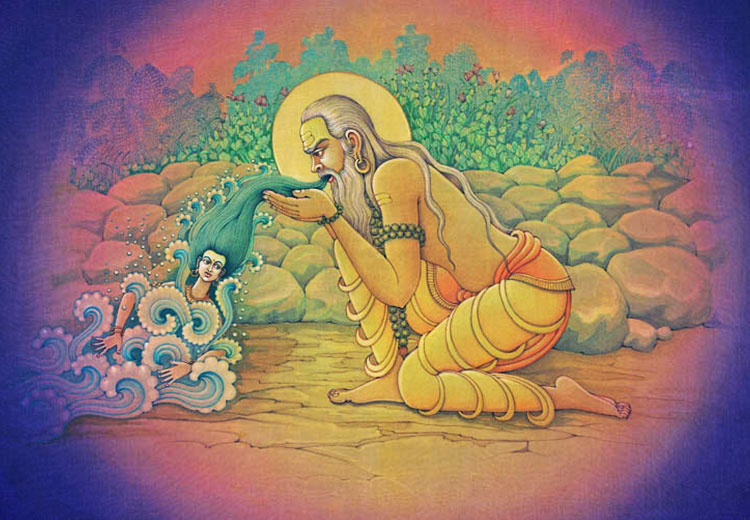 Rishi Janu was performing a yagya (fire worship), and the people at his ashram were chanting mantras. Ganga became curious.
She had never heard a group of human beings chanting mantras before so she decided to see for herself what was happening.
When Ganga entered the ashram of Rishi Janu the ashram became flooded. Her water rushed in and extinguished the holy fire, and the pooja pots (pots used in worship) started to float away.
The people were frightened. They all ran toward a high spot under a huge tree. Rishi Janu became really angry.
Through his meditation he understood exactly what was happening. "So Ganga has come down from Heaven," he murmured. "She is proud of herself and her power.
But she does not know how to behave near an ashram. She has no respect for human beings. She also does not yet know the powers of a rishi. I must teach her a lesson." The rishi then chanted a mantra and took a sip of Ganga water.
With the power of his mantra, the entire body of Ganga and all her water were swallowed by the rishi. All traces of Ganga were gone. After that Bhagirath requested to rishi Janu then rishi released Ganga from his body.