Other names : Vashisth, Vasistha, Vasisth
Guru Vashishtha was the official priest of the Suryavanshi Ikshwaku clan. Brahma, at the beginning of creation, had created him by the power of thought and determination. He was also a Prajapati.
When
Brahma 
appointed him the clan priest of the Suryavanshi, he was not interested as he did not consider priestly duties to be his ideal occupation.
"I want to immerse myself in saintly devotion like my elder brother Sanat Kumar" he said. Brahma explained to him the importance of being a Kulpurohit of the solar dynasty of Suryvanshi's.
In the Tretayuga (one of the four periods the earth goes through each extending for millions of years before creation is destroyed by the great Pralaya (deluge) and started all over again), the Lord of the World will be incarnating in human form in this dynasty and it will be your honour to be his preceptor. Vashistha then agreed to do so.
"Brahmarishi Vashistha's wife was Arundhati. She was a great pativrata (devoted to her husband). In the Vedic literature, many passages are attributed to Vashistha. In the astrologic reckoning too, Vashistha and Arundhati have a special place."
Once Ikshavaku's son, King Nimi, requested Guru Vashishtha to perform a Yagna (fire sacrifice) for him. But Guru Vashishtha said that Indra, the king of devas has already asked him to conduct a great Yagna for him.
He asked Nimi to wait for him until he finished that Yagna first. In the meanwhile though, Nimi had invited Bhrigu, Gautama and other rishi's too.
When Guru Vashishtha did not arrive for a very long time, Nimi asked Gautama to preside over the Yagna and complete it. By then Vashistha had completed Indra's Yagna and arrived at Nimi's palace. Exhausted, Nimi had by then gone to sleep. Vashistha regarded this as an insult to him.
He cursed Nimi that he should lose his body. When Nimi came to know of Vashistha's curse on him, he cursed him back, that his body should also disappear."With this mutual cursing, both Vashistha and Nimi lost their physical body.

Brahma suggested giving a new body to Nimi but he said, "From now on, I will reside in my bodiless form in the eyelids of all beings."Brahma said, "So be it! But to ensure that you do not tire, all creatures will open and close their eyelids every second."
Since then, the interval between opening and closing of eyelids is called a 'Nimish', a tiny unit of time. Vashistha too appeared before Brahma and told his tale of losing his body and becoming 'videh'.
"It is not possible to conduct any work without a body, so please give me a new body" Brahma told him "You will get your new body from the seed of Mitravaruna."
Once the God of Thunder Varuna beheld the beauteous Apsara (celestial damsel) Urvashi and was enamored of her and invited her to cohabit with him. She said, "Oh Deva, I am staying with, and am in the control of Deva Mitr, hence I cannot accept your offer." Varun then left his seed for Urvashi in a clay pot. Bodiless Vashishtha now entered that clay pot, where the seed of Varuna lay.

Earlier on, Mitr had also deposited his seed in that pot. As a result, two boys were born from that pot. The first to appear was Agastya, who disappeared into the sky. Then Vashistha appeared. As soon as Vashistha took on a form with his new body, Ikshavaku appointed him his Purohit (clan priest).
At That time Gaadhiputr Vishwamitra was a great chakravarti King. He was roaming in the forest along with his army for deer hunting. In the evening, they rested for the night near the ashram of Vashistha."Kamdhenu (the wish-fulfilling cow) gave her daughter Nandini to Sage Vashistha and said, "My daughter has the same power that I have, of being able to grant anything you wish for, by just thinking about it. So long as she is with you, you will not need anyone's help or depend on anybody for your needs.
"The King and his entourage were treated to a royal repast and provided with every possible object of comfort. Vishwamitra was surprised to see such opulence in the ashram of an ascetic.
He came to know that all good things had been procured through Nandini, the celestial cow. He asked Vashistha for the cow. But the sage said "She is not an object than can be given away.
She is an integral, venerable member of the ashram." When Vishwamitra tried to take Nandini away by force, she generated an enormous army of soldiers that massacred his own army
"Vishwamitra realised that the power of the sage is much greater than the power of the king. He gave up his throne and began to meditate and do penance.
He acquired great powers but Vashistha called him a Rajrishi (King-Sage) not a Brahmarishi (True-Sage)."Vishwamitra used his might to suspend Trishanku in mid air.
He even created a new world but Guru Vashishtha refused to acknowledge him as a Bramharishi. Vishwamitra killed all seven of Guru Vashishtha's sons and even planned to kill Vashishtha by attacking him in his ashram.Then, while lying in wait for Vashishtha, he overhead a conversation between Guru Vashishtha and his wife Arundhati.
Arundhati asked her husband, "Why does the moon appear to be so much brighter these days?" To which Vashishtha said, "It is the influence of the great luminescence of Vishwamitra's penance."
Vishwamitra abandoned his plot and asked for Vashishtha's forgiveness. Vashishtha embraced him and said, "Now you are free of any blemish. You are a Brahmarishi (True-Sage)." In this way, thanks to Vashishtha, Vishwamitra achieved the status of a Brahmarishi.
"As a Kulguru (clan priest) of the solar dynasty of Survyanshis, Vashistha performed divine Yagnas (fire sacrifice) for many kings of the dynasty, including Ikshavaku, Mandhata, Bhagiratha, Raghu, Aja, and Dashratha.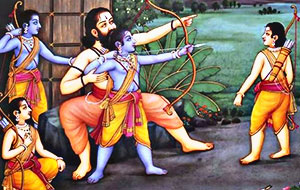 Under his guidance, the dynasty of Raghu, prospered and progressed. "King Dilip had no progeny so Vashistha advised him to venerate Kamdhenu and Nandini and pray for a son.
Similarly, King Dashratha had no son, so he arranged for a Putreshti Yagna (sacrifice by which one can obtain sons) by which Ram, Lakshmana, Bharat & Shatrughna were born.
The sacraments of Namkaran Samskars (Naming ceremony), Yagnopavita Samskar (Initiation into Gurukul Education), Raj Abhishek (Coronation), Ashwamegh (horse) sacrifice, all Samskars (out of sixteen important events in the Hindu tradition from birth to death) and ceremonies conducted by Ram were done under the spiritual guidance of Sage Vashishtha.Ram killed all Rakshasa (demonic forces) and established the ideal rule of Ramarajya (ideal rule where everyone is happy) on earth and after his earthly role was played out, reached the heavenly abode of Vaikunth (abode of Vishnu).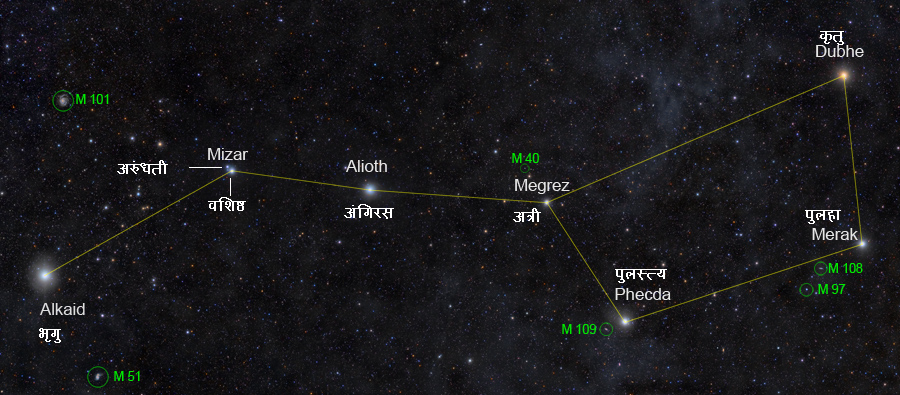 "But Sage Vashishtha can still be seen in the sky in the Saptarishi Mandal, the constellation of seven stars and there he will remain, until the end of time."