Saraswati – The Goddess of Knowledge
Goddess Saraswati
Saraswati is the Hindu goddess of knowledge. She is associated with wisdom, music, art, and learning. She is one of the three main goddesses of Hinduism, along with Lakshmi and Parvati. Together the three goddesses are called the Tridevi. Saraswati is the wife of Brahma and the sister of Shiva. She is depicted as playing harp (veena), holding Vedas, rosary, pot, and riding on her animal mount, swan.
Saraswati, goddess of knowledge and the arts, embodies the wisdom of Devi. She is the river of consciousness that enlivens creation; she is the dawn-goddess whose rays dispel the darkness of ignorance. Without her there is only chaos and confusion. To realize her one must go beyond the pleasures of the senses and rejoice in the serenity of the spirit.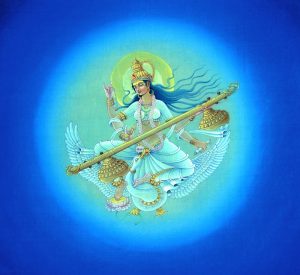 Saraswati wears neither jewels or paints herself with bright colors. The white sari she adorns reflects her essential purity, her rejection of all that is base and materialistic. She transcends the cravings of the flesh and rejoices in the powers of the mind as the patron of pure wisdom. She embodies all that is pure and sublime in Nature.
Within Hindu literature, Saraswati is known by many different names. Her titles include Brahmani, meaning the power of Brahma, and Brahmi, meaning goddess of sciences. She is also known as Vidyadatri, the goddess who provides knowledge, and Vagdevi, the goddess of speech. In Vedic literature, Saraswati is imagined as purifying water of knowledge.
The embodiment of knowledge, arts, language, and creativity, she is understood as a creative and purifying force. She symbolizes creative energy in all forms, from artistic creation to romantic love. She is also believed to embody the experience of the highest reality. In the Upanishads, Saraswati is invoked to encourage readers to meditate on the nature of virtue and virtuous action.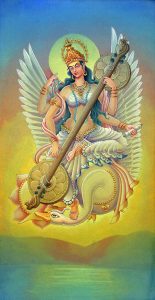 The birth of Saraswati from the mind of Brahma is described in the Brahmanda Purana. Lord Brahma got ready for creation, and while in meditation, sattvaguṇa began swelling up in his mind wherefrom a girl was born. Brahma asked her who she was. She answered: "I am born from you. You fix for me a seat and duties." Then Brahma told her that her name was Saraswati and ordained that she should stay on the tip of everybody's tongue. "You dance especially on the tongues of learned people. You should also exist on earth in the form of a river, and assuming a third form you should live in me too." Goddess Saraswati agreed to this.
The Matsya Purana describes the story of Goddess Saraswati becoming the consort of Lord Brahma. It states that the creator deity had fallen in love with the woman who had emerged from his own mind. Noticing his amorous glances, she turned to the right side of the deity. The deity produced a new face towards his right. When she appeared on his other two sides, two new faces emerged on these directions. In a last resort, she leapt into the sky. A fifth face emerged from Brahma, looking upwards. Conceding her defeat, she consented to become the deity's consort.
When Ravana, along with his brothers, Vibhishana and Kumbhakarna, performed a penance in order to propitiate Lord Brahma, the creator deity offered each a boon. The devas pleaded with Brahma to not grant Kumbhakarna his boon. Brahma called upon his consort Saraswati, and instructed her to utter what the devas desired. She acquiesced, and when the rakshasa spoke to invoke his boon, she entered his mouth, causing him to ask a boon of sleeping. She then left his form, causing him to reflect upon his misfortune.
Goddess Saraswati is often depicted in Indian art as a woman with a beautiful face. She is dressed in a white sari and seated upon a white lotus. She is often shown riding on a white swan, too. Saraswati is associated with the color white, symbolizing purity, wisdom, and truth. In Hindu mythology, the swan symbolizes perfection. As her mount, the swan symbolizes Saraswati's ability to discriminate between good and evil, eternal and temporary.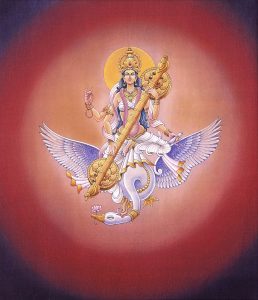 Her iconography follows white themes from dress to flowers to swan – all of it symbolising Sattwa Guna or purity, discrimination for true knowledge, insight and wisdom. She is generally shown to have four arms. The hands symbolically mirror her husband Brahma's four heads, representing manas (mind, sense), buddhi (intellect, reasoning), citta (imagination, creativity), and ahamkāra (self consciousness, ego). 
The four hands hold items with symbolic meaning –
A pustaka (book or script), The book she holds symbolises the Vedas representing the universal, divine, eternal, and true knowledge as well as all forms of learning
A mala (rosary, garland), a mala of crystals, representing the power of meditation, inner reflection, and spirituality.
A water pot- A pot of water represents the purifying power to separate right from wrong, the clean from the unclean, and essence from the inessential. In some texts, the pot of water is symbolism for soma – the drink that liberates and leads to knowledge.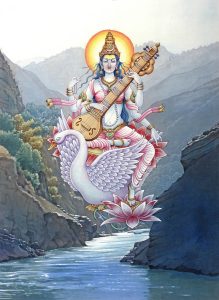 A musical instrument (veena) represents all creative arts and sciences, and her holding it symbolises expressing knowledge that creates harmony. Saraswati is also associated with anurāga, the love for and rhythm of music, which represents all emotions and feelings expressed in speech or music. 
A hamsa – either a swan or a goose – is often shown near her feet. In Hindu mythology, the hamsa is a sacred bird, which if offered a mixture of milk and water, is said to be able to drink the milk alone. It thus symbolises the ability to discriminate between good and evil, essence from the outward show, and the eternal from the evanescent. Due to her association with the swan, Saraswati is also referred to as Hamsavāhini. The swan is also a symbolism for spiritual perfection, transcendence and moksha.
Sometimes a citramekhala (also called mayura, peacock) is shown beside the goddess. The peacock symbolises colourful splendour, the celebration of dance, and – as the devourer of snakes – the alchemical ability to transmute the serpent poison of self into the radiant plumage of enlightenment.
She is usually depicted near a flowing river or another body of water, which depiction may constitute a reference to her early history as a river goddess.  The mythological story of Goddess Saraswati becoming a river is mentioned in the Srishti Khanda of Padma Purana as well as in Skanda Purana.  It talked about a terrible battle taking place between the Bhargavas (a group of Brahmana) and Hehayas (a group of Kshatriya), and from it an all-consuming fire called Vadavagni was born which could destroy the whole world.
Worried, the devas went to Shiva. He suggested that the devas go to Saraswati for help, requesting her to become a river and immerse the Vadavagni into the ocean.  She agreed to go, only on the condition that Bramha would tell her, which he did. Therefore Saraswati agreed and leaving Brahmaloka. She arrived at sage Uttanka's ashram. There, she met Shiva who gave her Vadavagni in a pot and told her that it originated from the Plaksha tree. Saraswati therefore, merges with the tree and transforms into a river.
Goddess Saraswati is celebrated and worshipped in India and across the world. She is worshipped in various east asian countries such as Japan, Cambodia, Bhutan, Thailand and Myanmar. One of the most famous festivals associated with Goddess Saraswati is the Hindu festival of Vasant Panchami. Celebrated on the 5th day in the Hindu calendar month of Magha, it is also known as Saraswati Puja and Saraswati Jayanti in India.
Benefits of having Goddess Saraswati painting
Goddess Saraswati is the goddess of wealth. Keeping her portrait is believed to help the students excel in academics. She is the goddess of knowledge and blesses her devotees with eternal wisdom. She removes the darkness of unawareness and showers intellect upon the devotees. That is why keeping her idol in the puja room is considered to be very auspicious.
An painting of Goddess Saraswati provides light to the mind and guides the soul on the path of learning. Even a fool becomes intelligent after accepting her as the mother. Also known as the Goddess of the Vedas, she helps to achieve success in life. Keeping an image of hers helps in increased concentration and provides dedication for achieving success.
Goddess Saraswati symbolizes wisdom, truth, and knowledge. Once seen as a river goddess, she is seen to embody the purifying waters of knowledge, which cleanse and encourage discernment in those who receive her blessing.
Hindus worship her as the embodiment of wisdom, knowledge, and the arts, including writing, dancing, and music. She is believed to have created the first instrument, the Veena, a symbol of artistic mastery. For Hindus, Saraswati represents the mastery of the creative arts as the pinnacle of education.
Hindus also worship Saraswati as the creator of the Sanskrit alphabet, which is the sacred language of Hindus. The language generation is one reason she is seen as the goddess of learning and education. From ancient times until today, children seek Saraswati's blessing on their first day of school, asking her to give them intelligence and mastery in their studies.
The Artist – Pieter Weltevrede
Pieter Weltevrede – is a Master "Sacred-Artist" based out of the Nederlands. After a many years of guidance, under his guru Late Harish Johari a successful author, a gifted painter and sculptor, a lifetime scholar, an inspiring teacher, a splendid cook, an ayurvedic massage miracle, etc., Pieter embarked on his own journey amalgamating ancient Indian knowledge with his own western sensibilities evolving an art form that appeals to todays international audience. He has been practising his art form from the last 40 years now.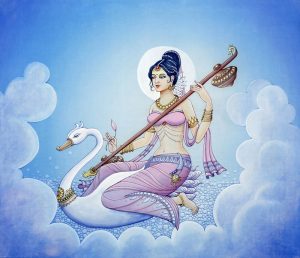 His original paintings are in water colours on silk with a wash-technique that gives them a very three-dimensional feel. The complexity and detail in his works are a super-human endeavour as he continues to live a mundane life travelling between the Western World and India.
Here, 'Goddess Saraswati' paintings are printed on coated matt paper by inkjet printer, using ultra chrome inks with an off-white paper mounting with golden border, and encased inside a fibre frame with acrylic sheet cover in the front.
Click Here to visit our Shop Site.