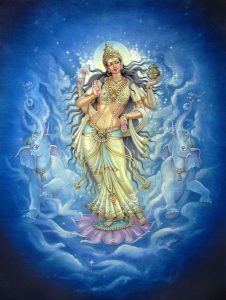 Goddess Lakshmi is the goddess of wealth and prosperity and consort of Hindu God, Vishnu – the god of preservance. Lakshmi emerged from the ocean of milk – KsheerSagar – when it was churned by the Devas (demi-gods) and Asuras (demons) to extract out Amrit – the elixir of life. Lakshmi personifies wealth, riches, and beauty. When Vishnu descended to earth in his avatars as Ram and Krishna, Lakhsmi incarnated as the avatar's consort. The festival of Diwali and Sharad Purnima are devoted to Goddess Lakshmi. She is depicted as a four-armed goddess, standing on a lotus, holding a pot containing wealth, a lotus, and bestowing her worshippers with wealth and prosperity. In the background are an elephant and her animal mount, owl.
Lakshmi means fortune, prosperity, wealth, good luck, success, accomplishment, beauty, grace, charm, loveliness, splendor, luster, royalty, sovereign power, auspiciousness and so on. Goddess Lakshmi represents all these qualities. Her other popular name Sri denotes wealth , which in the ancient times was represented by the wealth of food grains.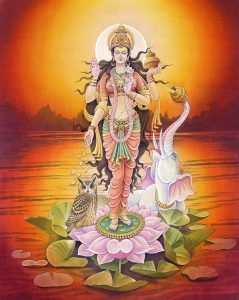 As per the Puranas, she incarnated several times. In her first incarnation she was born as the daughter of Bhrigu and his wife Khyati. Next she was born from the waters of milky ocean when the gods and demons churned it in search of the elixir of life (amrit) and gifted to Vishnu as a companion and supporter of His Dharma.
The goddess symbolizes not only material wealth but also the wealth of all kinds from food to fame and the richness of life. Hence, she has many aspects representing various forms of wealth, richness, abundance, perfection, fulness and enjoyment. Hindu tradition recognizes eight forms of Lakshmi, which are collectively known as Ashtalakshmis (eight Lakshmis), each representing a particular type of wealth. Their names and associated aspect are, Adilakshmi (first), Dhanyalakshmi (crops), Dhairyalakshmi (courage), Gajalakshmi (elephants), Santanalakshmi (children), Vijayalakshmi (victory), Vidyalakshmi (education), and Dhanalakshmi (riches).
Symbolically, Lakshmi represents the materiality of creation and our dependence upon material abundance. Her numerous colors in the images reflect the numerous forms of wealth found in creation. Her dark complexion also represents her association with the earth and also with Vishnu. Her white complexion represent her purity (sattva). Her pink complexion represents her association with lotus and water and her role as a compassionate mother.
Her four hands represent the four feet of Brahman, who is usually described in the Upanishads as the four footed. They also represent the four directions, the four types of blessings and the four aims of human life. The pot of nectar which she holds in one hands, represent her ability to liberate people from suffering as well as from the cycle of births and deaths.
Owl is considered the most intelligent nocturnal animal. Owl has the knowledge of past and future. Owl riding on Goddess Lakshmi is considered a symbol of auspiciousness and wealth in Indian culture. Seeing an owl on the night of Deepawali is considered to be a sign of Lakshmi's arrival.
She is associated with Lord Vishnu, the preserver, because material wealth is vital for the continuity of life upon earth, to perform obligatory duties, to look after cattle and progeny, to entertain the guests and serve those who seek help.Vishnu requires material abundance to carry out his various duties and to preserve and protect creation. Hence, she is always found in his company. In the human plane, similar duties are assigned to householders. Hence, householders have a duty and obligation to earn wealth to maintain dharma upon earth and they have a greater need for wealth and the blessings of Goddess Lakshmi.
Benefits of having Goddess Lakshmi painting
She is the resplendent goddess of wealth and prosperity who provides the beings with all kinds of material abundance. She is a protector as well as bestower. She bestows upon deserving people according to their past karma and degrees of devotion. She also protects from ill health and adversity.

Hence, in Hinduism, worship of Lakshmi is considered a suitable remedy for the alleviation of suffering. Her regular worship, chanting of her names, remembering her believed to bring good and luck and prosperity to people. Wealth plays an important role in the preservation of life upon earth. Hence, as the goddess of wealth, Lakshmi rightfully fulfills her duties as the nourisher, preserver and provider.

Lakshmi not only represents material wealth but wealth of all kinds. Hence she is also worshipped for abundance in courage, knowledge, strength, victory, material wealth, progeny, education etc.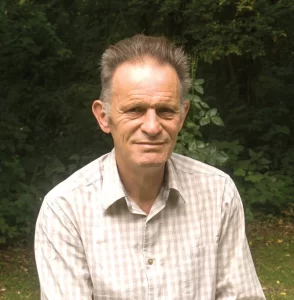 Pieter Weltevrede– is a Master "Sacred-Artist" based out of the Nederlands. After a many years of guidance, under his guru Late Harish Johari a successful author, a gifted painter and sculptor, a lifetime scholar, an inspiring teacher, a splendid cook, an ayurvedic massage miracle, etc., Pieter embarked on his own journey amalgamating ancient Indian knowledge with his own western sensibilities evolving an art form that appeals to todays international audience. He has been practising his art form from the last 40 years now.
His original paintings are in water colours on silk with a wash-technique that gives them a very three-dimensional feel. The complexity and detail in his works are a super-human endeavour as he continues to live a mundane life travelling between the Western World and India.
Here, 'Goddess Lakshmi' paintings are printed on coated matt paper by inkjet printer, using ultra chrome inks with an off-white paper mounting with golden border, and encased inside a fibre frame with acrylic sheet cover in the front.
Click Here to visit our Shop Site.