(Other names : Kaikeye, Kekayi, Kaike, Kekayi, Kaiyakesi, Kaikesei)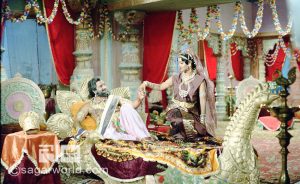 Suryavanshi Raja Dashrath of the solar dynasty had three chief queens, Kaushalya, Sumitra and Kaikeyi, of whom Kaikeyi was the youngest and loveliest. Besides being beautiful, she was also a good warrior. Raja Dashrath was bewitched by the beauty and youthful ways of Kaikeyi and thus spent most of his evenings in her palace.
The gentle, sweet natured Bharat was Kaikeyi's son and he was a devoted follower of his elder brother Ram. Kaikeyi hailed from the kingdom of Kaikey (present day Kashmir) and her brother was prince Yuddhajeet. Like Raja Dashrath was passionately in love with Kaikeyi, she too returned the ardor with her devotion to him.