(Other names : Kaikeye, Kekayi, Kaike, Kekayi, Kaiyakesi, Kaikesei)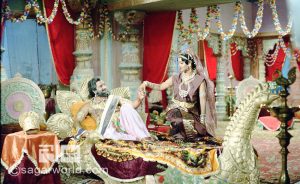 Suryavanshi Raja Dashrath of the solar dynasty had three chief queens, Kaushalya, Sumitra and Kaikeyi, of whom Kaikeyi was the youngest and loveliest. Besides being beautiful, she was also a good warrior. Raja Dashrath was bewitched by the beauty and youthful ways of Kaikeyi and thus spent most of his evenings in her palace.
The gentle, sweet natured Bharat was Kaikeyi's son and he was a devoted follower of his elder brother Ram. Kaikeyi hailed from the kingdom of Kaikey (present day Kashmir) and her brother was prince Yuddhajeet. Like Raja Dashrath was passionately in love with Kaikeyi, she too returned the ardor with her devotion to him.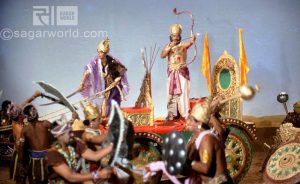 Once,when Shambhasur attacked the heavens, Raja Dashrath was called upon to join the army of Indra, the Lord of Heavens, to allay the attack. Kaikeyi too accompanied him. Suddenly the axle of the wheel of his chariot broke.But Kaikeyi was alert and thrust her sharp finger to steady the wheel. Later when Raja Dashrath fainted while fighting, Kaikeyi drove the chariot away from the battlefield and thus saved his life.
Overwhelmed with gratitude for her timely help, the king bestowed two boons to her. But Kaikeyi persuaded him that she did not want anything and he could keep the two boons with him so that she would ask him for the favors when and if she needed to do so.These were the early days, when Bharat was not yet born when indeed Kaikeyi wanted nothing more than the love anddevotion of Raja Dashrath.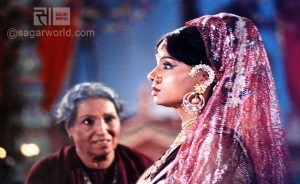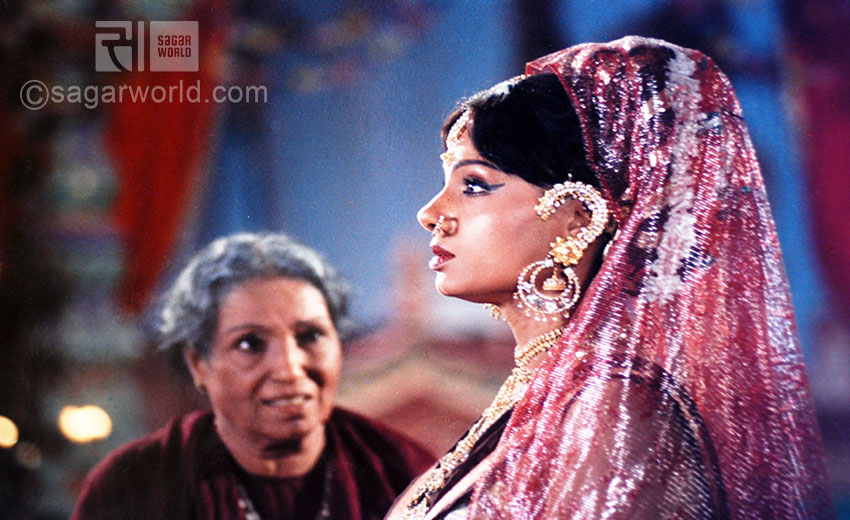 Kaikeyi's brother Yuddhajeet was invited to Ayodhya for the wedding of Ram, Lakshman, Bharat and Shatrughna. Raja Dashrath persuaded him to accept their hospitality and stay in Ayodhya for a year. But when news reached of enemy's attack on his kingdom, Yudhajeet returned to Kaikey and to help him, Bharat and Shatrughna were sent with him. The battle was quelled but the two princes, Bharat and Shatrughna, stayed on for a long time at Kaikey kingdom.
Meanwhile, on the advice of his ministers and the wish of his subjects, Raja Dashrath decided to crown prince Ram as king. This prompted Kaikeyi's personal maid Manthara to fill Kaikeyi's mind with evil ideas.
"How cunning is this king", she said, "Who spends every night in your palace, yet you do not know about his plan to crown RamKing, at a time when your own son Bharat is not even in the country. Now your days are doomed, you will spend your life as a slave at the feet of Queen Kaushalya who will lord over the palace when her son becomes the king."
Kaikeyi was led astray by the wicked words of Manthara and demanded her two boons from Dashrath, which he owed her. The first was to send Ram to the forest for fourteen years. The second was the coronation of her son Bharat. Raja Dashrath was overwhelmed by Kaikeyi obstinate demands and fell faint in shock.
When Ram came to learn about Dashrath's condition, he readily agreed to abide by the vow and go to live in exile in the forest for fourteen years. Sita and Lakshman too went with him. Dashrath could not bear the sorrow of being parted thus from Ram and soon breathed his last. Kaikeyi was now laden with a dark mark on her personality.
It so happened, that as a little girl, she had playfully smeared with kohl or kajal (fine black sooth which is used as an eye-liner) on the face of a sage in meditation. It was then that the sage had cursed her. "As you have blackened my face, so shall fate blacken your reputation someday"? This was the cause of the shame Kaikeyi had to bear.
On Dashrath's demise, Bharat and Shatrughna were called back to Ayodhya. But Bharat refused to accept the crown and throne for, he said, "According to the tradition of Suryavanshis, the solar dynasty, it is the eldest son who must ascend the throne. It is Shri Ram who deserves to be crowned king, not me."
The fact of being the mother of such a selfless, devout son, filled with brotherly love, helped Kaikeyi to erase the dark mark on her character. The pure presence of Bharathelped her to regain her respect and pride as a queen of Ayodhya. She too realized her mistake and spent her life is repentance and then penance to eradicate the burden of her actions.