Vamana Avatar and birth of Goddess Ganga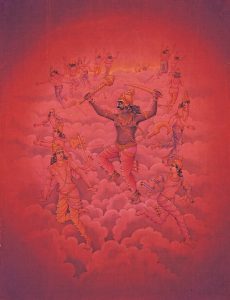 Legend of birth of Goddess Ganga
Lord Vishnu took ten forms or the dashavataras to come down to Earth. In each avatar, he helped rid the earth of some great demon or difficulty. One such avatar was Vamana avatar, where he came down to Earth in the guise of a dwarf brahmin.
After Prahlad, his son Virochana became the king of asuras and Virochana was followed by Mahabali, who was the grandson of Prahlad-a mighty asura.King Mahabali was a rich and powerful asura king who had horses, elephants, chariots, cavalry and an army too. He was also a great devotee of Vishnu. Bali defeated Indra, the King of Devas, and acquired the empire of Devas – Swarga (heaven) and became the monarch of the universe.
After Devas were defeated by Asuras (demons), Indra, the king of Devas along with Lord Brahma (the creator of Universe) and other devtas appealed to Lord Vishnu.  Lord Vishnu assured to help the Devtas.
Months later, on the twelfth day of bright half of Bhadrapada (sixth month of the Hindu calendar), Lord Vishnu took birth as Sage Kashyap and Devmata Aditi's son. He was named as Upendra. Now as the couple stood amazed, Vishnu changed his form to that of a short – statured Brahman – The Vamana. Clad in a loin cloth, he carried a umbrella in one hand and a kamandalu in other one.   
In the meanwhile, Guru Shukracharya had told Bali to perform one hundred Ashvamedha yagnas in order to maintain his kingdoms and kingship and told him to never let any Brahmin return empty handed from him. He had already performed ninety nine yagnas and while he was performing the hundredth yagna, Vamana came to his court.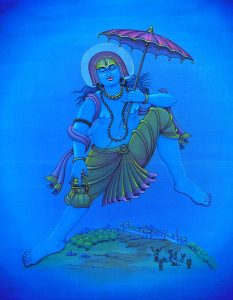 King Bali was influenced by his radiance and felt attracted towards him, but his Guru Shukracharya understood that he was no ordinary Brahmin but Vishnu. He warned Bali about the Brahmin, but Bali keeping his vow of never letting any Brahmin go empty handed, decided to take in the Brahmin and grant his wish whatsoever. He was also overwhelmed with the fact that Lord Vishnu had himself come to him to seek something from him and he being his devotee couldn't let go this opportunity.
He went forth and asked the Brahmin about what he sought from him. Vamana then asked for only three foots of land. Quite unexpected to what Bali had thought of, he granted his wish and was amazed to see the giant form that Lord Vishnu took . With his first step, he measured the earth and with the second, he simply covered all the heavens. Then Bali offered his head for placing his third step. Vamana did so and pushed Bali to the world below, thus restoring the heavens to the Devas.
While Vamana's foot covered the skies, Brahma washed his foot (as it was a magnificent form of Lord Vishnu) and collected the water into his kamandala. This holy water became Ganga, Brahma's daughter.
Goddess Ganga, born from the holy water of Lord Brahma, the creator's Kamandala (water Pot), danced merily in the heaven with celestial nymphs, Apsaras. Brahma, Vishnu, and other Devas visited heaven to watch her dance.
She danced and sang beautifully and the Devas loved to come to listen to her and watch her dance.Once many of the Devas and the rishis had come to watch Ganga sing and dance. Ganga had just finished dancing, when there was gust of wind.
Sage Durvasa had come to watch the dance. Like all rishis he was dressed in a simple manner. The gust of wind blew away Sage Durvasa's clothing. All the Devas knowing Sage Durvasa's reputation as an angry man, immediately turned their head away and tried not to laugh at him. However Ganga was unable to control herself and burst out laughing looking at the sage.Furious with Ganga, Sage Durvasa cursed her to flow as a river on Earth.
Ganga was shocked when she heard the Sage's words. Apologetically she ran to Sage Durvasa and fell at his feet.
Sage Durvasa looked at Ganga and softened up. Filled with pity he spoke, 'My words cannot be taken back, Ganga. But since you have asked I will grant you a boon that when you flow on the earth you will be the purest river there. If anyone comes and bathes in your waters, they would be purified of all their sins.'
So saying Sage Durvasa left, leaving Ganga unhappy and sorry as she had to leave her friends and go to earth.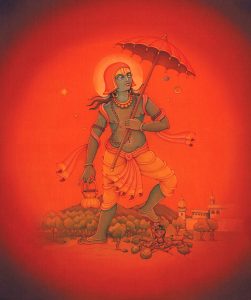 Benefits of having Goddess Ganga Painting
Renowned as a devoted daughter, a caring mother, a passionate lover, and a merciful saviour, she is here to absorb and absolve us of our sins. She has the power to save us all and bestow the precious gift of moksha, embracing saints and sinners alike with her all-encompassing compassion.
The Artist – Pieter Weltevrede
Pieter Weltevrede – is a Master "Sacred-Artist" based out of the Nederlands. After a many years of guidance, under his guru Late Harish Johari a successful author, a gifted painter and sculptor, a lifetime scholar, an inspiring teacher, a splendid cook, an ayurvedic massage miracle, etc., Pieter embarked on his own journey amalgamating ancient Indian knowledge with his own western sensibilities evolving an art form that appeals to todays international audience. He has been practising his art form from the last 40 years now.
His original paintings are in water colours on silk with a wash-technique that gives them a very three-dimensional feel. The complexity and detail in his works are a super-human endeavour as he continues to live a mundane life travelling between the Western World and India.
Here, the paintings are printed on coated matt paper by inkjet printer, using ultra chrome inks with an off-white paper mounting with golden border, and encased inside a fibre frame with acrylic sheet cover in the front.
Click Here to visit our Shop Site.