Goddess Ganga and the curse to the Vasus
The legend of the curse to the Eight Vasus
Vasus are the elemental Gods in Hinduism. The Vasus are eight in number and represent the eight elements of nature – Prithvi (earth), Agni (fire), Vayu (Wind), Antariksha (space), Aditya (Sun), Dyaus (Sky), Chandrama (Moon), Nakstrani (Stars). They are the divine personification of eight elements. Once they stole the divine cow, Kamadhenu, from Sage Vashistha and were to born on earth as mortals. All Vasus appealed to Goddess Ganga to pacify their curse and make their stay on earth short. Goddess Ganga incarnated on earth as their mother and drowned seven of them after their birth in her own waters except for the last one who had stolen the cow. The last son was Bhishma, the grandsire of Pandavas and Kauravas in Mahabharata.
Kamadhenu (a wish-fulfilling cow who could grant the owner anything they wished for) was a divine cow and mother of all cows. Sage Vasishtha had her in his ashram as she provided him with everything he required for his yagnas.
Once when the Vasus were visiting him along with their wives, one of the wives took a fancy for Kamadhenu and craved to own it. The Vasus stole Kamadhenu for her. When Sage Vasishtha realized this, he was furious and cursed them as punishment. They were to be born as mortals on Earth.
When they begged the sage for forgiveness, he softened the curse by saying that the Vasu who had initiated the theft would have to endure life for longer on Earth, but he would be an illustrious man. The other seven would return to the heavens within a year of their birth. To get this to happen, the Vasus begged Ganga to have them as her children and she agreed. And so it happened that King Shantanu of Hastinapur once found a beautiful maiden on the banks of the Ganga. He fell in love with her and asked her to marry him. The beautiful lady said she was Ganga and agreed happily to be his wife.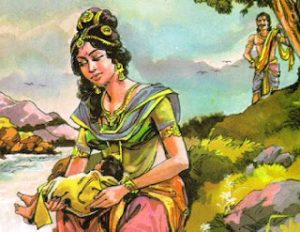 She had a condition though – he was not to question any of her actions. They married and were very happy. But Ganga did a strange thing – every time she had a baby, she would drown it in the river. Shantanu kept quiet seven times watching her drown their children, but he could not keep quiet the eighth time.
When he asked her why she was drowning their every child, she explained that the babies were Vasus born to her and had to be drowned so they could return to the heavens. Ganga took the child with her, but returned him to Shantanu 16 years later after his education was over. The eighth left in the care of Shantanu grew up to be an illustrious man – Bheeshma.
Benefits of having Goddess Ganga Painting
Renowned as a devoted daughter, a caring mother, a passionate lover, and a merciful saviour, she is here to absorb and absolve us of our sins. She has the power to save us all and bestow the precious gift of moksha, embracing saints and sinners alike with her all-encompassing compassion.
The Artist – Pieter Weltevrede
Pieter Weltevrede– is a Master "Sacred-Artist" based out of the Nederlands. After a many years of guidance, under his guru Late Harish Johari a successful author, a gifted painter and sculptor, a lifetime scholar, an inspiring teacher, a splendid cook, an ayurvedic massage miracle, etc., Pieter embarked on his own journey amalgamating ancient Indian knowledge with his own western sensibilities evolving an art form that appeals to todays international audience. He has been practising his art form from the last 40 years now.
His original paintings are in water colours on silk with a wash-technique that gives them a very three-dimensional feel. The complexity and detail in his works are a super-human endeavour as he continues to live a mundane life travelling between the Western World and India.
Printed on coated matt paper by inkjet printer, using ultra chrome inks with an off-white paper mounting with golden border, and encased inside a fibre frame with acrylic sheet cover in the front.
Click Here to visit our Shop Site.