Hindu god Hanuman, the divine Vanar (monkey), is an ardent devotee of Ram—an avatar (incarnation) of Hindu God Vishnu. He is the son of Vanar (monkey) king Kesari and Anjana. He is also believed to be one of the avatars (incarnation) of Hindu god Shiva on Earth. Lord Pawan (Wind God) had blessed him with his powers when he was in Anjana's womb. For this reason, he is also known as Pawanputra.
During the war in Lanka, when Lakshman was injured fatally by the arrow of Ravan's son indrajit, Lakshaman flew up the north to Himalayas and carried entire mountain filled with medicinal herbs to Lanka to cure Lakshman.He is shown as sitting in a blessing posture with sun rays emerging from his behind.
Lord Hanumana had the power to assume any form he liked; to swell his body to an enormous extent and to reduce it to the length of a thumb. His strength was superhuman. He was the terror of Rakshasas. He was well versed in the four Vedas and other sacred books. His valour, wisdom, knowledge of the scriptures and superhuman strength attracted everybody who came near him. He had extraordinary skill in warfare. He was the chosen messenger, warrior and servant of Shri Rama. He was the votary and devotee of Lord Rama. Rama was his all in all. He lived to serve Rama. He lived in Rama. He lived for Rama. He was a minister and intimate friend of Sugriva.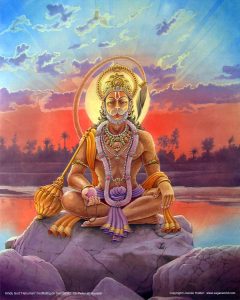 Lord Hanumana was born to mother Anjana and father Kesari. Hanuman is also called the son of the deity Vayu (Wind god) because of legends associated with Vayu's role in Hanuman's birth. He was born at the most auspicious hour of the morning of the 8th of the Lunar month, Chaitra, on the most blessed day, Tuesday.While still a baby, Hanuman, tried to fly up and grab the Sun, which he mistook for a fruit. Indra, the king of the gods, struck Hanuman with a thunderbolt on the jaw (hanu), thus inspiring his name 'Hanuman'.
According to Valmiki Ramayana, Lord Hanumana went to Lord Suryanarayana to study. To studying in front of the Sun, Hanumanji had to walk backwards at the same speed as the speed of his chariot, but this did not cause any difficulty in listening to and understanding the words of Suryadev.
The first meeting of  Lord Hanumana and Lord Rama is mentioned in the Kishkindha Kaand of Valmiki Ramayan, where he came in the form of a Brahmin to get the identity of Lord Rama. He accompanied the Vanara troops who went south in search of Goddess Sita. Inspired by Jambvanta, Hanuman leaped across the ocean to reach Lanka. On his way, he met the mountain Mainak and Sursa, the mother of the Nagas. On his way, he also killed the demoness Singhika. He also overpowers Lankini at the entrance of Lanka.Helped by Vibhishana, Lord Hanumana managed to trace Goddess Sita in Ashok Vatika of Lanka. Thereafter, he started creating havoc in the Ashok Vatika killing rakshas has like Jambumali and Akshay Kumar, who was the son of Ravana.
In order to give respect to the Brahmastra, Lord Hanumana allows himself to get captured by Indrajit, the most powerful son of Ravana. When produced before Ravana, he tried to convince Ravana to free Sita but he was not ready to listen. In the end, Ravana ordered Hanuman's tail to be set on fire. As Ravana's men set fire on his tail, Hanuman freed himself and leaping across here and there, set the entire Lanka on fire, except  for Ashok Vatika and Vibhishana's house.
Hanumana returned with the news of Goddess Sita to Lord Rama. Lord Rama was very happy and blessed him. Thereafter, Lord Rama along with the Vanara army marched to Lanka and the war started. In the war, Lord Hanumana killed several warriors of Lanka like Durmukha, Devantaka, Trishira, Akampana and Nikumbha.
During the war, once Lakshmana, the dear brother of Lord Rama, was badly wounded by Meghnaada(Indrajit). Lord Hanumana lifted Sushena, the royal physician of Lanka along with his house and took him to their camp. Thereafter on hearing about the only way of Lakshmana's revival from Sushena, Lord Hanumana went towards the Himalayas to fetch Sanjeevani herbs. In the way, he killed the sorcerer Kalnemi, who was sent by Ravana to distract him. As Hanuman reached the Dronagiri Mountains in the Himalayas, he wasn't able to identify the Sanjeevani herbs. So, he lifted the entire mountain and set back towards his destitation. Lakshmana was saved and he later killed Indrajit and finally in the end Ravana was killed by Lord Rama.
The origin of Panchamukhi Hanuman is also related to Ramayan. During the war between Ram and Ravan, Ravana's brother Ahiravana – the king of Patala, abducted Ram and Lakshman. When Hanuman entered patala, he found that Ahiravana can be killed only if the five lamps kept in five different directions can be extinguished at once. Hanuman took the form of Panchamukhi Hanuman and blew air from all five faces, killing the demon Ahiravana. The five faces are of Hayagriva, Narasimha, Garuda, Varaha, and Hanuman's  own face. Panchamukhil Hanuman has ten arms, holding Kalash (pot), Trishul (trident), snake, sword, bow, shield, Gada (mace), axe and mountain.
After killing Ravana, Lord Rama returned back to Ayodhya and was coronated as the king of Ayodhya. During the coronation ceremony, Mata Sita rewarded Hanuman with a precious necklace that she was wearing. Hanuman tore open the stones of the necklace and looked into each one of them, as if him finding something in them. Every one present in the court surprisingly asked him the reason for damaging such a valuable necklace. Hanuman answered that he was looking for his Lord Rama and Sita in these stones. And if he is unable to see his Lord in them, the necklace was worthless to him. Everybody in the court laughed and mocked Hanuman for exaggerating his love and devotion. They challenged him to show if Ram–Sita was residing in him. Hanuman tore off his chest and shocked everyone presenting in the court by making them see Lord Rama along with Goddess Sita literally residing in his heart.
Once, when Hanuman saw Sita applying Sindoor (vermillion) in her hair, he asked the reason for the same. Sita replied that it was for long life and well being of Lord Rama, her husband. Hanuman, the biggest devotee of Rama thought if a pinch of sindoor in the hair can increase the longevity of Lord Rama, then why not apply on the entire body. He then applied sindoor all over his body for Rama's long life. Seeing this innocence and unmatched devotion of Hanuman, Lord Rama gave him a vardan (blessings) that whenever the name of devotion takes place, Hanuman's name will be taken first. Also, whoever will pay respects to Hanuman on Tuesday and offer him vermillion, not only will his/her wishes will come true but will also be dear to Lord Rama himself.
When Lord Rama ascended to his supreme abode, Sri Hanuman also wished to follow him. But the Lord asked him to remain in this world as his representative and attend all the assemblies of men where discourses on his deeds were held and heard, and help his devotees in cultivating devotion.
He is one of the seven Chiranjivis. He was the only learned scholar who knew the nine Vyakaranas. He was the wisest of the wise, strongest of the strong and bravest of the brave. He was the Shakti of Rudra. The character of Hanuman teaches us of the unlimited power that lies unused within each one of us. Hanuman directed all his energies towards the worship of Lord Rama, and his undying devotion made him such that he became free from all physical fatigue.
And Hanuman's only desire was to go on serving Rama. Hanuman perfectly exemplifies 'Dasyabhava' devotion — one of the nine types of devotions — that bonds the master and the servant. His greatness lies in his complete merger with his Lord, which also formed the base of his genial qualities.He symbolises the human excellences of inner self-control, faith, and service to a cause, hidden behind the first impressions of a being who looks like a Vanara.Hanuman is considered to be a bachelor and an exemplary celibate.
Hanuman, endowed with the face of a monkey and embodies strength, intelligence and wisdom. He is widely revered for his devotion to Lord Rama and His resolve to remain a Brahmachari (celibate) indicates his mastery of the senses, inspiring people to conquer their base instincts. Well versed in the Vedas and an erudite scholar, He always responds to the call of his devotees. Hanuman is believed to be one of the four people to have heard the Bhagwada Gita from Krishna and blessed with the Dharshan of Lord Krishna in his universal form (Vishvarupa).
Benefits of having a Lord Hanumana potrait
Lord Hanuman alleviates the sufferings of his devotees and removes obstacles in their everyday life. His ardent devotion to Lord Rama empowers him with the power to bless and bestow prosperity on his devotees. Venerating him as Sankat Mochan( reliever of sufferings) brings immense benefits to his Devotees and instills in them the courage to lead a trouble free life. Brahmacharis (celibate) youth are said to please the Lord immensely and they enjoy especial status as his devotees. Praying to Lord Hanuman on Tuesday and Saturday is considered to be very auspicious . He who meditates on him and repeats his name attains power, strength, glory, prosperity and success in life.

Hanging a picture or a portrait of Lord Hanuman in the south direction of the house is considered the most beneficial. Lord Hanumana's influence is the strongest in the south, and the Vastu Shastra suggests placing the deity's photo in this direction will eliminate all the negative energies from the house.

Lord Ram was the idol of Lord Hanuman. Despite all his powers, Lord Hanuman always chose to sit at Lord Ram's feet. It is believed that a picture of Lord Hanumana sitting at Lord Rama's feet, if put up vin the living room of the house, keeps the love flowing between all the family members.Lord Hanumana had flown an entire mountain with him to save Lakshmana's life. Lord Hanumana's photo of him flying with the mountain is advised to be put in those homes whose members lack confidence and courage

It is believed that keeping a picture of Panchmukhi Hanuman wards off evil energy and such households don't suffer any problem. It also helps in getting Goddess Lakshmi's blessings. It is ideal to place a picture of Panchmukhi Hanuman at the entrance of your house.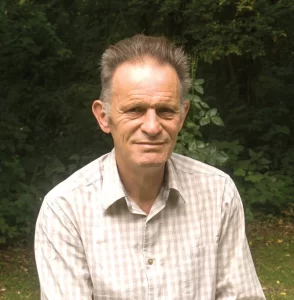 Pieter Weltevrede – is a Master "Sacred-Artist" based out of the Nederlands. After a many years of guidance, under his guru Late Harish Johari a successful author, a gifted painter and sculptor, a lifetime scholar, an inspiring teacher, a splendid cook, an ayurvedic massage miracle, etc., Pieter embarked on his own journey amalgamating ancient Indian knowledge with his own western sensibilities evolving an art form that appeals to todays international audience. He has been practising his art form from the last 40 years now.
His original paintings are in water colours on silk with a wash-technique that gives them a very three-dimensional feel. The complexity and detail in his works are a super-human endeavour as he continues to live a mundane life travelling between the Western World and India.
Here, 'Lord Hanumana' paintings are printed on coated matt paper by inkjet printer, using ultra chrome inks with an off-white paper mounting with golden border, and encased inside a fibre frame with acrylic sheet cover in the front.
Click Here to visit our Shop Site.