(Other names: Balgopal, Makhan Chor, Govinda, Devkinandan, Kanha, Morari, Girdhari, Dwarakadhish, Parthisarthi and Murlidhar)
Vasudev was from the Yadava family of Mathura. He was married to Devaki; sister of Kans. Krishna was Vasudev and Devaki's son. Krishna is said to be the incarnation of Lord Vishnu. There are ten avatars of Vishnu (dashavataar) commonly considered as the most prominent:
1) MATSYA – the fish
2) KURMA – the sea turtle
3) VARAH – the boar
4) NARASIMHA – the man-lion
5) VAMAN – the dwarf
6) PARSHURAM – a priest who kills some evil warriors
7) RAMA – the perfect man, epitome of Dharma, and protagonist of the Ramayana
8) KRISHNA – also known as Krishna, the dark lord
9) BUDDHA – the figure of peace and non-harm, or ahimsa
10) KALKI – ("Eternity", or "time", or "The Destroyer of foulness"), who is expected to  appear at the end of Kali Yuga, the time period in which we currently exist.
Krishna was born in the Dwapar Age (there are four ages according to the Hindu mythology- Krita (Sat), Treta, Dwapar and Kali). At the time of Devaki's (Krishna's mother) marriage, her brother happily came to see her off.
Just then, there was an Aakashvani (divine prophesy from the heavens), "Kans, you are happily sending off your sister, but you will be killed by the hands of her eighth child."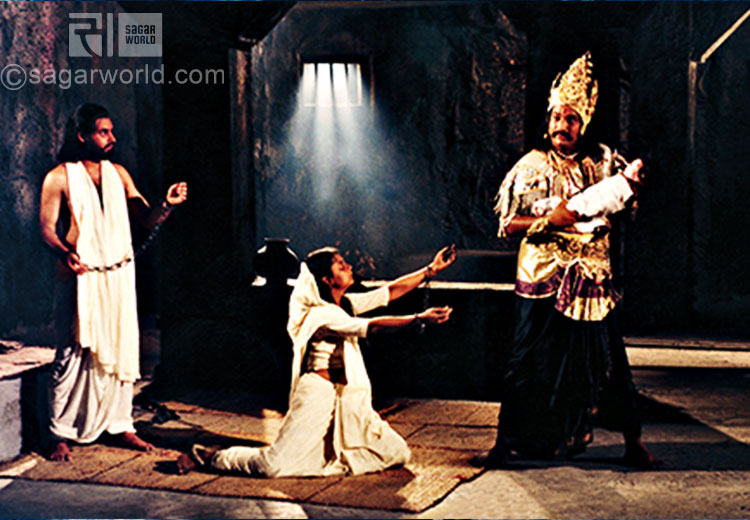 At this, Kans was very scared and imprisoned Devaki and Vasudev. In the prison, Devaki gave birth to seven children all of which were killed by Kans.
Krishna was born as the eighth child. Overnight, Vasudev went and dropped off Krishna to his friend Nandrai's house in Gokul and took away Yashoda's (Nandrai's wife) new born daughter and came back to the prison.
Kans wanted to kill her but this girl was illusive, so she freed herself from Kans's seize and flew off in the sky.
When Kans doubted that Krishna, who was growing up at Nandrai's house was the eighth child of Devaki.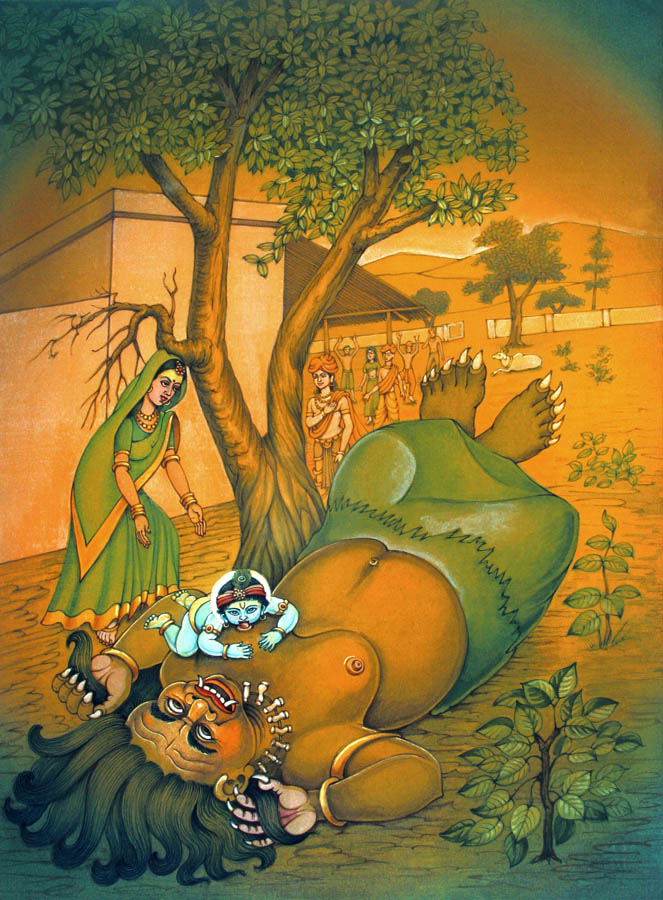 He sent demoness Putna and demon Bakasur and many more giants to Gokul to kill Krishna but all of them were killed by Krishna.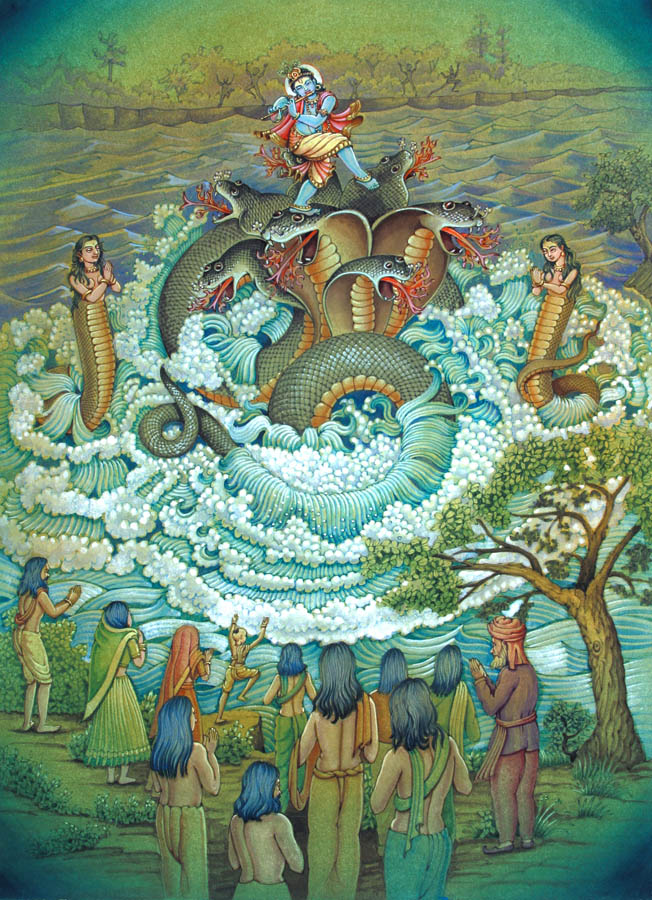 Krishna was valiant from childhood itself. In Gokul, he trampled Kaliya's ego and also broke Lord Indra's ego.
He took education from Sage Sandipani in Ujjaini. In Gokul, his pious and divine love with Radha became a divine love story of the union of two great souls.
Similarly, the Rasleela (the circular dance performed by Krishna and the Cowherdesses) act by Krishna along with the Gopis is such an act of divine love wherein Krishna symbolizes God and Gopis are the souls who are in love with God and live for this love.
In the Maharaas, the love between the Gopis and Krishna is illustrious, desire less and divine love. The Demigods would witness this divine dance and throw flowers from the sky giving their blessings. "Leela" (also spelled "Lila") means "play," so Krishna Leela refers to the God's cosmic play and pleasure when he spent time on earth as a simple cow-herd and seduced the local cow-girls or Gopis.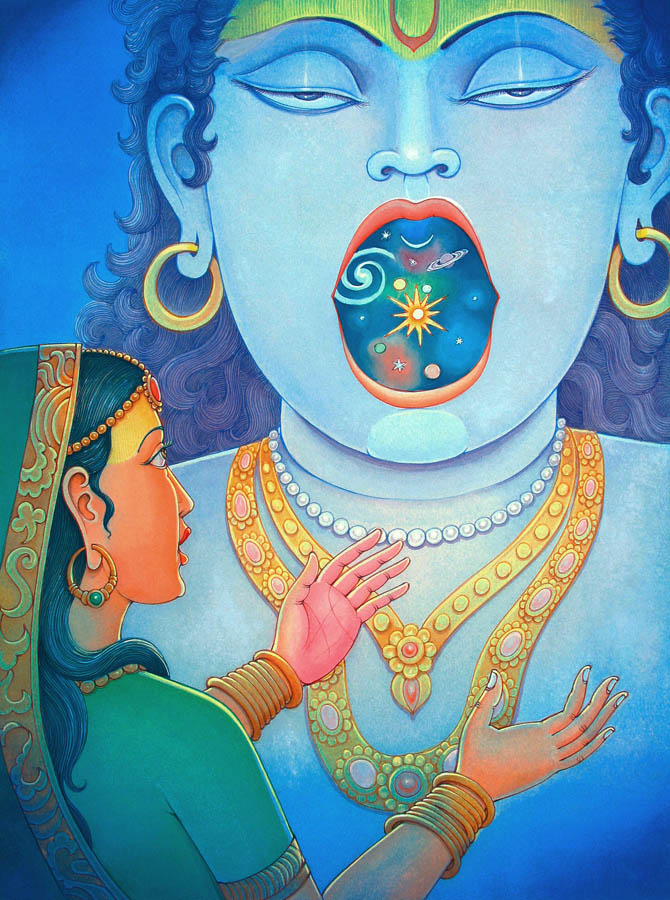 It is said that one day Baal Krishna was playing and put some mud in his mouth. On being scolded and ordered by Mata Yashoda he opened his mouth and showed her the complete universe in his mouth, the Sun, the Moon and all the stars, the sky, mountains, rivers, islands, oceans, all the continents, all living as well as non living beings.
Sri Krishna received instructions from Sandipani, a Sage of Avantipura. He lived with his teacher like an ordinary student. He was meek, humble and obedient.He mastered the sixty-four arts in sixty-four days. He was matchless in physical strength.
He led a laborious life. Sudama was Sri Krishna's classmate. Krishna and Sudama were great friends and Krishna maintained this friendship even though Sudama was very poor.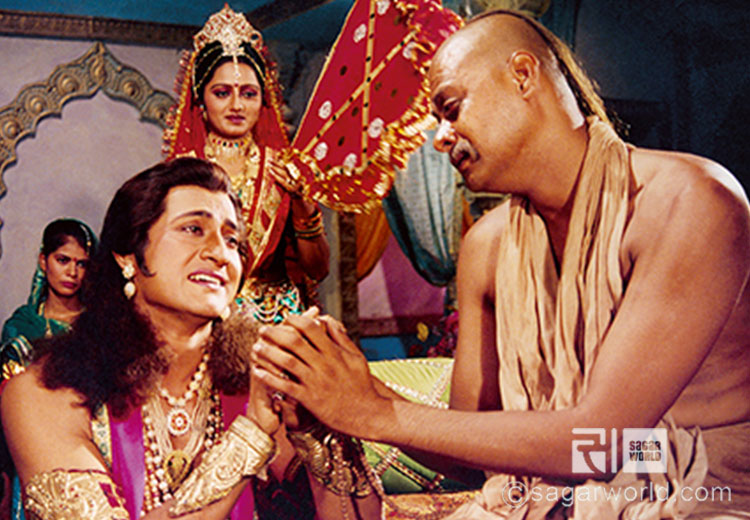 In India it is very common to refer to the friendship of Krishna and Sudama, as an example of great friendship and brotherhood because in spite of there being so much of difference in social status between them, they both were true to their bond.
Krishna was a person, an individual, with a transcendental body full of the most dazzling splendor. Even though Krishna was the oldest, the most ancient and primeval, He looked ever youthful. His eyes were like the petals of a blooming lotus flower. His head was decorated with a peacock feather.
His complexion was bluish, like the hue of rain clouds. Around His neck swung a garland of flowers decorated by the moon-locket and He was adorned by many jewels. In His hands he held a flute and He manifested in a graceful, threefold bending forms.
In the material world, Cupid or Kamdev is considered to be most attractive. But the beauty of Krishna surpassed that of a million Cupids. The body of Krishna was completely spiritual and qualitatively composed of truth, bliss and eternality.
Lord Krishna was a noble embodiment of all the great qualities of head and heart. He was Ragi as well as Vairagi; Nar and Narayan; Chakradhar and Murlidhar – all blending into one incarnation, Krishna. 
 Young Krishna along with his brother Balram went to Mathura and killed wrestlers like Chanur and Mushtik and in the end killed Kans and to get freedom for the people of Mathura from the oppression of Kans. He also freed his grand father Ugrasen from the prison and made him the King of Mathura.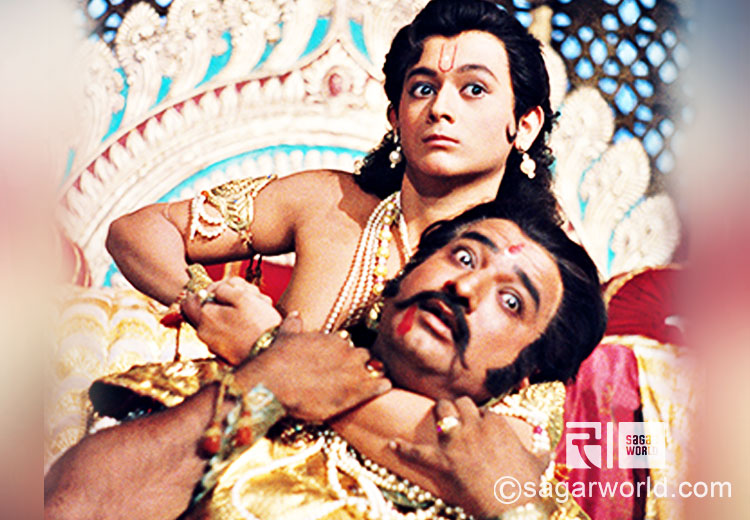 Jarasandh, father-in-law of Kans, attacked Mathura on and off to take revenge of the murder of Kans. To protect the people of Mathura from these attacks, Krishna switched over the capital of Yaduvansh from Mathura to Dwarka.
Krishna married Rukmini, the princess of Vidarbha, by abducting her from her wedding. He was also married to Satyabhama daughter of Satrajit and Jambvanti, daughter of Jamvant. Krishna had eight chief Queen Consorts.
Krishna killed Narkasur and freed sixteen thousand girls from his prison and also married them. According to Padma Puran, Krishna had eighty thousand sons.
To kill Jarasandh, he disguised himself along with Kunti's sons Bhima and Arjun and while wrestling duel, Bhima killed Jarasandh. Krishna was a friend of the Pandavas and had a special affection for Arjun.
During the war of Mahabharata, Krishna became Arjun's charioteer. At the beginning of the war, when Arjun saw respectable elders like Bhisma Pitamah and Guru Dronacharya in front of him, he became emotional and with a thought of not fighting the war, surrendered his arms.
Krishna described to Arjun who He really was, and also revealed his  thunderous, terrifying and indescribable "Viraat Swaroop," (the Cosmic Form). Krishna explained Arjun the duties of a Kshatriya (The earliest Vedic literature listed the Kshatriyas (holders of authority) as first in rank, then the Brahmins -priests and teachers of law, next the Vaishyas -merchant-traders and finally the Shudras -artisans and labourers) and motivated him to fight the war.
The preachings of Krishna to Arjun on the battlefield of Mahabharata became famous as the "Bhagwad Gita" consisting of eighteen chapters. In the sermon of Gita He said:"Man must do his duty. Do not think of the fruits or the results. 'These are mine, those are not mine' do not have such thoughts. A wise man treats all alike.
Anger and desire dull your intelligence, accept pain and pleasure in the same way. A man must understand and do what is right. Everyone who is born must die. Justice is more important than human beings. Parth, give up this base faint-heartedness, arise and do your duty." Thus the teacher of the Gita guided Arjun.
Gita is considered to be the epitome of Indian thought and philosophy. It is the essence of Indian culture and studied till today all over the world.
Even today the Gita is a light to all mankind. It has been translated into many languages; people study and seek to gain peace of mind by following its teachings.
Krishna, all through his life strived to protect Dharma (duty). He practiced whatever He taught all throughout his life. Every incident in his life is a lesson to the world.In the Indian culture, Shri Krishna is such an important personality who is the unique confluence of affection, love, valour, virtue, thought and study of religion.
Krishna is the matchless hero who held the fate of the emperors in the palm of his hand but himself never desired a throne. He is the great hero who was born in a prison and died in solitude in a forest.He gave the world the Bhagavad-Gita. He is the architect of Dharma who lives forever on the tongues of the people of India.
Once, some young Yadavas played a prank with Sage Kanva, which caused the downfall of the Yadavas. One day, some Yadava children went at the bank of river Narmada where sage Kanva was doing penance. Samba was one of those Yadava children. He disguised himself as a pregnant woman by keeping an iron pestle under his clothes. All the Yadava children then went near Sage Kanva and asked him as to when the pregnant woman was supposed to deliver.
Sage Kanva furiously cursed them that the whole clan of Yadavas would be liquidated because of that very pestle. All the children were scared and told Sri Krishna about the mistake they had made. Sri Krishna ordered that the iron pestle be pulverized and be thrown into a pond. But that was not the end of the matter, as long reeds grew all around the pond. The reeds had very sharp edges.
A fish swallowed a small part of that iron pestle and was subsequently caught by a fowler (hunter), who retrieved that iron-piece from the fish and fixed it on top of his arrow.Due to the curse of Sage Kanva, when Yadavas fought amongst themselves, then worried Krishna sat under a tree. There he was injured with the arrow of the same hunter and left for heavenly abode (Vaikunthdham).
Shri Krishna is at the top among those who dedicated their lives to a purpose. He assumed the human form and was born on this earth to demonstrate how life should be led in sorrow, suffering and happiness. Shri Krishna was the apostle of perfection, perfect to the core. The life of Shri Krishna was so glorious, noble and yet selfless that one can hardly find a parallel of it in the history. Shri Krishna is described as the outstanding personality of the earth. He possesses all the characteristics of such epoch making personality. As he is complete in every aspect, he is known as 'Purna Purshottam '.
Rama is Lord Vishnu's avatar but he didn't know that till Lord Yama reminded him of it at the end of his life and he behaved like a human being who respects parents and their decisions. He carried out his duties as a normal human being.
But in the case of Lord Krishna he knew that he is Vishnu's avatar and behaved like that and delivered the Gita to Arjun at the battle field.
The Lord's manifestation in His Avatars ranges from nine to sixteen digits or rays. The full or Purna Avatars are those in whom all sixteen rays are present. Lord Krishna was a Purna-Avatar, with sixteen rays; Lord Rama was an Avatar of fourteen rays.
A Poorna Avatar is one where the avatar is fully conscious, simultaneously about his Jiva form, his God form and his Turiya (Brahm) form.Rama was aware of his Jiva form and Turiya form but unaware of his God's form (that too for a purpose).Shri Krishna is the only avatar who was fully conscious of all the three states of existence simultaneously.
Rama lamented over the loss of Sita, wherein, women were in distress for the sake of Krishna. Rama was provoked to take arms against evil-doers. Krishna provoked the conflict and fought the evil-doers. In Rama's Avatar, duty came first and joy later. But in Krishna Avatar, joy came first and then only duty.
Hence, Krishna Avatar is a Sampoorna Avatar, the Lord appearing with all the sixteen Kalas (distinctive marks) highest in number than any of Lord Vishnu incarnations.  
The first five "kalas" are present in every human being and they are 1) Anna Maya (with cereals), 2) Pranamaya (with breath), 3) Mano Maya (with mind), 4) Vigyanamaya (with knowledge) and 5) Anandamaya (with joy). If humans turn righteously devoted then they can perfect in three more "kalas" and they are 6) Atishayini, 7) Viparinabhimi and 8) Sankramini. The rest of the eight "kalas" are 9) Prabhvi 10) Kunthini, 11) Vikasini 12) Maryadini, 13) Sanhaladini 14) Ahladini 15) Paripurna and 16) Swarupavasthit.
Lord Rama was a 12 kala avatar.where as, Rama shared the Kalas with his other brothers. Rama appeared as if he was associated with gunas (attributes) or having a qualitative behaviour, whereas, Krishna was above and beyond such.
Krishna never prayed, even in the direst crisis! But Rama did so forth Aditya (Sun God), for instance; the intent of that Avatar was different. Krishna was unaffected by the Gunas. His relationship with Gopis was pure.
A person like Dharmaraj selected him above all the Sages and Saints for Agra puja (special first worship) at the Rajsurya sacrifice. Krishna is great blend of Idealism and practicality.
Shri Krishna was able to give a lead and set an example in all spheres of activity. Shri Krishna was not a mere individual. He could be regarded an as ideal for the whole world.
There was not a single aspect of human life where he did not provide a stirring and thought provoking solution to a problem.
He was a staunch reformer, very able politician, liberal democrat, messenger of Peace, protector of harassed, sincere impartial friend, selfless leader and above all, top most preacher of the spiritual knowledge. 
Shri Krishna is such a large subject that no one verse or paragraph can capture the full extent of his personality. He is beyond imagination. He is beyond words, beyond imagination. He is God himself.