Kali is the fierce form of primordial feminine Adi Shakti. Goddess Shakti took the fearsome form of Kali to slay two demons. To pacify her fury, her consort, God Shiva lay below her. The protruding tongue of Kali represents her embarrassment of stepping on her husband, Shiva. Kali is depicted as a terrifying, four-armed, holding head of the demon, bowl with blood and  scimitar, axe, snake,  wearing garland of skulls, and standing on his consort, God Shiva. Hindu Gods Vishnu, Brahma and other demi-gods are fleeing away with fear.
Wild, naked, her tongue sticking out—an uncomfortable, feral image of force, bursting sheer power. She wears the most gorgeous jewellery—ornate bracelets and necklaces, and some amazing elephant-shaped earrings.
There's blood everywhere on and around her: It drips from the severed head of a demon that she is holding up with one of her arms; it collects in the plate below it; it's on her tongue, on the necklace of severed heads, and the skirt of ripped out arms which, alone, cover her nudity; it's on a pool at her feet. There lies the beheaded demon, too, and next to it, her husband—Shiva, the destroyer, snake and all.
Goddess Kali is portrayed in diverse forms across India, largely reflecting the various ways in which she has merged with the local traditions and cultural fabric of different regions of the country. 'Kali' is derived from the word 'Kala' which means both darkness and time. It is believed that Kali represents the force of time, carrying both destruction and creation of life and the universe. Thus, this Goddess is unique in the way she is formless and absolute, and at the same time capricious in her ever changing forms.
Time is life. Life is our movement over time. Through our life force or Prana we live the time. Kali as Time is Vital Force. She is the power of action or transformation. Kali is life. She is the secret power behind the functioning of our bodily systems and vital energy. Only through her do we live, and it is her intelligence that gives such a marvelous order to the body and to the whole universe. Kali is the eternal love that exists in the essence of life, that love that goes beyond the cycle of life and death, is awareness of the eternal nature of life. To realize the eternity that is Kali, our mortal nature must be sacrificed to make space for our cosmic and divine nature. Kali extinguishes all our desires, is the state of the dissolution of desire, She is Samadhi, She is Nirvana, She is the death of Death. This is why She appears to us so destructive and terrifying, She is the one that destroys the demons of our mind, the vicious mental circles, and gives rise to the awareness of pure consciousness.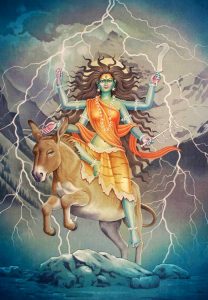 Kali symbolizes the death of the ego in the ultimate goal of human life in Hindu dharma — moksha (liberation from the cycle of rebirth). Kali is the embodiment of time (kaala) and the female form of Shiva (Kaala). Her name literally means "she who is black".
Kali is said to live in cemeteries amid decaying corpses, reminding us that our world is nothing but a cemetery where all things that are born must decay and die. She wears a garland of skulls to show us that we too must cut asunder the skeletons in our closet. She gives us the implements for our own personal excisions. She drips blood while consuming all of creation. She reminds us that every minute is constantly destroyed in the cycle of time.We must rise above this manifested world to see Her in her infinitude, just as Sri Ramakrishna Paramahamsa, that great saint of Bengal, saw her. He found in her "the benign all-loving Mother." He felt in her breath "the soothing touch of tender love and saw in her the seed of immortality.
"Born of Vishnu's sense organs or perhaps the composite of Brahma–Vishnu–Shiva and the glory of the devas, she encourages us to come to our senses through teachers like Sri Ramakrishna. "You see her only as black because you are far away from her. Go near and you will find her devoid of all colour.The nearer you come to God, the more you will realize that (God) has neither name nor form."
Benefits of having Goddess Kali painting
Goddess Kali reminds us that good can come out of bad situations. By praying to Her, you can achieve your dreams and aspirations. Where there is sorrow, she brings joy, where there is fear, she dances in courage. She dispels darkness from our lives and exalts the Earth with her transient external elements.

Having a Goddess Kali in home shall bestow several benefits to the devotees. Goddess Kali helps to attain Liberation or Moksha, the birthless state. She controls time and motion and helps the devotees in their spiritual pursuits.

She offers protection to you from enemies and adversaries. Out of vengeance, they might try to harm you directly or indirectly, and the power of Kali with save you from evil forces.

Those who worship Kali are blessed with good health.When injustice has been meted out to you, surrender to Goddess Kali for a solution. Her grace will set things right for you.

Kali shall protect you from the maleficent effects of Navagraha (the nine planets of the zodiac). In particular, it is ideal to worship Kali during Rahu Kala to be free from Rahu Dosha.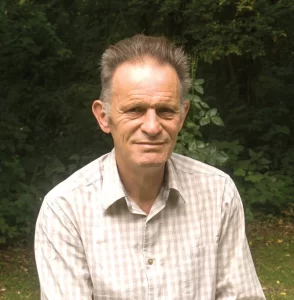 Pieter Weltevrede– is a Master "Sacred-Artist" based out of the Nederlands. After a many years of guidance, under his guru Late Harish Johari a successful author, a gifted painter and sculptor, a lifetime scholar, an inspiring teacher, a splendid cook, an ayurvedic massage miracle, etc., Pieter embarked on his own journey amalgamating ancient Indian knowledge with his own western sensibilities evolving an art form that appeals to todays international audience.
He has been practising his art form from the last 40 years now.
His original paintings are in water colours on silk with a wash-technique that gives them a very three-dimensional feel. The complexity and detail in his works are a super-human endeavour as he continues to live a mundane life travelling between the Western World and India.
Here, 'Goddess Kali' paintings are printed on coated matt paper by inkjet printer, using ultra chrome inks with an off-white paper mounting with golden border, and encased inside a fibre frame with acrylic sheet cover in the front.
Click Here to visit our Shop Site.