(Other Names : Kubja)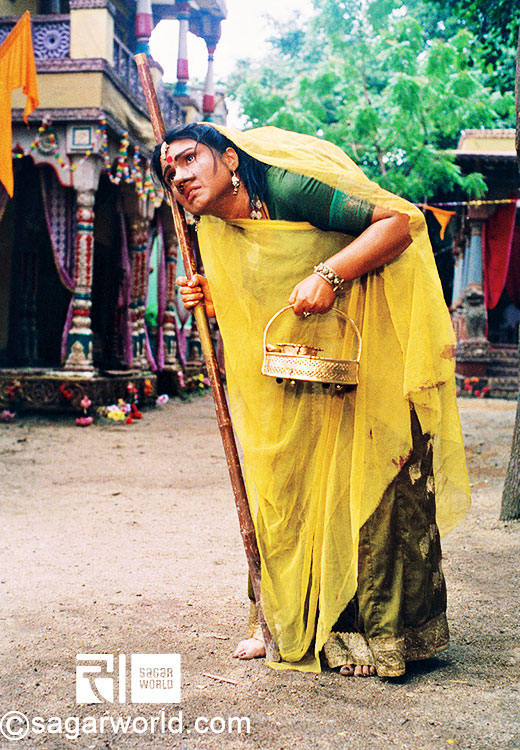 Krishna entered Mathura with Balram. He wore the appropriate clothes, but without applying chandan (sandalwood paste) on the forehead, he did not feel right to go to the assembly. Just then, he saw a beautiful but hunch- backed woman passing by.
She had a bowl full of chandan. Krishna asked her lovingly, "Pretty woman, who are you taking this sandalwood to?" Kubja saw Krishna and fell in love with him.
She said, "I am Kans's maid-servant and I do the work of applying sandalwood to Kans, but after seeing you, I feel there is no use of applying Sandalwood to Kans because dedicating the sandal to a person like you with a beautiful face will increase the importance of the Sandalwood."
Then she applied yellow coloured sandal to Krishna and red coloured sandal to Balram. Krishna and Balram looked very handsome after applying sandal.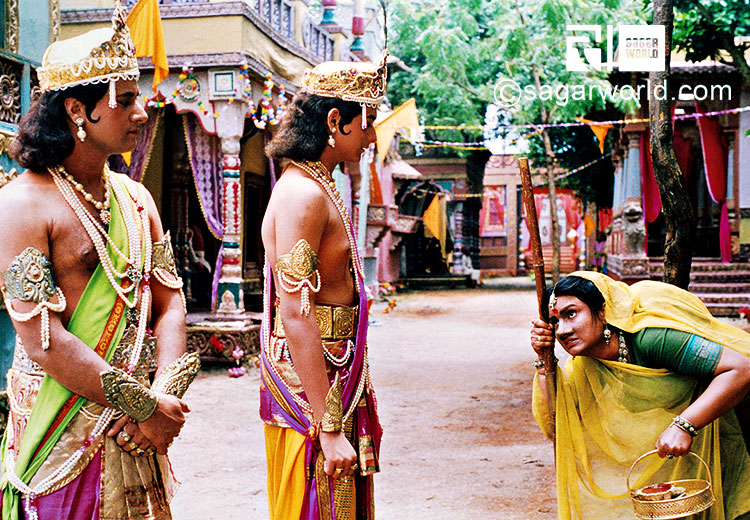 Krishna pressed Kubja's legs with his feet and just as he held her chin with his fingers, Kubja's hunch corrected itself. She became straight.
Kubja turned into a beautiful lady. She was overjoyed. She tried to pull the border of Krishna's scarf and said, "If you are pleased with this maid-servant, then visit my home."
Krishna promised her to visit her house and took her leave. From that day on, Kubja used to get dressed, decorate her house and wait for Krishna everyday.
After returning from Guru Sandipani's ashram (residential teaching institution) Krishna started looking after administrative affairs of the state. One day, he went to Kubja's place along with Uddhav.
Uddhav was surprised to see the welcome they got at Kubja's place though she had no prior information about their arrival.
Krishna held Kubja's hand and made her sit next to him. Kubja was overwhelmed. Krishna said,"Kubje, I can not meet you as an ordinary man and then whispered in her ears, "I am God, you can meet me only through the soul."
Since then, Kubja became engrossed in Krishna's devotion so that after leaving her body, her soul can attain the soul of God.   
It is believed that Kubja was Shabri in her previous life that is in Treta age (there are four ages- Sat Yuga, Treta Yuga, Dwapar Yuga and Kali Yuga) where Lord was incarnated as Ram and Shabri had served him with half-eaten berries.