(Other names : Nishadaraja, Nisadraja, Nisadaraja, Nisadraj)  
Nishadraj Guha was the King of Kevati by the banks of Ganga. He was an Adivasi (original inhabitant of the land). When Ram arrived at the banks of the river with Lakshman and Sita, his minister Sumantra accompanied them in his chariot.
The capital of Kevati was Shrngaverapura who king was Nishadraj Guha. It was at this spot that Ram tied his tresses into a hermit's knot using the milky sap from the banyan tree, in preparation for his life in the forest. Sumantra bid farewell to Ram, Sita and Lakshman and returned to Ayodhya from this place.
Near the town of Shrngaverapura, on the outskirts of the city, Ram retired for the night on a bed made of leaves and grass under the shade of a sheesham tree. While Ram and Sita rested, Lakshman and Guha kept vigil through the night. Guha offered them a repast of fruits, berries and roots of the forest.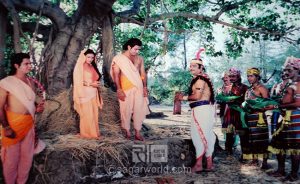 Ram had made a friend of the tribal king Guha and it was he who helped them cross River Ganga in a boat. It was at Shrngaverapura that Ram began his stay in the forest, and Sumantra narrated this to Dasharath when he returned to Ayodhya. The detailed narrations made Dashrath realize the finality of parting and he could no longer bear to live on after that.
When Bharat went into the forest to meet Ram, with his army and entourage, Guha thought at first that he was coming to attack Ram, Lakshman and Sita in order to become the sole heir to the throne. But his advance spies he sent out informed him that it was not so.
Guha was keeping his army ready to keep off Bharat, but when he learnt that Bharat was coming in peace to persuade Ram to return, he arranged for a formal welcome for Bharat and Shatrughna with due royal honour. Bharat and his entourage rested at Shrngaverapura. Then Guha led them on, showing them the path to Panchavati, where Ram, Lakshman and Sita had built their forest dwelling.
When Ram returned victorious after fourteen years in the forest, he did not forget to meet and greet his friend Nishadraj. He was also invited to the coronation ceremony of Ram in Ayodhya. He always received the friendship and support of Shri Ram.
Nishadraj was an emotional, genuine person, eager to help and befriend Ram and protect him if he could. It is this selfless association with Ram that makes him a character of Ramayana whose actions always tug at the heartstrings.