(Other names : Sumanthra)    
Sumantra was the chief minister in the court of King Dasharath and was also his most trusted aide. When Dasharath was married to Kaushalya, princess of Kaushal kingdom, Sumantra was also wedded to the daughter of the minister of Kaushal When Ram was banished to the forest for fourteen years, Raja Dasharath asked Sumantra to take Ram, Lakshman and Sita in a chariot up to the edge of the forest. "Take them around the woods for a few days and then coax them to come back to Ayodhya."
When Ram reached the banks of the river Ganga at Shringaverapura and met Nishadraj there. Ram took rest under a sheesham tree and made himself a palette of grass to sleep on. As he used the sap of the banyan tree to tie his tresses into a hermit's knot, Sumantra repeated Dasharath's plan and requested him to return to Ayodhya. But Ram responded with adages on his duty and righteous conduct and sent him back. Ram then crossed the river to go ahead.
Disappointed, Sumantra returned to Ayodhya alone. When Dashrath passed away due to the grief of being parted from Ram, it was Sumantra, who consulted the royal Guru Vashishtha and arranged for Bharat and Shatrughna to be brought back from Kaikey Land.
When Bharat left for Chitrakoot to meet Ram, Sumantra also went along with the royal family members. When Ram returned to Ayodhya after fourteen years in the forest, it was Sumantra who arranged for the coronation and Rajtilaka ceremony, in consultation with the royal priest Vashishtha.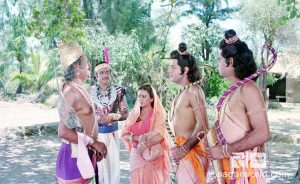 When Shatrughna went to Madhupuri (Mathura) to kill Lavanasura, Ram sent Sumantra to accompany him. During the Ashwamegh Yagna (horse sacrifice where a horse is let loose and whichever kingdom that horse crosses into has to accept the owner of the horse as their lord or then fight with them), when Shatrughna was sent with the horse on the victory voyage, it was Sumantra who went along. Sumantra was thus the chief minister for both Dasharath and later, Ram, during their reigns over Ayodhya. In every major episode and event of Ramayana, there is a link and mention of Sumantra.
Sumantra was among the most important people in the royal household of Ayodhya. Along with Sumantra, there is mention of the royal minister Vamdev and Javali. But they were from the sage lineage and gave priestly advice along with Guru Vashishtha.They are ministers concerned with spiritual and religious matters, but in most matters concerning royal administration, it is Sumantra who appears in the lead.
In the Ramayana, it is Sumantra who is identified as the main royal minister and his place in the royal household is firmly established. In Valmiki's Ramayana, Sumantra is seen as scolding Kaikeyi, who caused Ram to be sent to the forest. This proves his prime position in Dashrath's court. Ram, too, gives him the respect and honor due him as the chief minister. Thus, Sumantra is one of the main characters of Ramayana.