Sita was sitting in the Ashok Vatika, sad and forlorn, surrounded by Trijata and other rakshasni's (female demons). Ravan had arrived there with Mandodari and his other queens. Ravan boasted of his fame and fortune, then said to Sita, "If you marry me, I will make you my Patrani (chief queen)!"
Sita held a twig in her hand and reaproached Ravan. She declared "How dare you compare yourself with Ram, the pride of the Raghu clan! You took me away in the sky, like a thief, you cruel tormentor! You will not have me even in your dreams!"
Ravan was insulted by her outburst, and threatened her, saying "I am giving you one month to make up your mind. If you do not marry me in that time, I will use my Chandrahas sword to slay you." He instructed the rakshasni guards to once again threaten and bully Sita into submission so that she would agree to his proposal. Then he went away again.
Sita was filled with woe and grief. She said remorsefully, "I made a great mistake by not listening to Lakshman." Her sorrow moved the guards, and Trijata and the other rakshasni's consoled her instead of threatening her, as they had been told to do. They said, "Your grief will soon be over." and then went away, leaving Sita alone.
Hanuman watched all this while seated on a branch of a tree in the Ashok Vatika. When the place was quiet, at sunset, he began to sing the story of Ram and then dropped Ram's ring besides Sita.
She was astonished to see the ring appear there, out of thin air. No one could create or duplicate that ring so she knew it belonged to Ram. She said aloud, "Tell me who you are? you who speak such soothing words that becalm my soul! Why don't you come stand before me?"
Hanuman then leaped down and stood before her. He introduced himself as the messenger of Ram, and told her the story of Ram's friendship with Sugreeva, and how he himself had arrived at Lanka. He gave her Ram's message, and assured her that soon Shri Ram would arrive with the vanar sena to kill Ravan and his rakshasa's. When Sita was not convinced, he assumed his gigantic form, to display his strength.
When Sita was finally assured, he said "Mother, now give me permission to pluck some fruit from this garden as I am very hungry." Sita happily gave him the go-ahead. Using the excuse of eating fruit, Hanuman started to destroy the Ashok Vatika (garden of Ashoka trees). When the gardener Jambumali came to intervene, with his assistants, Hanuman pulled up a tree and killed the gardener. The rest rushed off to report to Ravan.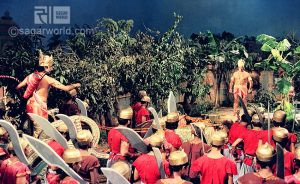 Akshay kumar killed and Lanka burns.
Ravan sent his younger son Akshay Kumar to check the story and find out whom the brave vanara was, who was creating havoc. "Kill him or catch him!" said Ravan. Akshay Kumar arrived with his men and fought Hanuman, but Hanuman killed Akshay Kumar and all his men, using trees as weapons.
Ravan was shocked and amazed to learn that Akshay Kumar had been killed and wondered at the power of the monkey who killed him. He sent his son Meghnad next, and told him not to kill the monkey, but capture him and bring him to the court so that he could see him and find out who had sent him.
Meghnad took a chariot and soldiers to confront Hanuman, who was busy destroying the gardens. Meghnad challenged Hanuman and a fierce battle ensued. In spite of using all his strength, he could not overpower Hanuman. So he used the amogh Brahmapash, the noose that cannot miss its aim, and Hanuman was caught in it.
As the noose belonged to Brahma, Hanuman respected it and did not attempt to break out of it. Meghnad dragged the captive Hanuman through the streets of Lanka as he led him to Ravan. People thronged to view the vanara (monkey) who had destroyed Ashok Vatika (garden of Ashoka trees), while Hanuman took note of his surroundings.
Before Ravan, Hanuman introduced himself as a messenger of Rama. Enraged, Ravan ordered him to be killed at once. But, Vibheeshan, as a minister of the court, intervened, and insisted that messengers couldn't be killed, but if necessary, they could certainly break a limb or two, and send him back that way. Then Ravan said, "In that case, since monkeys are very fond of their tails, we will tie oil-soaked rags around his tail and set it on fire."
As they began wrapping cloth around his tail, Hanuman made his tail grow longer and longer till in fact all the available cloth in Lanka was used up. Then, when his tail was set on fire, Hanuman took on a small form and jumped on the terrace of the royal palace and over the fortifications.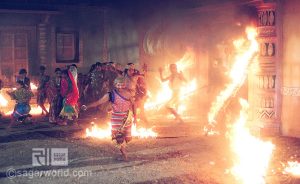 Then, whipping his flaming tail about, he set the city on fire, causing enormous chaos all over Lanka. Then he returned to Sita in the Ashok Vatika (garden of Ashoka trees). He asked Sita to give him a token that would indicate he had met her. Sita took off her Choodamani (armlet) and gave it to him, and said if Ram did not come and rescue her in a month, she would kill herself.
Now Rama consulted with Sugreeva, Jambavat and others about the formation of the army. Soon the entire army, led by Ram and Lakshmana, was on their way southward. The huge army crossed mountains and valleys and a few days later, they reached the shore of the sea and set up camp there. Now the problem was to decide how the entire army of monkeys and bears would cross the ocean. A consultation was held to discuss the options.