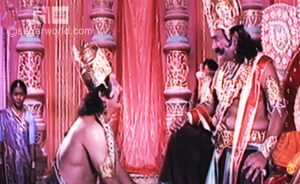 Meanwhile, Ravan's spies informed him that the huge army of Ram had reached the edge of the ocean. Worried and troubled, Ravan called for a council of ministers. The dim-witted ministers said, "Men and monkeys are our food. We do not think much of them."
But Vibheeshan reminded Ravan that just one vanara (monkey) had set the entirety of Lanka on fire. "Valiant warriors like Jambamali and Akshay Kumar have been killed. Ram and Lakshman are not ordinary beings and nor is their monkey army like any other.
My advice to you is that you return Sita to Ram, and seek his blessing."The enraged Ravan was so filled with fury that he kicked Vibheeshan and said, "If that's what you believe, then go to Ram for your livelihood!".
Ravan's cruel words and insulting behavior made Vibheeshan decide to go to seek the advice of Kekasi, his mother. "Ravan has ensured the end of our clan by kidnapping Sita. Ram is an incarnation of the Lord of the World, and Sita is goddess Jagadamba. Ravan has evil clouding his mind; that is why he is rejecting any and all wise counsel", he told her. Yet Vibheeshan tried to persuade Ravan once more, but Ravan again insulted him, and banished him from his sight.
Vibheeshan then flew to seek out Shri Ram. Some of the vanara (monkey) chiefs were suspicious of his motives. But Shri Ram said, "Whoever seeks my support, I will always accept." Shri Ram seated Vibheeshana affectionately by his side, put a Rajtilaka on his forehead, and declared him to be the future King of Lanka, and his own chief minister.
The Story of Ram-Setu
Now the monkey chiefs laid their plans to cross the ocean. Everyone gave their own suggestions. Shri Rama said, "I want to pray to Samudradevta (the god of the ocean) to give us passage to cross." He sat in a meditative pose, facing the sea and prayed to the ocean. For three days he sat and offered prayers to the ocean, but to no avail.
T
he ocean did not respond (refer to the map of India for Rameshwaram) due to the suffering it underwent during the great churning.
Angry Ram asked Lakshman to fetch a bow and his quiver, so that he could choose an arrow that would dry up the ocean. Lakshman was very happy to hear of this aggressive solution and immediately went to fetch them. Intimidated by Ram's rage, the God of the Ocean promptly appeared before him and begged for his forgiveness for ignoring his prayers.
He suggested that they should build a bridge to cross, and he would aid them in their endeavor to do so.
Shri Ram prayed to Shiva and He also suggested they build a bridge. He told them that Nala and Neel, the two avatars of Vishwakarma (God of Vastu and architecture) were incarnated among the monkey legions, and thus were experts in building, and they would be of great help him in this task.
On getting the order from Shri Ram, Nala and Neel, with the help of the monkey army, began the work of building the Ram Sethu. The monkeys brought enormous stones and rocks, and Nala and Neel wrote the Name 'Rama' on each of them and helped throw them into the sea. With the name of Rama on them, the rocks did not sink but stayed afloat. Thus was built the Ram Sethu
Also, in their childhood, Nala and Neel disturbed the Rishis  with the naughty trick of throwing their Puja vessels into the sea. The Rishis then cursed them that from that day forward, whatever they threw into the water would not sink. This was another reason the rocks stayed afloat. Very soon, the bridge or sethu, two yojanas (1 Yojana = 8-10 miles) in width, was ready.
"Now Rama commanded the army to march to Lanka. In a short while, the Rama Sena (army) had crossed the Ram Sethu and now stood upon the shores of Lanka itself. Upon reaching Lanka, Rama set up camp on the Hill Suvela. Meanwhile Sita was impatiently awaiting the arrival of Rama, to rescue her from her life of captive turmoil."