Finally Ganga led by Bhagirath reached the ashram of Sage Kapil. Sage Kapil was overwhelmed with joy at Ganga's arrival. He welcomed her and led Ganga to the spot where the ashes were lying.
Bhagirath stood with his hands folded in adoration. As soon as Ganga touched the ashes of King Sagar's sons and soldiers they came out of the waves of Ganga in their astral bodies glowing with divine light. 
They were all praying to Ganga and ascending toward the higher lokas. At the same time the ancestors of Bhagirath who were already in Heaven came in their respective vimanas (driving air crafts) to watch this long-awaited moment.
Bhagirath had done what none of them was able to accomplish, and they all showered flowers on Bhagirath in gratitude.
Sage Kapil blessed the spot where all this happened because if the sons of Sagar had not been burned here by Kapil's yoga agni, Ganga would never have come to flow at this place on Earth.
"This place," Kapil said, "will be known as Ganga Sagar. It is here that Ganga will merge with the Sagar (ocean).
Those who come on this day to bathe at the meeting point of Ganga and the Sagar will not only be purified but even their ancestors will be purified and will enjoy the blissful life of Heaven."             
Lord Brahma also appeared at this special mission and said. "Son Bhagirath, you devoted your entire life to the welfare of your ancestors.
You did not enjoy your youth and you did not have any children to carry on your lineage or your name.
From this day forward Ganga will be known as" Bhagirathi "so that your name shall always remain in the mortal world.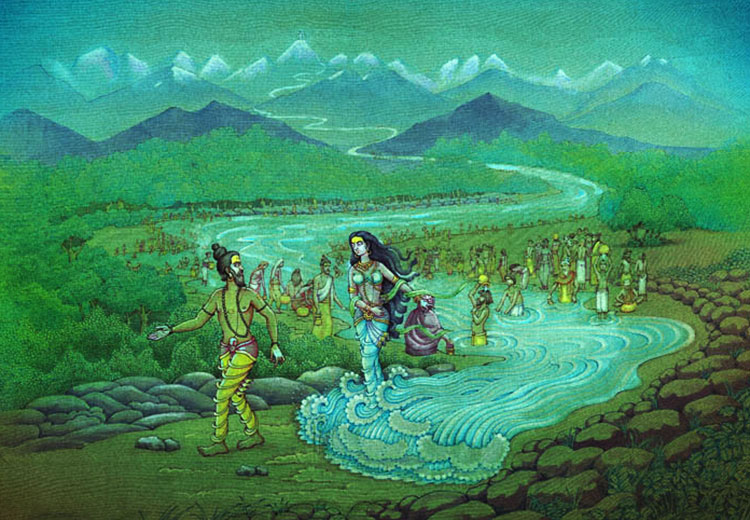 Ganga will purify the entire population of human beings who bathe in her water or use her water in any way.
And she herself will be purified by the saints who will bathe in her water. Thus she will remain pure as long as there are saints in the world."
And from that day until this, Ganga continues to flow gracefully from the Himalayas to the shores of the "Bay of Bengal" where she merges with the ocean. The entire route of her flow is dotted with numerous holy sites and temples.
People from all over India worship her as a mother goddess who washes away sins and liberates them from the human cycle of birth and death. All those who read this story or who remember Ganga with devotion will be purified.