The young and charming Ganga made life for the dwellers of Brahma Loka lots of fun through her playful nature, her music, and her dance. She was a happy girl, and she enjoyed living in Brahma Loka.Ganga also had free passage to all the other lokas and she brought joy and happiness to everyone wherever she went.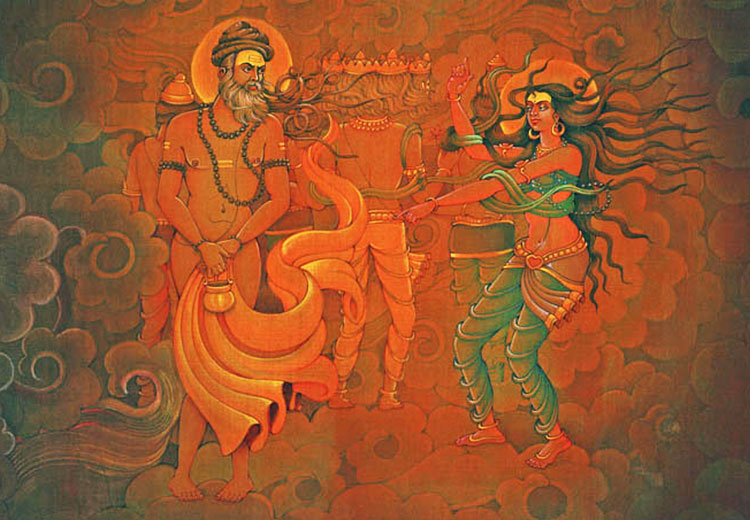 All the love and admiration showered on her by Lord Brahma and all the other gods made Ganga a little arrogant and high handed, but her beauty, charm, and light hearted nature compelled the gods to overlook this minor pan of her behaviour.
One day when Ganga was in Swarga Loka with Lord Brahma, Indra, Varun, and Kuber, the great sage Durvasa happened to visit.
Rishi Durvasa has always been famous for getting easily agitated and angry. Everyone tries to be very careful when around him so that he remains in a good mood, otherwise, he will curse whoever causes him annoyance.
While Durvasa was strolling around Swarga Loka, a gust of wind came and blew off the only cloth with which he was wrapped.
As Durvasa was trying to put the cloth back on his body to avoid being naked, the wind kept pulling the cloth away. Ganga saw Rishi Durvasa's struggle and began to giggle. All the other gods who were present turned their faces away out of respect. 
Rishi Durvasa became furious when he heard Ganga's laughter and saw that she was enjoying his struggle to keep himself covered. After the wind died down, Durvasa wrapped himself back in his cloth and then addressed Ganga.
Ganga you are disrespectful. You mock saints, and you are a disgrace to the dwellers of the higher lokas.
"You will have to leave Heaven and the higher lokas and dwell on Earth as a river. When the humans wash their dirty linen in your water, you will realise how privileged you have been to be able to dwell in Swarga Loka."
Everyone was shocked by Durvasa's curse. They respectfully asked Durvasa to pardon Ganga for her childish behaviour, but Durvasa remained adamant and said, "My curse cannot be revoked.
Ganga will have to descend to Earth to pay for her disobedience." Ganga realised she had behaved badly, and she asked Durvasa to set a fixed time for her punishment so that she could return to Swarga Loka after the period of punishment was over.

Durvasa, after considering her request, said, "When your water becomes polluted you may come back to Swarga Loka again. As long as your water remains pure, you will have to remain on Earth.
Now that you have become respectful you, in turn, will get respect from the people on Earth. They will worship you for your purifying quality."
Rishi Durvasa left Swarga Loka and everyone was very sad because they did not want Ganga to leave them.
The news of Durvasa's curse spread like a jungle fire, and soon the eight vasus (the guardian angels of the eight directions) heard about Ganga's punishment.
The eight vasus came to sec Ganga and said. "Devi Ganga, Rishi Durvasa has cursed you and is now sending you to Earth. Will you please help us while you are on Earth?"