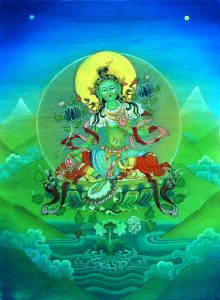 Tara is a female Buddha in Buddhism. Tara is a meditation deity worshipped during meditation to understand the inner feelings of compassion. Green Tara is an aspect of Tara. When Avalokiteshvara Buddha wept seeing the sufferings in the world, his tears formed a lake from which a lotus bloomed out and Goddess Tara appeared from the lotus. From the tears of the right eye, Goddess Green Tara was born. She is a saviour deity and is associated with protection from fear and remover of delusion.
 A fully enlightened female buddha, Tara is the actuality of compassion and wisdom. Green Tara is Tara's most dynamic manifestation. Her colour symbolizes youthful vigor and activity. The Buddhist Lord of karma (action), Amoghasiddhi, is also associated with the green color, thus signifying that they belong to the same family. This is a further affirmation of the perception that Green Tara is a goddess of action.
She has a specific posture that distinguishes her from other Taras and other female deities. Green Tara is often seen with her right hand in the giving mudra of generosity and her left hand holding a blue lotus flower. A mudra is a symbolic hand gesture, while the lotus is a reminder that there is beauty within even the darkest of times. Most notably, Green Tara has her right leg outstretched, ready to spring into action. She is always available to help and assist anyone in need.
 Benefits of having Green Tara painting:
Green is connected to the element of wood in the five elements. Wood element inspires rejuvenation, compassion, flexibility, and growth. 

You can place Green Tara painting in your home if you would like more healing and harmony for you and your family. 

If you have an altar or place where you meditate regularly, Green Tara will be a welcome addition. You can explore all the wisdom she has to offer into your spiritual life.

Seeing her as you come in and out of your home will help you acknowledge her teachings on compassion and remind you that you are not alone.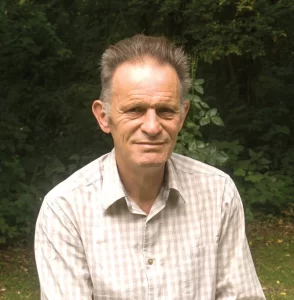 Pieter Weltevrede– is a Master "Sacred-Artist" based out of the Nederlands. After a many years of guidance, under his guru Late Harish Johari a successful author, a gifted painter and sculptor, a lifetime scholar, an inspiring teacher, a splendid cook, an ayurvedic massage miracle, etc., Pieter embarked on his own journey amalgamating ancient Indian knowledge with his own western sensibilities evolving an art form that appeals to todays international audience. He has been practising his art form from the last 40 years now.
His original paintings are in water colours on silk with a wash-technique that gives them a very three-dimensional feel. The complexity and detail in his works are a super-human endeavour as he continues to live a mundane life travelling between the Western World and India.
 Here, 'Green Tara' is printed on coated matt paper by inkjet printer, using ultra chrome inks with an off-white paper mounting with golden border, and encased inside a fibre frame with acrylic sheet cover in the front.
Click Here to visit our Shop Site.