Ramanand Sagar firmly believed that Maryada Purushottam ideal human being 'Shri Ram' will never banish his pregnant wife into the jungles that also on a story of a Dhobi – a washer man – questioning the chastity of his wife who was forced to sleep a night in a stranger's house circumstantially because of a swollen flooded river she could not cross to come home. Sita is Garbhvati (pregnant) she is chaste which has been witnessed by one and all in Agni Pariksha and ideal Shri Ram will request Lakshman to leave her in jungle with a pretext. No way my Ram will do that, so also was the dilemma with Sant Tulsidas while writing Ramcharitramanas. Hence after Ram Rajya, Tulsi winded up mentioning that Ram had 2 sons and the rest of the story is as narrated by other writers. He refused that my Ram can ever do anything like this.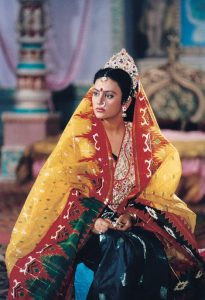 Ramanand Sagar conveyed his resservations to DD. Authorities. But due to valmiki samaj's presure on the government for telecast of luv kush chapter, babus of Doordarshan gave Ramanand Sagar a free hand but to be creditable in content. In a soul level dilema Ramanand Sagar went into deep research and came across a Ramayan version by Radhe Sham whereby Sita decides to leave Ayodhya instead Shri Ram banishing her – a major departure from century old accepted story which if rewritten can cause a nation wide stir and displease hindus enmass.
Telecasting of Sita Vanvas episode as per his dharma
Ramanand Sagar shot the episode content sensitively as per his dharma – as per principle of divine law – as righteous and as he morally thought was correct. At night in their private chamber Sita conveys that instead of Ram banishing her to vanvas it is her own decision to leave Ayodhya for the forest for the sake of her husband's dignity and maryada. Before Sunday telecast, out of nowhere Dhirendra Brahmachari stormed the office of Doordarshan authoritatively ordering to ban the episode of Sita vanvas telecast.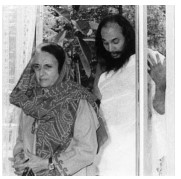 The Yoga yogi was a powerful political figure in the corridors of Delhi. He was extremely close to Indira Gandhi. As per Khushwant Singh "…one who had an hour with Indira behind closed doors every morning, yoga lessons may have ended up with lessons from the kamasutras…" As per Piyul Jayakar – The Indian Rasputin …. reportedly started to use her name to pressure businessmen and officials… .
The flying Yogi owned an Ashram in Mantalai (Jammu) with a private airstrip and Shiva Gun factory other than Pitts S2 aircraft, expensive cars etc. Nehru's private secretary M. O. Mathai described Dhirendra Brahmachari as "very dangerous and powerful…"
The tragic story before telecasting Sita Vanvas  episode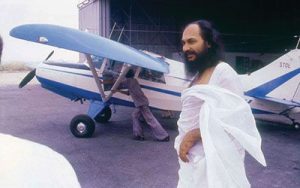 As fate would have it, Ramanand Sagar was in Doordarshan when the most powerful Yogi, with an intention only he knew, almost succeeded to derail Sita vanvas episode of Uttar Ramayan telecast on DD. There was only an hour left for telecast but Ramanand Sagar refused to go away from the path of his dharma, to bend to powerful arm twisting tactics, to pressure businessmen and officials. Who can be more powerful than Shri Ram. The Sita vanvas episode was telecast as scheduled. Just imagine the network of the flying yogi, the super sensitive episode was kept a secret, flown to Delhi only on sunday morning, delivered to Doordarshan an hour earlier to telecast and Lo! the Rasputin Yogi was there to demand his pound of flesh. But this was not the end of the beginning, there was hue and cry across the length and breadth of India "…how can Ramanand Sagar distort Ramayan…." culminating into a court case in Allahabad High Court which lingered on for a few years