Inspired by Robert Svoboda's 'The Greatness of Saturn' – I worked on the idea and script in 1991 when my Shani maha dasha started. My right leg had shortened due to the accident on the sets of movie 'Charas' which had caused Avascular Necrosis in my hip joint. My face had become languor black with extra pigmentation. All these in sync with Shani Dev since He limbs and was born out of a chhaya – a shadow. I narrated the script to Papaji, my reverend and respected father Dr.Ramanand Sagar, said it was a very good script but no TV channel will touch it since it is not one of the popular deities like Shri Ram, Krishna or Hanuman. All general entertenment TV channels rejected it for telecast reasoning Shani as a Mytho will not work and give TRP's.
The Start of Shani Dev Serial
I stuck on to my determination and with Shani Dev's kripa the TV serial saw the light on 'Imagine' channel owned by Turner Broadcasting a subsidiary of Time Warner. Sameer Nair CEO of Imagine, on hearing the script, immediately, on the spot, signed the commissioning agreement. We changed the image of Shani dev from Dhand Devta as perceived generally into Nyay devta – God of Justice – who willl not forgive your wrong doings. Mahima Shani Dev Ki had a very successful 225 episodes run for almost 3 years, at times topping the channel's TRP rating chart. In the year 2009 my shortened leg became original size with total hip replacement operation. The langoor black face became absolutely the original flesh tone. All this due to Shani Dev's kripa and My bhakti and seva towards Shani Dev for 19 years.
Ramanand Sagar attained mukti on 12th December 2005 since Shani Dev is the mukti grah when he comes on a vahan of deer. After the success of Shani TV serial, the devotees going to Shani Shingnapur in Nasik district Maharashtra India increased multi multi fold.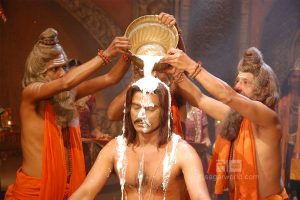 From a tickle of few thousand to hundred thousands now paid their obeisance to Shani Dev in the tiny town of Shani Shingnapur where no house have doors due to the belief that Shani Dev protects them and nobody will ever rob anybody in this town guarded by Shani Dev. Shani Dev Sanstha honoured me twice. My son Shiv Sagar who produced Mahima Shani Dev Ki, brought Dayashankar Pandey for me to consider for the title role. I, without any screen test, just in one look, instantly said go ahead. I felt as if Shani Dev was himself standing in front of me. The same also was experienced by the viewers of the TV serial since actor Dayashankar Pandey playing the lead Shani Dev role started receiving gud (Jaggery),black til (sesame) and black dal by kilos and sacks normally offered to Shani Dev, delivered to his residence by Shani bhakts