Date 3/10/1995
A launch party was organised at the circular 5 star hotel 'Centaur' next to the airport. Special potter and clay artisans from Kumartali (North Kolkatta) were called to make Durga killing buffalo demon Mahishasur statue in the centre lawns of Centaur Hotel. So also dancers from Rajasthan to perform a welcome dance 'Chari' with fire pot on the head were flown in. Governor of Maharashtra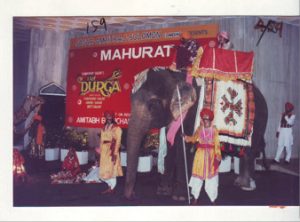 P. C. Alexander gave the clap together with Jaya Bachchan and Dara Singh in attendance. Two live royally decorated Elephants were at the entrance to greet Michael Solomon and Ashok Amritraj. I had met Ashok in Chennai at the launch of Shankar's "Jeans" and narrated him the concept of "Jai Maa Durga" and "Rajputs" book based on "Annals and Antiquities of Rajasthan by Lieutenant Colonel Tod (1782 – 1985). During the narration of Prithviraj Chauhan story and autrocities by Ghori Muhammad, there were tears in my eyes. On realising my involvement he just picked up the telephone and called Machael in L. A. The deal was sealed. It was a wild fire talk in the entire industry. Mr. Sanjeev Gupta of ABCL mentioned the same to Mr. Amitabh Bachchan. Sanjeev and myself were good friends and business associates during his Hindustan Lever blue eyed boy days. We drove to Leela Hotel where Michael alone had half a floor to himself and signed the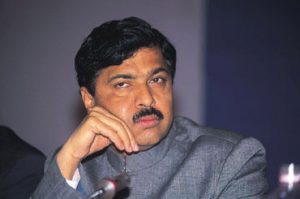 contract with a rare designer Montblanc pen. I had dinner at Michaels house in Beverly Hills, Beverley Park with his bond movie actor wife. The sprawling house on top of the Hollywood Hill had 2 tennis courts, 20 to 30 pottery of servants, a dining table meant for a Maharaja. Truly a grandeur Hollywood mansion. Durga and Rajput were launched internationally in MIP Hongkong on a grand scale with loudspeakers and banners all around the exhibition hall screaming of the co-production between India and Hollywood. Michael and Ashok with their full sale team of over 15 – 20 executives were in attendance.
Making of Triology( Ramayan, Shri Krishna, Durga )
Hollywood reporter and variety announced it as the biggest co-production between India and Hollywood. with Solomon Warner Brothersand Hollywood producer Ashok Amritraj 7 Ramanand Sagar had decided to make a trilogy 'Ramayan' 'Shri Krishna' and finally 'Jai Maa Durga' before he departed from this sansar. After the legendary success of Ramayan and Shri Krishna and with Durga pre release sky rocketed internationally, Ramanand Sagar was a contented soul seeing his missionary journey being completed. But surprisingly even after super super success of Ramayan and Krishna, after a grand launch of Durga, Doordarshan refused Durga for telecast. For whatever reason best known to him, the Information and Broadcasting Minister of India Shri Pramod Mahajan refused to give Ramanand Sagar a slot on India's largest public service broadcaster Doordarshan. Though the fact was that Pramod Mahajan belonged to the ruling BJP political party. L. K. Advani embarked on a Rath Yatra from Somnath to Ayodhya to ride on religious sentiments revived due to Ramanand Sagar's TV serial Ramayan. By 1990's BJP had gained sufficient strength and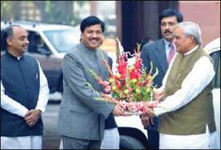 emerged as one of the biggest parties in India. Thus with surgence of Hindu votes BJP from 2 seats in 1984 went upto 85 seats in 1989 after telecast of Ramayan and finally to a thumping majority of 161 seats after telecast of Shree Krishna. Hence there must be a divine reason and planning Ramanand Sagar decided to end this TV journey. At soul level he felt that Maa Durga did not want the secrets and mystism of Tantra, mantra and yantra to be exposed to anybody. Such divine revelations are to be obtained by a seeker. Dum Durgai Namaha.