Mohini – The female incarnation of Lord Vishnu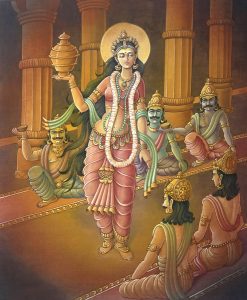 Goddess Mohini
Mohini is the only female avatar (incarnation) of Hindu God Vishnu – the preserver. When Devas (demi-gods) and Asuras (demons) churn the ocean of milk (Kshir sagar) and obtained amrit (elixir of life) a fight errupted between them to take possession of amrit. God Vishnu assumes the form of an enchanting damsel, tricks the Asuras into giving her the pot of Amrit, and distributes it amongst the Devas.
Mohini means 'erotic magic or spell'. The name has its origin in the word 'moha,' which means 'delusion personified' or enchant, perplex, or delude. Therefore, moha is the quality of desire after which the Mohini has been named. In Sanskrit, Mohini simply means Enchantress. The name also has an implied connotation of "the essence of female beauty and allurement."
According to Bhagvata Mahapurana, Lord Vishnu incarnated twenty-four times. Out of those 24 incarnations of Lord Vishnu, Mohini is the only female incarnation.
Mohini is widely renowned as an enchantress as she is mystically gorgeous and supremely feminine by nature. Lord Vishnu appears as Mohini during the Samudra Manthan. She helps in obtaining the pot of Amrita from the Asuras(demons) and passes it to the Devas(gods) and aids them in retaining their immortality. There are numerous talks where she is cited, including the union with Lord Shiva. These stories, among others, talk about the birth of Lord Shasta and annihilation of the demon Bhasmasura.
Devas and Asuras performed Samudra Manthan (churning of ocean) to get Amrit, the nectar of immortality. But when Amrita was received from the ocean both Devas and Asuras fought over it. When there was no end to the fight, Vishnu appeared in the enchanting female form of Mohini. Both Devas and Asuras were smitten by the beauty of Mohini and agreed to her idea of distributing the Amrita. Vishnu did not want Asuras to consume Amrita as this will make them immortal and then they will create havoc in the universe. So Mohini first poured Amrita into the mouth of Devas.
One Asura named Swarbhanu got suspicious about the whole event and went and sat among the Devas. When Mohini poured Amrita into the mouth of the Asura, Surya (Sun God) and Chandra (Moon God) who were sitting nearby recognized the intruder and alerted Mohini. Mohini then took the form of Vishnu and cut the neck of Asura with Sudarshana Chakra. As per some accounts, the sudarshana chakra appeared on the hand Mohini and she did not appear as Vishnu. The head of the demon became Rahu and the body became Ketu. To avenge, Rahu promised that he will eclipse sun and moon periodically and this results in eclipse.
There was an asura named Bhasmasura, who was a devotee of Lord Shiva. He performed great penance to obtain a boon from Shiva. As a result of his penance, Mahadev became pleased and told him to ask for a boon. Bhasmasura asked for immortality, but Shiva said that he did not have the power to grant him immortality. Bhasmasura then changed the mode of the boon he wanted. One whose head is touched by Bhasmasura with his forefinger, should immediately burn up and turn into ashes (bhasma). This was his demand. Siva granted him the same boon.
Bhasmasura was immensely happy and with overwhelming joy, he decided to test the boon on Mahadev himself. Soon, he attempted to touch the head of Shiva with his forefinger. He wanted to burn Siva and turn into ashes and then possess Goddess Parvati. Siva fled, but he was chased by Bhasmasura. Wherever Mahadeva went, there Bhasmasura also followed. At last, Siva managed to reach the abode of Vishnu and sought a solution to the predicament, for which he himself was responsible.
On hearing Shiva's problem, Mahavishnu agreed to help him. Vishnu took the form of Mohini and appeared in front of the demon. Mohini was so exceedingly beautiful that Bhasmasur was immediately attracted by her. Bhasmasura requested Mohini to marry him. She replied that she was very much fond of dancing, and would marry him, only if he could match her moves in dance. Bhasmasura agreed and hence they started dancing. The event went on for days, as Bhasmasura matched Mohini's move for move. While dancing, Mohini struck a pose where her hand, especially the forefinger was placed on top of her own head. As Bhasmasura imitated her, he touched his own head with his forefinger and was immediately burnt up and turned into ashes, in accordance with the boon he had gained.
According to various texts and Puranas, Shiva and Mohini have a union which led to the birth of their son Ayyappa. He is known by different names in different parts of the country. Ayyappa is also called as Mahashasta, Sastava, Manikandan who is believed to be an incarnation of Dharma Sasta, the offspring of Shiva and Vishnu
Benefits of having Goddess Mohini painting
Goddess Mohini's blessings can improve one's financial situation. A person can have success on the professional front for business as well as his whole career. She helps in having a better control of one's senses and mind.
The Artist – Pieter Weltevrede
Pieter Weltevrede – is a Master "Sacred-Artist" based out of the Nederlands. After a many years of guidance, under his guru Late Harish Johari a successful author, a gifted painter and sculptor, a lifetime scholar, an inspiring teacher, a splendid cook, an ayurvedic massage miracle, etc., Pieter embarked on his own journey amalgamating ancient Indian knowledge with his own western sensibilities evolving an art form that appeals to todays international audience. He has been practising his art form from the last 40 years now.
His original paintings are in water colours on silk with a wash-technique that gives them a very three-dimensional feel. The complexity and detail in his works are a super-human endeavour as he continues to live a mundane life travelling between the Western World and India.
Printed on coated matt paper by inkjet printer.
Click Here to visit our Shop Site.