Any person who has been graced by the All Mighty to have seen one thousand times full moonrises from his birth in his lifetime, is blessed to perform Sahasra purna chandrodayam celebrations with his loved ones, his children, wife, friends, well wishers and his entire extended family. Sahasra purna chandrodayam is also known as sathabhishekam.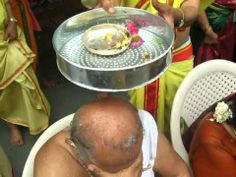 The whole day 11 pandits chant rudram in praise of ascetic Bhagwan Shiv with vidhi (rituals), followed by a havan, feed Brahmins and give dhaan (alms). The whole family and friends feast together on vegetarian food. The spiritual ritual makes less, lessens the ego of the jajman (performer / doer) and gives him strength to be a strong baby while in the Garbha (foetus) of his mother.
The celebration and the Pooja Havan
The celebrations, rituals, pooja, havan are performed approx 3 months before the 81st birthday. 1000 full moons occur in 29530 days which approx equals to 80 years and 10 months. Vedantically this is a very special occasion and 3rd milestone in a human's life. The first milestone is 60 years (Shashti poorti) followed by second milestone 70 years (Bhima ratha shanti) The 3rd milestone with Sahasra Purna Chandra darshan shanti a man becomes "Vrudha" or elder by age increasing his level of knowledge and wisdom, having gone through a lot of trials and tribulations. For a couple when man reaches 80, this ritual is celebrated like a marriage. It is believed married couples will lead a blessed life as prophesied by Shiv Bhagwan for those who perform sathabhishekam. Marriage vows are taken again.The invitations are in name of sons and daughters still not considered for marriage.
The lunar year is of 354 days while a solar year is of 365 days. Every 33 months, an extra month is added in the lunar calendar. This is termed as "Adhik Mass", alms given in adhik mass – extra month – gives adhik punya – extra virtue and good deeds. This extra lunar month – adhik mass – is excellent for doing good deeds to wash off all impurities and sins.
The Sahasara Purna Chandrodayam Pooja in Sagar Villa and Prem Sagar's Accident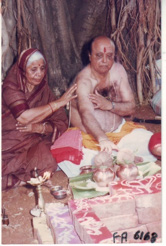 I remember before papaji's – my respected and reverend father Dr. Ramanand Sagar's 81st birthday on 29th December 1998, I with my wife Neelam were in London, marketing "Krishna" and "Ramayan" in U.K. Mummyji – my "Jeevan datri" – Smt. Leelavati had organised an elaborate Sahasara purna chandrodayam pooja for her soul mate husband Dr. Ramanand Sagar at the 54 acre Sagar Farm on Bombay Poona road, near chowk village, 75 kms from Mumbai. During the shooting of the film "Charas" I had had a major accident on the sets and would get bouts of unbearable pain occasionally. While in London I had one such bout before departure to India for this once in a lifetime blessing. I was temporarily cured by a cyro practitioner Dr. Gogai (Tel. +447767260490), a Punjabi jaat from India. I have seen hordes of white British community outside his clinic near Heathrow airport. Mr. Deepak Darbari of the known Darbari family in London carried me in his Merc to the Punjabi jaat cyro practitioner. He twisted my leg, squeezed my waist,. I screamed and shouted in pain, almost ready to hit him with my Punjabi strength. In minutes I walked out of his clinic. Deepak paid him 100 £ and I saw a wad of sterling pound notes earned by him that day. I straight drove to Heathrow airport where British airways had kept a wheel chair ready for me. While Neelam was busy at the ticketing counter I closed my eyes and I went into a deep trance, may be for over half hour. The B. A. hostess did not even let me know or realise she was waiting for me patiently.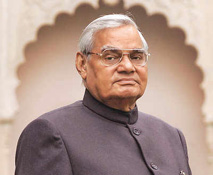 I saluted the British for their human concern to invalids and injured. From Mumbai airport me and Neelam drove straight to Sagar Farm and joined Dr. Ramanand Sagar's 1000 full moon witness pooja – Sahasra porna chandrodayam special celebrations. Since Papaji was a katar Durga bhakt, I had ordered a marble Durga statue from Jaipur to be presented to him. As a rare privilege he blessed me and Neelam from his soul level. Atal Bihari Vajpayee was publically felicitated on January 22 2006 by Rashtriya Seva Sangh at their 200 acre complex in Bhayander (suburb Mumbai) on his Sahasra purna chandrodayam special celebrations when you felicitate elders and pay tribute to the elders of the family. This was sangh's expression of gratitude to a pracharak as a family member.
"OM SOM SOMAIYA NAMAHA".