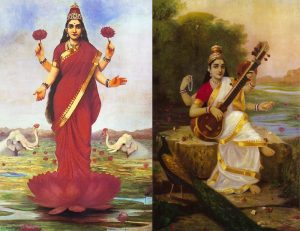 Hindu Goddess Maa Saraswati is Devi of knowledge, music, art, wisdom and learning. Maa Saraswati is also goddess of speech. An individual can acquire Art & knowledge only with kripa of Maa Saraswati. Knowledge, music, art, wisdom cannot be inherited as compared to wealth which you can inherite. A musicians or a painter's son may not be a painter or a musician. A rich man son is born rich with a silver spoon. He acquires wealth and riches in inheritance. At times one is born with creativity in seed form and if nourished under a Guru or acquired through learning it blossoms into a Saraswati flower which never fades. In Raja Ravi Varma's classical painting of Maa Saraswati and Maa Lakshmi, you will notice Saraswati Maa is sitting rock steady on a huge boulder.The interpretation of rock steady Maa Saraswati is that once you acquire Kala(Art), Gyan, Vidya(knowledge), fine Arts, nobody can take them away from you lifelong.
The Karmic cycle and Meeting of Saraswati and Lakshmi
Also as per karmic cycle this invaluable wealth is carried forward into your next life, one is a born painter, a born poet, a born writer etc.,., On the other hand one can inherit wealth and be born rich or earn money with business acumenship to become rich. In the ups and downs, uncertainty of karmic cycle of life all riches, wealth, money can be lost, at times, in one stroke. There is no permanency to wealth. Hence master painter Raja Ravi Varma painted Maa Lakshmi in the middle of water attired in a red saree standing on a red lotus. One whiff or strong wind can blow Lakshmi Maa off balance into the water pond. The crocodiles in the water will eat your wealth earned or acquired. All is lost. The meeting of Saraswati and Lakshmi is like 'Samundra Manthan' – 'churning of the Sea' -whereby you churn big wealth with fusion of art and knowledge. See Bill Gates and Apple, Zukerberg and Google together with star writers, star actors, block buster film makers, visionary painters etc. It is an ideal combination, though at times it can spit out poison and it requires the strength of a ascetic Shiv Bhagwan to hold Hala Hal vish – poison – in his throat. In the Indian film industry the Saraswati Lakshmi combination churned empires for B. R. and Yash Chopra, Rajendra Kumar, Amitabh Bachchan, the 3 Khan's Shahrukh, Salman and Amir.
Dancing stars like Hema Malini. Singers like Lata and Asha Mangeshkar. The lists can go on and on. Ramanand Sagar also, with Saraswati kripa used the power of his pen and madness, passion, of film making to churn out box office blockbuster films like Ghunghat, Zindagi, Arzoo, Ankhen, Geet, Lalkar, Charas, Bhagawat including the super hit 'Barsaat' of Raj Kapoor. Entering the mass media communication world of television the crowning glory was television serial 'Ramayan' written, produced and directed by him, telecasted on public broadcaster Doordarshan achieving the credit of world's highest viewed TV serial with 650 million viewership as per B.B.C. With the fusion and churning of Saraswati plus Lakshmi in his life, he shifted from a 650 sq. ft. flat into a 10,000 sq.ft.
Maa Saraswati Painting – A success for Sagar Family
Villa, made a resort and hotel in Manali plus Haridwar together with a 55 acre farm on Bombay Poona highway near Chowk Village, 75 kms from Mumbai. He even built a Sagar Film City on a 40 acre prime land in Baroda. Ramanand Sagar joined hands with Shakti Samantha, Pramod Chakravorty, F. C. Mehra, and Atmaram to own the iconic Natraj Studio in Andheri – Bombay. Natraj studio produced some of the biggest block buster hit movies of Indian cinema in 70's and 80's. An unusual Saraswati Maa's painting came into Ramanand Sagar's life before his rise to a Movie Moghul. It adorned his cabin wall for over 40 years. He daily paid his naman to Maa Saraswati before sitting on his magic chair.
After 2005, with my reverend and respected father Dr. Ramanand Sagar transition to Mrityulok, my favourite Saraswati painting, found its way into my cabin. During this period we made some of the biggest block buster TV serials – "Hatim", "Chandra Gupta Mourya", "Shani", "Bajrang Bali" and many more. Around 2009, I just could not trace the painting for 10 years right up to 2019. During these 10 years, circumstantially and for practical reasons, the 60 years old rock steady joint family institution got fragmented into individual companies. Though I had thought that this spiritually charged painting of Maa Saraswati was lost but the fact was that during the annual Durga Shaptati Hawan at Sagar Villa, my daughter Shabnam Gupta had whisked the wisdom Goddess away for her interior decorator office 'Orange Lane' and 'Peacock Life'. From the time Saraswati Maa entered into Shabnam's life, her success and fame graph rose and rose thus making Shabnam Gupta a brand itself. She won many awards including
• AD100 – Architectural digest 100 most influential designer in S. E. Asia subcontinent
• International Property Award – Asia Pacific
• 2 Times National Award winner for triple Indian Institute Interior Design – III ID Jai Maa Saraswati – Jai Maa Lakshmi.
OM AIM SARASWATI NAMAHA – OM RIM SHRIM LAKSHMI BAYO NAMAHA