(Other names: Vidoor)
Vidur is one of the famous characters of Mahabharata known for his morals, knowledge, wisdom and justice. In spite of his virtue and erudition he did not get the deserved recognition in Mahabharata.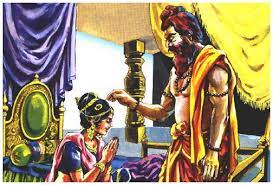 He was also born the way Dhritrashtra and Pandu were born i.e. the Niyog method (the ancient Aryan practice according to which a childless widow could have sexual intercourse with her husband's younger brother in order to beget a child).
Ambika gave birth to blind Dhritrashtra with the Niyog method from Sage Maharshi Vyas.
At this, Satyavati, Ambika's mother-in-law asked her to go to Maharshi Vyas once more.
Ambika did not go herself but sent her maid servant to him. Vidur was born from the womb of the maid-servant by Sage Maharshi Vyas.
Being the son of a maid servant he was deprived from being an heir apparent of the kingdom and also he did not get a respectful status in the royal family.
Scholars are of the opinion that during the age of Mahabharata in many royal families, the gene of the generation was decided from the mother. That is why Dhritrashtra and Pandu, born from Kshatriya mothers were considered to be the successor of the kingdom but Vidur did not get that status.
Still, Vidur got the respect for his knowledge. He did many important works. Vidur was first Dhritrashtra's minister. He tried many a times to end the enmity between Kauravas and Pandavas but because of Duryodhan's greediness he could not succeed.
Shri Krishna had special affection for him. During his journey to Hastinapur, instead of eating at the palace of Duryodhan, he preferred to eat simple food at Vidur's house and so the famous saying, "Rejecting dryfruits at Duryodhan's house and having vegetables at Vidur's house" is prevalent in Indian culture.
Vidur was unhappy because of Duryodhan's greedy and arrogant nature and had special affection for Pandavas. He had saved the Pandavas from getting burnt at the Lakshagriha.
Vidur was known as a great moral person of his times. His 'Vidur Niti' is a famous book on ethics.
During the last days of his life, Vidur went to forest for devout austerity and he became one with God.