(Other names: Virat)
Viraat was the King of Matsya state and its capital was Viraat city. Viraat was a very generous and pious ruler. During their dwelling period in the forest, the Pandavas spent the last year of living incognito at King Viraat's palace. There,
Yudhishthir lived as "kank' the servant of king Viraat, who was a master in gambling, Arjun (Brihannala) as a servant of Antpur who taught music and dance to Uttara, daughter of King Viraat, Bhima (Vallabh) as the head of the school, Nakul (Granthik) as the chief of the stable, Sahadev (Tantiyal) as the chief of the cowpen and Draupadi (Sairandhri) lived as Viraat's wife, Sudeshna's maid servant.
During this period of stay, Viraat's very strong commander Kichak looked at Draupadi libidinously and hence Bhima killed him.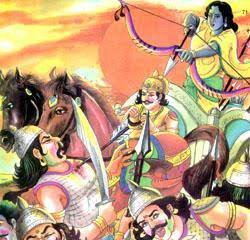 On hearing about Kichak's death Duryodhan's friend King Susharma advised him to attack the city of Viraat and merge it with his state as King Viraat had become flaccid after Kichak's death. Susharma's army attacked Viraat nagari. During this war Susharma was defeated by the hands of Bhima.
The chief commanders of Kauravas also attacked Viraat nagari and took away sixty thousand cows of King Viraat. Viraat's son Prince Uttar took Brihannala (Arjun) as his companion and fought with the chief warriors of the Kauravas.
Arjun helped Uttar in this war and defeated mighty warriors like Karna, Ashwathama and Bhisma of the Kauravas' army and brought back the cows.
When the year of living incognito was over, King Viraat came to know the reality of Pandavas and he was very pleased and married his daughter Uttara to Abhimanyu, son of Arjun.At the time of the marriage he gifted Pandavas with expensive gifts.
During the war of Mahabharata King Viraat fought from the Pandavas side and was killed fighting along with his son Uttar.