(Other names: Krishna, Dwaipayan Veda Vyasa, Parasharya, Maharishi Ved Vyas, Maharshi Vyas, Bhagwat geeta writer)  
Son of satyavati ,Ved Vyas is said to be the first principal of Sanatan Dharma (eternal code of ethics and conduct, which always existed).
He was the son of Satyavati, daughter of a fisherman and the wandering Sage Parashar, which is why he is also called Parasharya.
He was dark skinned, so he is also called 'Krishna'. As he was born on a Dwip (Island) in the river Yamuna, he is also called "Dwaipayan" (Island born).
He was very intelligent. With the inspiration of Sage Parashar, his training and initiation were of a very high standard.
Hindus traditionally hold that Vyasa categorized the primordial single Veda into four. Hence he was called Veda Vyas, or "Splitter of the Vedas," the splitting being a feat that allowed people to understand the divine knowledge of the Veda. The word Vyas means split, differentiates, or describe.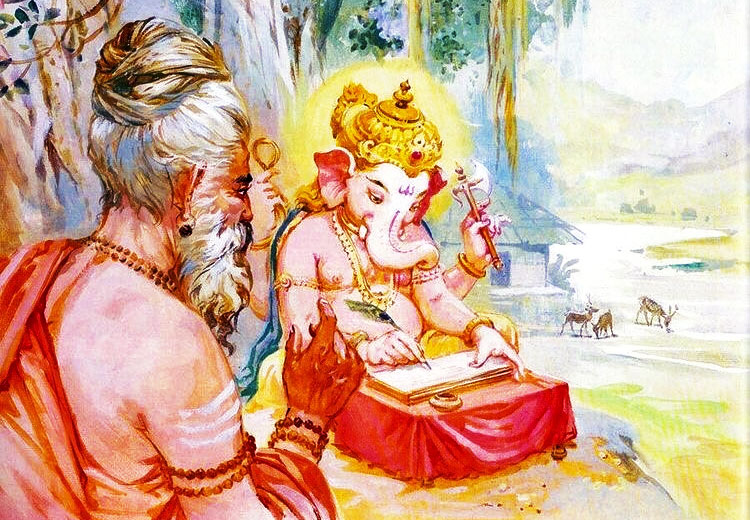 He divided these Vedas into four in view of prayers, sacrifice, song and practice.
These divisions are available in four sections even today Rig, Yaju, Sam, and Atharvaveda.
Rigveda prayers to Devtas, Yajurveda- sacrifice to Devtas, Samveda song to Devtas and Atharvaveda is based on practice and medicine. Apart from this, he created the eighteen chaptered 'Mahabharata', also known as fifth Veda. Shrimad Bhagwad Gita is a part of the Mahabharata.
In the first book of the Mahabharata, it is described that Vyasji asked Ganesha to aid him in writing the text, however Ganesha imposed a condition that he would do so only if Vyasji narrated the story without pause.
To which Vyasji made a counter-condition that Ganesha must understand the verse before he transcribed it.This is supposed to explain the complicated Sanskrit used in some sections of the Mahabharata, recited by Vyasji when he wanted a break.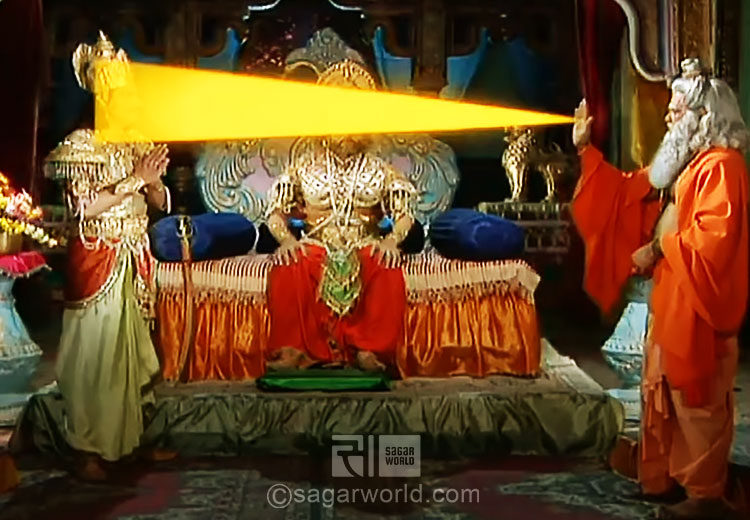 He wrote Shrimad Bhagwat Mahapurana on Sage Narad's persistence and taught the songs of Krishna-Leela to Shukdev. Shukdev read this to Sutji, Parikshit and other Saints and thus spread it.
Apart from the Vedas and Mahabharata, Vyasji also wrote Brahma Sutra and increased the elemental and spiritual knowledge of family, society, country and the world. It is because of these creations, he got the status of a God. In the Mahabharata Ved Vyas gives "Door Drishti" to sanjay who was the charioteer of Dhritrashtra.
Scholars say that even if he does not have four hands, he is Vishnu. Even if he does not have four faces, he is Brahma and even if he does not have a third eye in his forehead, he is Shiva.
Actually, he is God and there is no doubt about it, so high is the regard for Ved Vyas.The life of Ved Vyas is an example to all in the modern times on how to be selfless and devote oneself entirely to Lord in order to attain Nirvana