After Dhritrashtra refused to lend support to Mathura, Akroor returned to Mathura. He met Shri Krishna. Krishna asked him about the wellbeing of the pious man Vidhur. Akroor was surprised at Vidhur being called pious. Then Krishna told him the story of the curse that Vidhur had got.
He said, "In ancient times, Sage Mandavya was observing religious austerity in his ashram, just then few thieves and robbers came and told him that they were business men and few robbers in the disguise of the soldiers of a king are following them.
Mandavya Muni told them to leave their luggage in the ashram and quietly leave from the back door.
The robbers kept their luggage in the ashram and ran away from the back door. Just then the king's soldiers came there and asked Sage about the robbers;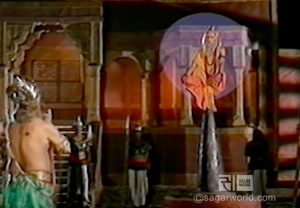 Mandavya Muni could not understand who the soldier was and who the robber was! He told them the truth. The soldiers recovered the luggage from the ashram; they caught the Sage and brought him to the court of the king. He was misunderstood to be the companion of the robbers and was ordered to be hanged.
But due to the power acquired by the religious austerities, the Sage did not die. Then the king realised his mistake and apologised.
Mandavya muni forgave him saying that it was not his mistake but it was destined, but he would definitely ask Yamraj for what sin of his was he being punished?Muni went to the Yamraj and asked him why was he being punished?
Yamraj who was also said to be Dharmaraj said,to sage mandavya"In your childhood, you used to prick needles in the wings of the butterflies; this punishment is for that sin." The Sage said, "Whatever one does in childhood is not considered a sin; you have done injustice to me by punishing me.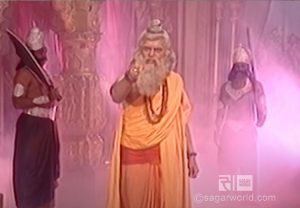 I curse you that you that you will be born as a human and as a shudra (the fourth caste among Hindus) mother's son and for the lifetime you will adapt justice and injustice but before leaving the earth, you will get spiritual knowledge and will be free from affection and fascination".
Krishna says Vidhur was the incarnation of this Dharmaraj Yamraj and that is why he is my favorite."Here Jarasandh with the advices and suggestions from his friend sent a message to Mathura, "I will not attack Mathura, if you want to save
Mathura hand over Krishna and Balram to us." Mathura's king discussed with his ministers, they were not ready to let go Krishna and Balram. But as Krishna insisted, people of Mathura got ready.
Krishna and Balram went to Jarasandh to surrender but instead of surrendering, Krishna declared war. Krishna and Balram fought with the huge army of Jarasandh. Both of them invocated their divine weapons and arms. A fierce battle was fought. Jarasandh's army was destroyed.
Defeated Jarasandh, after the discussion with his king friends took a decision that it was not fair to sit back with just one defeat. They should gather their strength once again and take the revenge of Kans's murder with Krishna and Balram. Jarasandh and his associates vowed to take revenge from Krishna.