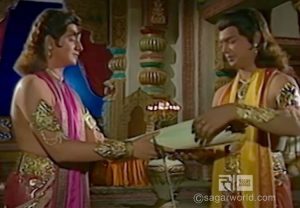 Uddhav was Shri Krishna's cousin brother. The deities' teacher Brihaspati gave Brahmagyan (divine knowledge) to his disciple Uddhav.
Uddhav got excellent knowledge. After this, he stopped praying to God and meditated only for the formless (spiritual) divine being. He was very proud about his knowledge.
Krishna, to break his ego created an act and told Uddhav, "I have come to Mathura but still my mind is fascinated with Radha and the Gopis.
You are very knowledgeable, please get me relieved from this fascination and let the Gopis free from my affection."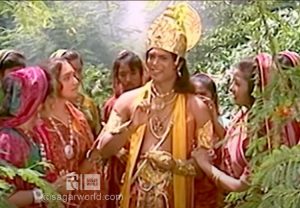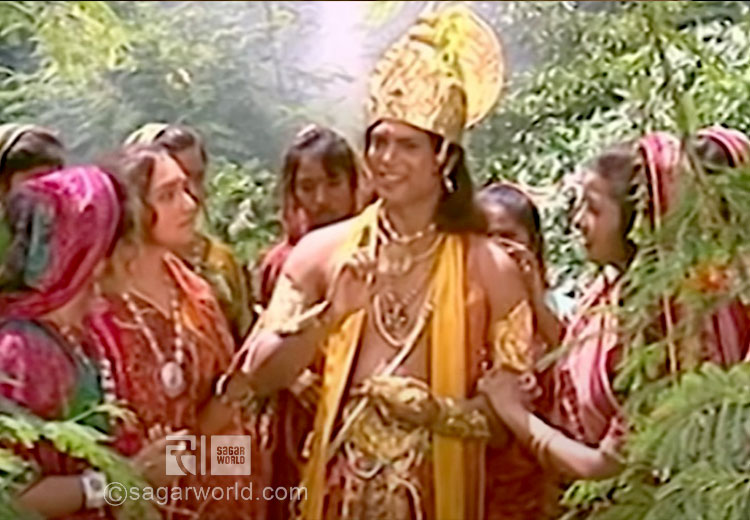 According to Uddhav, this was the fascination of love; a knowledgeable person does not get carried away with emotions. Then Krishna told him to go to Gokul and free the Gopis from the emotion of affection.
Uddhav went to Gokul with Krishna's message. Gopis were very happy that Uddhavji had come with the message of their beloved Krishna.
They were deeply in love with Krishna and on getting his message they were going crazy.
Uddhav got emotional on seeing their condition and advised them to pray the formless divine being.
Gopis told him that the joy that was in loving Krishna, who was in front of them, is not the same in meditating the divine being. There was an argument between the Gopis and Uddhav over love and knowledge. Gopis took him to Radha.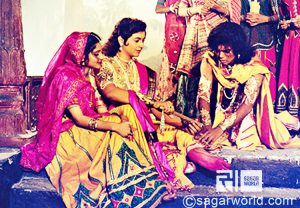 Uddhav saw that Shri Krishna himself was sitting with Radha. On seeing this, Uddhav's ego burst. The deities praised the visual form of love between Shri Krishna and Radha.
Here, on defeating Jarasandh a victorious celebration was going on and Krishna and Balram got a grand welcome. Every one was rejoicing Krishna and Balram.
In Hastinapur, when Bhisma Pitamah and Vidhur came to know that Krishna and Balram had defeated Jarasandh in war they were very happy.
Jarasandh was sad because of his defeat but not disappointed. He was a warrior and decided to fight until the end. Jarasandh's friend King Shalya and few other kings were with him and started preparing for a war to kill Krishna and Balram.