Shri Krishna organised a public welfare yagya in the festival that was going on, on the Revtak Mountain in Dwarka. Just then a Brahmin came and accused Krishna that because of Dwarkadhish's (Krishna) bad deeds he had lost his son.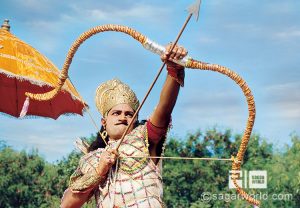 Arjun consoled the Brahmin that he would protect his expected child and if he could not do this, then he would jump into the fire and burn himself. Subhadra was worried because of this oath of Arjun.
The Brahmin's wife gave birth to another child and died. Arjun could not save the Brahmin's son. Arjun then went to Yamlok to get him back but Yamlok's guards did not allow Arjun in, so he used the Brahmastra that made the guards to allow him in. But Indra came and stopped him.
As he could not save the Brahmin's son, Arjun got ready to ignite himself. Indra advised him that Krishna only could help him.
Krishna told Arjun that he must get rid of his ego and then he went to Yamlok, got back the Brahmin's son and handed him over to his parents. Arjun understood that because of his ego he had made a mistake of challenging Kaal that is Mrityudev (Yamraj).
Shri Krishna showed him the Chaturbhuj form of his to Arjun. Shri Krishna thought of getting Subhadra married to Arjun.
In Hastinapur, on completion of teaching the art of mace fight, Balram thought of testing him.
Duryodhan passed the test. Balram was pleased and granted him a boon. Shakuni informed him that Duryodhan wanted to marry Subhadra. Balram accepted the proposal.
After reaching Dwarka, Balram informed Krishna that he had promised Duryodhan that he would get Subhadra married to him. On hearing this, Shri Krishna, Arjun and Subhadra all of them were confused.
Subhadra told Arjun that she only loved him and she would not accept anyone else as her husband. Krishna asked them to be patient and explained to them what they were to do.
According to Krishna's plan, Subhadra went to Gauri temple for pooja. There, Arjun was ready with a chariot. After the pooja, Arjun seized Subhadra and went away with her in the chariot. Balram got very angry when he came to know about it and got his army ready to catch Arjun.
Then Krishna explained to him that it all happened due to Subhadra's wish and that Subhadra loved Arjun very much, so they should not be a hindrance in their love.Balram understood and kept quiet. In Dwarka, preparations were going on for Arjun and Subhadra's marriage.
Yudhishthir was invited for the marriage. Arjun and Subhadra got married.Shakuni doubted that getting Subhadra married to Arjun was Krishna's plan of action.