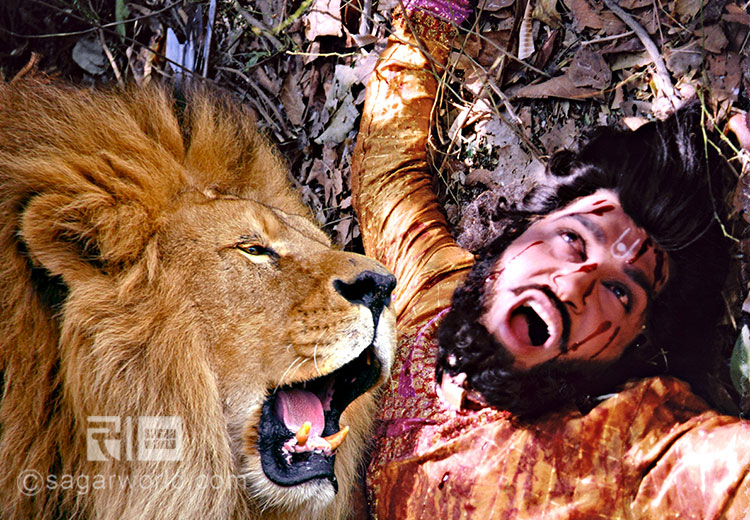 Satrajit had the divine jewel Syamantak which gave one lakh tola of gold every day. Akroor and Satyajit believed that Satrajit should deposit the jewel in the Dwarka state treasure because till he had the jewel with him, there would be a threat to his life, but Satrajit and his younger brother Prasanjit refused to accept Akroor's suggestion.
One day, Prasanjit went to the jungle with the jewel on his wrist and then a tiger came and ate him. Satrajit and his friends searched for Prasanjit and wandered in the whole jungle where they found his bow, arrow and clothes but could not find him. Satrajit accused Krishna of killing Prasanjit and taking custody of the jewel.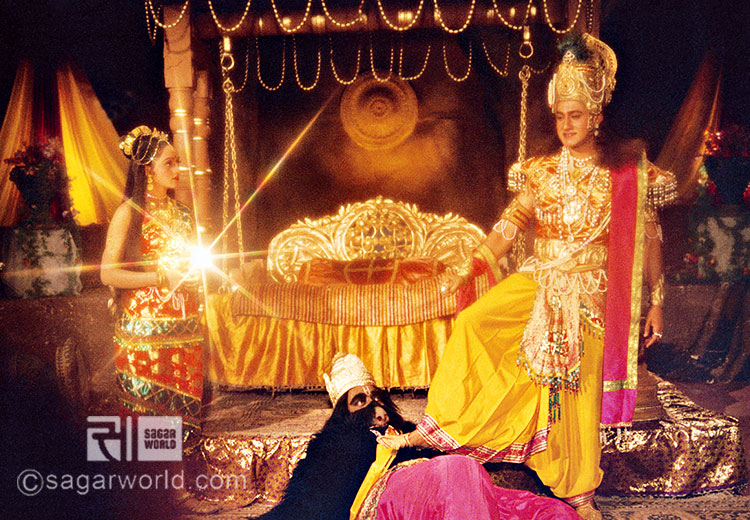 To prove himself innocent, Krishna went to the jungle, there in a cave; he saw that the Syamantak Mani (jewel) was with Jambvant. There was a fight between Krishna and Jambvant for the jewel. Jambvant was defeated. Jambvant knew that apart from Ram, no one could defeat him.
On his request, Krishna appeared in the form of Ram, Jambvant apologized and got his daughter Jambvanti married to Shri Krishna and gifted him the Syamantak jewel.
Shri Krishna came to Dwarka with the jewel and gave it to Satrajit. Devarshi Narad gave the message to Indra on behalf of Krishna that he had requested to give Parijat tree so that Satyabhama could finish her Punyakvrat.
Indra refused and The deities to get rid of the terror by Narkasur, on Brahmaji's suggestion, went to Shri Krishna for help.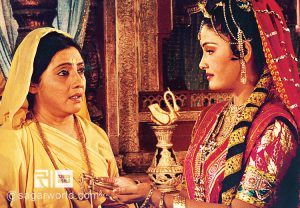 Shri Krishna fought a battle with Narkasur, defeated him and killed him and got Indra his throne back. Now also Indra was not ready to give Krishna, the Parijat tree. There was a war between Indra and Krishna where Indra was defeated. His ego was torn apart. On being defeated,
Devmata Aditi requested Krishna to stop the fight and kept a condition that Satyabhama would return the Parijat tree as soon as she finished her Punyakvrat. Shri Krishna came to Dwarka with the Parijat tree.
Everyone in Dwarka was very happy. Satyabhama was happy especially because now the ritual ceremony of her Punyakvrat could be finished.