Preparations were going on for Yudhishthir's Rajsurya yagya. Kings of all the states came to participate in the yagya. Dhrustdhruman decided to do the pooja of Shri Krishna during the yagya. Shishupal opposed this decision and also insulted Krishna using bad words for him.Then Krishna with his Sudarshan Chakra (wheel) killed Shishupal.
Shishupal's soul reached heaven where Naradji welcomed him and said, "Your name was Jay and your friend's name was Vijay when in the Vaikunthlok (abode of Vishnu) you were the guard then you were cursed by Brahminkumars Sanak and Sanad that you will have to take birth in the mortal world three times one by one then only you will be worshipped.
Your third birth was in the form of Shishupal. Now you have got emancipation. Your friend Dantvart is still on the earth. When he will attack Dwarka, he will be killed by Krishna and will get emancipation."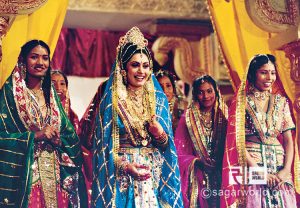 Pandavas Rajsurya yagya was over. Duryodhan and Shakuni moved around to see the beauty of the palace of Indraprasth. There, Duryodhan fell into water thinking it to be land. Draupadi laughed at him saying that a blind man's son would always be blind. At this, Duryodhan got angry and told her that she would have to pay for it one day.
Shri Krishna returned to Dwarka with Arjun. On Shakuni's advice, Duryodhan asked Balram to teach him Mace fight. Balram agreed to do so. In Dwarka, Rukmani told Krishna that they should get Subhadra married. Shri Krishna said that Subhadra's husband would come to Dwarka on his own.
Arjun had come to Dwarka with Shri Krishna. There, one day while hunting, Arjun and Subhadra met each other. Then a crazy elephant ran after Subhadra and Arjun protected her.
There itself they fell in love. In between, Rukmani and Krishna discussed about Subhadra and Arjun's love.  Here, Balram taught Duryodhan, the art of Mace fight.
Shri Krishna, with his long sightedness visualised the war of Mahabharata and annihilation of the noble family. He also visualised that after Mahabharata except for Arjun and Subhdra's son, no one would be left alive. So, Krishna decided to get them married as soon as possible.
On Krishna's order, Yogmaya (the illusionary power) came to Dwarka in the form of a demon and picked up Subhadra along with her chariot while she was in the jungle hunting.
Subhadra yelled for help. Arjun came to help her and protected her from Yogmaya. At this occasion the feeling of love between them became strong. Shri Krishna convinced Balram to return to Dwarka.