On Bhanamati's summoning, the God of medicine, Ashvini kumars manifested and provided the necessary chemicals required to make Pradyumna a youth. Here this process was going on and on the other hand in the priest's ashram, Shambharasur killed his faithful servant Bhavad in anger.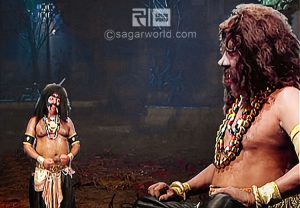 His chopped off head fell into the fire basin of sacrifice and interrupted the pooja. Failing to make Shambharasur immortal, his guru (priest) burnt himself out of sorrow.
Shambharasur then sent illusive demon Vikatasur to kill Pradyumna. Vikatasur created Achambhasur from the yagya (sacrifice given to fire) and sent him in search of Pradyumna.
Pradyumna took the blessings of Bhanamati and the deities after growing into a youth.
Rati was very happy as her husband got a physical body. She was anxious to meet Kamdev that was Pradyumna.
She took away Kamdev and flew away in the sky. Shri Krishna manifested and explained, "Duty is far more important than love. Pradyumna has to annihilate Shambharasur, after that two of you will unite." Rati agreed and liberated Kamdev that was Pradyumna.
Bhanamati warned against the demon Achambasur. Achambasur came to kill Pradyummna. A fierce battle was fought between the two of them. Achambasur died and then Vikatasur himself came and fought an illusive war.
Pradyumna had also learnt the illusive tricks from the deities and also learnt from Bhanamati the art of nullifying the effects of illusive tricks.
With his skill, he destroyed Vikatasur's illusive tricks and in the end killed Vikatasur.
The demon prince Singhketu and Ketumali and also Shambharasur were very angry and sad on the death of those two.
Atlast, Pradyumna decided that for the decisive war he must show his power and must challenge Shambharasur. Thinking this, he went to Shambharasur's court and demonstrated his illusive tricks.