The royal priest came to Shambharasur's palace. He could see the shadow of Kalpurush (the God of death). The priest got a hint of danger and so he warned Shambharasur to be aware of Pradyumna. At this, Shambharasur's son Kumbhketu tried to kill Pradyumna. Bhanamati requested Shambharasur to save Pradyumna.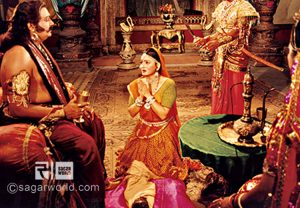 Shambharasur thought that may be because of old age the priest has had dementia, which is why he felt Pradyumna to be a danger. Thinking this, he stopped Kumbhketu from killing Pradyumna.
Bhanasur thought of informing Shambhrasur that he had found Pradyumna from the stomach of a fish. He went to say this to Shambharasur but due to some divine power he became dumb and lame.
Rati and Rukmani were scared thinking what would happen if Shambharasur came to know about the truth of Pradyumna? Shri Krishna pacified them and said, "Bhanamati was a heavenly nymph in her previous life and was acquainted with illusive art and knowledge of chemistry but in this life, she has forgotten this art, it is necessary that she gets her memory back."
Then Naradji and Rati tried to make Bhanamati remember her previous life. With their efforts, Bhanamati got her memory back and remembered her illusive art and knowledge of chemistry. Naradji advised her to make Pradyumna young with her knowledge.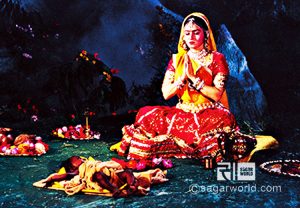 Bhanamati, due to motherly affection, refused to do so. Then Rati explained that her affection could create a danger to Pradyumna's life. Then she agreed to do so.
The royal priest created giantess Kritaya from the fire of sacrifice to kill Pradyumna. Bhanamati fought with the priest with the power of her knowledge and in the end killed the giantess Kritaya. Bhanamati created a duplicate Shambharasur with her illusive art and bewildered the royal priest.
The God of death, Kalpurush came and informed Priest that the one whom he thinks to be Shambharasur is actually the duplicate of Shambharasur created by Bhanamati. Bhanamati wanted to make Pradyumna young with her knowledge and art.
Shambharasur, with a desire to win over all the three worlds, started making preparations and challenged Lord Indra. Shri Krishna pacified Indra, "That which is written by the creator can not be dismissed. Shambharasur is sure to die by Pradyumna's hands."  Bhanamati started the process of making Pradyumna young.