Pradyumna came to Shambhrasur's court and with his illusionary tricks he created fear in the minds of the Sambarasur's army men and while giving his introduction challenged Shambhrasur. He said that when he would return, he would tear apart Sambarasur's ego and also destroy his pillar of victory.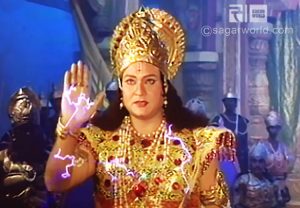 Shambharasur appointed his sons to surround the victory pillar in order to protect it. Rukmani and Krishna appreciated Pradyumna's valour and self confidence.
In spite of strong protection, Pradyummna attacked the victory pillar and destroyed it.
A battle was fought between Sinhketu (who was guarding the pillar) and Pradyumna and Pradyumna killed Sinhketu. On this victory, Bhanamati blessed Pradyumna.
With this incident, frightened and angry Shambharasur one night saw a beautiful woman of death in his dreams.
He saw that he was married to the woman of death and the woman came along with his dead body. Sambarasur started screaming with fear and woke up.
He then realised that it was a dream and began to think that he was immortal and no one could kill him. Shambharasur was very upset because of the death of his son Sinhketu and just as he was leaving to kill Pradyumna, Prince Kumbhketu stopped him and took the responsibility to kill Pradyumna.
Kumbhketu's wife, who with severe religious austerity obtained a boon that her husband would remain immortal, created armour for him.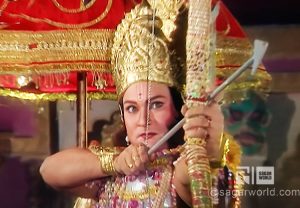 A fierce battle was fought between Pradyumna and Kumbhketu. Kumbhketu used his illusionary tricks and got Pradyumna swooned. With the help of demi God Yaksha and Naagdev, Bhanamati got Pradyumna back to his senses. Pradyumna left for war again.
An illusive war was fought between Pradyumna and Kumbhketu. Kumbhketu's wife Kamini created Kritaya with her illusive tricks and wanted to send her to kill Pradyumna. Pradyumna with his tricks created a duplicate Shambharasur and interrupted Kamini's yagya.
In the end, Kumbhketu was killed by Pradyumna. At this, Shambharasur's wife Mayawati lamented. Sambarasur vowed to kill Pradyumna who was responsible for the death of his sons.
Bhanamati warned Pradyumna that Shambsarasur had a non failing weapon given by Maa  Parvati which could be failed only by her. Hence they should please Ma Parvati. Then Pradyumna and Bhanamati started praying Goddess Parvati.