Rohini was in labour while she was living in Nandgram. Nand ji, Yashoda and several other friends were at her side. Rohini then gave birth to Balram. At his birth, the celestial damsels in the sky blew the conch-shells, while Narad ji appeared in an invisible form in Rohini's room and admired the infant Balram.
Kans was worried about the eighth child to be born to Devaki, and was terrified of Vishnu's prophecy. Due to his fear he saw Lord Vishnu everywhere he looked. Narad ji was smiling at the leela (divine-play) of Vishnu, because even the most sinful person like Kans could see Vishnu. He went to Krishna in Go-Lok to know the difference between a devotee and a sinner.
Krishna said, "People see me in the same form as the feeling with which they remember me, and they receive the fruit according to the feelings they have for me." Saying this, Shri Krishna in Go-Lok told him the story of Vasudev and Devaki's reincarnation.
In their previous life, Vasudev was King Suntapa and Devaki was his wife Prushmi. Suntapa and Devaki went through deep religious austerity to get a sighting of God's Chaturbhuj (four-armed form of Lord Vishnu) form. God appeared and told them to ask for a boon. Both of them asked for a son like Him (God), to which God said, "Tathashtu" (So be it).
After giving the boon, Vishnu started thinking, "I have given the boon but there is no one like me in this universe, how will I fulfil this boon?" He then decided to take birth from Prushmi's womb. He had said "Tathashtu" thrice so He was born for three lives as her son.
In His first life, He came in the name of Prishnigarma, in the second life He was born as Sage Kashyap and Aditi's son Upendra. Upendra was very small in size that is why he was called "Vaman" (dwarf).
Vaman obtained deliverance for demon king Bali. In His third life, He took birth as Krishna from Devaki's womb. After this Krishna said, "I have told you this story to end your curiosity but you will not remember any of this; I will finish my acts at Gokul and when I return to Mathura I will give you the happiness of a son", saying this, Krishna disappeared. Later, Krishna took birth from Devaki's womb.
With the assistance of "Yogmaya" (the goddess of illusion/maya), the doors of the prison were opened up and Vasudev was able to carry the new-born Krishna out of the prison and cross the Yamuna in order to take him to Gokul.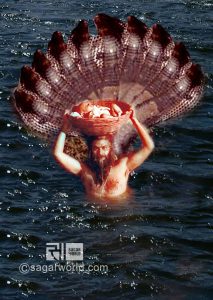 Vasudev placed Krishna in a basket and crossed the Yamuna. Sheshnaag protected Krishna the whole time; even the river Yamuna rose to bow to Krishna. The water level started increasing and Krishna understood Yamuna's love and extended one leg out of the basket; when Yamuna touched his foot she calmed down and receded. With the help of Yogmaya, Vasudev delivered Shri Krishna to Nand and Yashoda's house. He took their new-born daughter in return and returned to the prison in Mathura.
Kans got the news of the birth of Devaki's eighth child and immediately went to the prison to kill the new-born but he was surprised to see that the new-born child was a girl.
He tried to slam her on the rock to kill her, but she took the form of "Ashtabhuja" (a Goddess with eight hands) and flew away in the sky. As she departed, she told Kans, "The one who is destined to kill you has already been born." Great celebrations were happening in Gokul and everyone was going to Nand and Yashoda's house because of the birth of Shri Krishna.
Kans finally released Devaki and Vasudev from the prison since the eighth child was born now, and the subjects were very happy with this. But Kans ordered all the new-born children in his state to be killed when he came to know that the one who was going to kill him was still alive.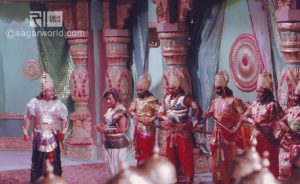 Akroor and Shursen went to Sage Garg to find out the truth of Vasudev and Devaki's eighth child being a daughter, and the birth of the child who was to kill Kans. Sage Garg told them the story of Sheshnaag being born as Devaki's son in the form of Balram. Due to Kans's order to kill all the new-born's the subjects finally rebelled.
Chanur and several other ministers explained to Kans that he should not give any reason to the chief neighbouring kings like Nandrai to oppose him. On the birth of his son, everyone in Gokul suggested Nand go and meet Kans with a gift. Kans was pleased with Nand ji, when he went to Mathura with a gift. Kans analyzed the situation – Nand ji's son was born on the same night when Devaki gave birth to her eighth daughter child who transformed into a devi and had said while leaving, that the one who was going to kill him had been born. There was no news about a child to be born at Nand's place but that same night the son was born.
Putna story
He was sure that Nand's son was the eighth child who had been born from Devaki's womb. He sent the demoness Putna to Gokul to kill baby Krishna. Putna transformed herself into a beautiful lady, reached Nand's place in Gokul and tried to breastfeed Krishna and kill him with the poison she had smeared on her breasts, but instead Krishna killed Putna.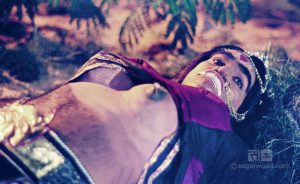 While Putna's dead body was cremated, a celestial vehicle came down and took Putna's soul to heaven. In Golok (abode of Lord Krishna), Krishna went ahead to welcome Putna, calling her mother.
Radha was surprised at this, so He explained to her: "Putna was demon king Bali's daughter Ratnamala in her previous life.
She was pleased with my human form of Ram and wished to have me as her son but when I took away Bali's whole estate from him, Ratnamala then wished to poison me. Thus I have fulfilled both of those wishes. In the form of Putna, she breastfed me like a mother, and at the same time gave me poison. She is like my mother, and so I have respected her by giving her the status of mother."