After Putna was killed by Krishna, to kill Krishna, Kans sent Shridhar disciple of demon teacher Shukracharya who was an expert in illusive tricks. Sridhar dresses up like a Brahmin and went to Nandji's house to beg. Nandji welcomed the Brahmin and took him inside.
He told Yashoda and Rohini to serve meal to the Brahmin and also to give him some donation, saying this he went out. Yashoda and Rohini made the Brahmin sit on a mat and went to the kitchen.Both of them were happy that Krishna and Balram would be blessed by a Brahmin. Sridhar sat down.
He had a rosary in his hand and was reciting "Om Namah Shivay". Krishna and Balram understood the intentions of the fraud Brahmin but if they killed him they would get the sin of brahmahatya (killing a Brahmin is a great sin), so they thought of punishing him.
Sridhar tried to kill both of them with the help of 'Kritya' a wicked trick.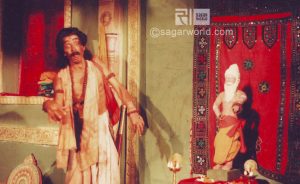 A bright round mass came out of Krishna's cradle and kritya was burnt. Then, Krishna and Balram with their power made him crippled.
With Krishna's act the garland on the statue of Ganesha on the wall fell down and hung on Sridhar's waist. Crippled Sridhar started screaming that made Yashoda and Rohini come out of the kitchen and thinking him to be a thief, they screamed. People gathered and started beating up Sridhar. Just then Nandji came and relieved him from them and thinking him to be a Brahmin forgave him and lets him go. Sridhar came home in pain.
There, Shukracharyaji's idol disdained him, just then Naradji appeared and fired him saying, "To try to kill the one who maintains this world is a great sin. Now to sanctify yourself, you go to Himalayas and worship Shri Krishna". Sridhar repented and left for Himalayas.
As Sridhar was unsuccessful, Kans sent a demon named Kagasur to kill Krishna. He transformed himself into a crow and attacked Krishna in Gokul. Krishna killed him with His supernatural powers.
Kagasur's dead body fell on Kans's court. Kans then sent his friend Uttkach to kill Krishna. Illusionary Uttkach remained in an invisible form so no one could see him. On reaching Gokul he dropped a wagon on Krishna's cradle and tried to kill Him. After striking the toe of Krishna, the wagon raised high in the sky and Uttkach died.
His dead body fell in river Yamuna. Nand and Yashoda got scared on seeing this and went to Sage Shandilya and asked him why Krishna was being attacked on and off? Shandilya muni told them, "Krishna is the one to remove hazards from this world, you don't worry, and He will never be in any crisis". Saying this, Shandilya muni started praying Krishna.
In the Golok, Radha asked Krishna, "How did a sinful demon like Uttkach die at your feet?" Shri Krishna said, "Uttkach was the son of demon king Hiranyaksha. In the warah age when I went for the betterment of the universe, that time Uttkach was a strong demon with a huge body. Once he created havoc in Sage Lomash's ashram. Sage Lomash cursed him that he will be without a body.
Uttkach apologised and asked for mercy. Lomash told him that his curse cannot be taken back but in the Dwapar age, Lord Krishna would be incarnated and that he will be relieved off his curse after he touches Krishna's feet. So to justify Lomesh's curse, I relieved Uttkach." Shandilya informed Nandji that Sage Garg was visiting Gokul for a yagya, he was a very learned and knowledgeable person and it would be better if he got the naming ceremony of Krishna and Balram done by him.
Garg muni came for the yagya and in the cowpen of the ashram, named Rohini's son Balram and Yashoda's son as Krishna. Everyone in the devlok was very happy for the naming ceremony of these two children. The deities praised them.
Kans came to know about this ceremony, through his spy. He was sure that Krishna was Vasudev's son and not Nand's because if he would have been Nand's son then cowherds' family priest Shandilya would have done the naming ceremony but Vasudev's family priest Garg muni did it, which meant that he for sure was Vasudev's son. Even Vasudev went to see Garg muni. Sage Garg informed him, "Balram is also your son and Krishna is your eighth child. Your eighth child in the form of a girl was actually Yogmaya and it's because of the Yogmaya's favour that you could come out of the prison and it's because of her illusion that you forgot all these." On hearing this, Vasudev was very surprised.
Kans wanted to know about Krishna from Vasudev. Vasudev said that the truth was that his eighth child was a daughter. Vasudev was a truthful person
and he was not lying by saying this because of Yogmaya's trick, he had forgotten everything and he did not know that his eighth child was Krishna himself. Kans called Garg muni in his palace and asked for Krishna. He asked him if he did the naming ceremony of any child while he was in Gokul and with whose order did he do that.
Garg muni said, "I had not been to Gokul but to Shandilya's ashram on the banks of river Yamuna. You can confirm this from your spy and performing a naming ceremony is my religion and to follow my religion I don't need any king's order." Kans was very angry on hearing this and he took out his sword. Garg muni also lost his temper, but he controlled himself and told Kans that with his Brahmatej (divine strength) he could punish him. Kans had insulted a saint but he would not punish him. Instead he wished that God gave him wisdom and Garg went away. Kans also was shocked. He sent Vasudev and Devaki to jail.