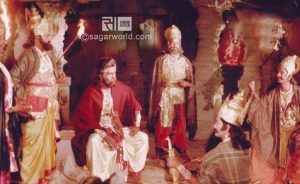 Because of the wisdom of Akroor and his friends, Rohini happily reached Nand and Yashoda's place in Nandgram. In Mathura, Kans's friend Banasur and Bhoumasur had come down with theiar army.
Kans had got a hold over Mathura. Ugrasen's faithful men were kept under a strict watch. Even Sursen was kept under watch. Banasur, Chanur and Bhoumasur asked Kans to be the king of Mathura. Kans thought that when Ugrasen was alive and he carried out coronation the subjects would rebel. Magadh's army had also come down to support Kans.
Kans announced, "King Ugrasen has renounced and he has ordered me to get coroneted." Thus he kept his subjects in the dark. Kans's coronation ceremony was held with great pomp.
Akroor and his friends sketched a plan to free Vasudev and Devaki from the prison. They made a plan to elude them from river Yamuna flowing behind the prison. Mitrasen reached the prison in disguise and told Vasudev about Kans's oppression and Ugrasen being jailed. He gave them a hand saw to run away from the prison.
Vasudev did not like the idea of eloping. According to him he had promised Kans that he and Devaki would leave Mathura and so he could not forget his promise. Mitrasen left the prison. Later; Devaki gives birth to second child.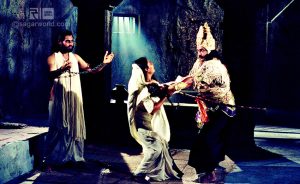 Kans killed six children of Devaki's. Mathura was fed up of Kans's terror. Shursen was standing in front of Lord Vishnu's idol in his palace. Vasudev was very unhappy in the prison and so were the subjects.
Everyone was anxiously waiting for their redeemer. Vasudev remembered- it was time for God to be incarnated.In the Ksheersagar, Lord Shesh manifested and in memory of Krishna told him, "During your incarnation as Rama, you made me your younger brother Lakshman, now during Krishna's incarnation you make me your elder brother and let me serve you and please let me go to Mata Devaki's womb." Krishna said, "Let it be so". Sheshji was very happy.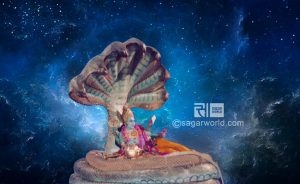 In the prison, Yogmaya manifested and attracted Devaki's embryo and installed it into Rohini's womb. Yashoda, Rohini and Nandji were taken with surprise with this miracle; they could not understand what was happening. Nand and Rohini went to their family priest Shandilya's ashram and requested him to let them know the aim of the miracle.
Shandilya Muni said, "Vasudev was Sage Maharshi in his previous life and Rohini was his wife Aditi, who was called Nagmata. In this life, Lord Sheshnaag himself to give Rohini the status of his mother is taking birth from her womb. This child will be very bright and a divine form. He will be your and  Vasudev 's child only and will help Devaki's eighth child in killing the demons.
Due to Yogmaya's boon, Yashoda will also give birth to a child. So we will organize a putrakameshthi yagya (the sacrifice performed for a son) very soon." Shandilya muni does a putrakameshthi yagya.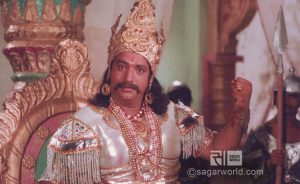 Here in Mathura people are fed up of Kans's terror and are waiting for their redeemer. Akroor worried about the eighth embryo of Devaki and to save it, contacts Sage Gurg.
Garg informs him that God himself is going to be incarnated very soon so he should not worry. Shri Krishna enters Devaki's womb as a child. The deities in the devlok applaud it. Here in Nandgram, everyone is very pleased to hear that Rohini will give birth to a son. A ceremony of godbharai (filling of the lap of a woman with coconut) is carried out in Nandgram.