(Other names: Dushashan, Dusashan)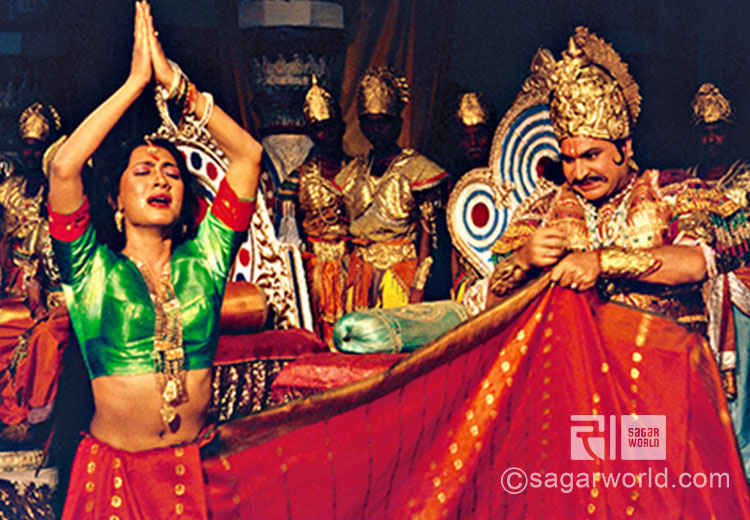 Dushasan was one of the hundred sons of Dhritrashtra and was very cruel by nature. At the same time, he was egoistic, a boaster, merciless and possessed all bad habits.
Dushasan was also an advisor to his elder brother Duryodhan. At the same time, he also used to blindly follow Duryodhan's orders.
Dushasan was always a part of Duryodhan's sinful acts. Some of the crimes in which Dushasan played a major role were an attempt to kill Bhima by giving him poison in adolescence, planned to burn Pandavas in the Lakshagriha (wax house) and when Yudhishthir lost Draupadi in gamble.
Dushasan insulted Draupadi and on Duryodhan's orders Dushasan brought Draupadi to the court pulling her hair and insulting her, tried to disrobe her.Dushasan kept pulling Draupadi's clothes but Shri Krishna increased the length of Draupadi's attire protecting her chastity.
On this sinful act by Dushasan, Bhima got very angry and vowed to kill Dushasan in the war and drink his blood.
During the war of Mahabharata, Bhima killed Dushasan and by sitting on his thorax, drank his blood, there by fulfilling his oath.
After the incident of attempting to disrobe her, Draupadi had vowed to let her hair loose until she washes her hair with Dushasan's blood and only then she would tie her hair.
When Bhima killed Dushasan, Draupadi washed her hair with Dushasan's blood and then pleated her hair.
To define Dushasan's name it is said that when crime increases in politics, then the name of the ruler also gets maligned.
He ruler does not remain a good ruler and becomes Dushasan (bad ruler); Dhritrashtra's son Dushasan justifies this definition.