(Other names: Drupaad, Droopad)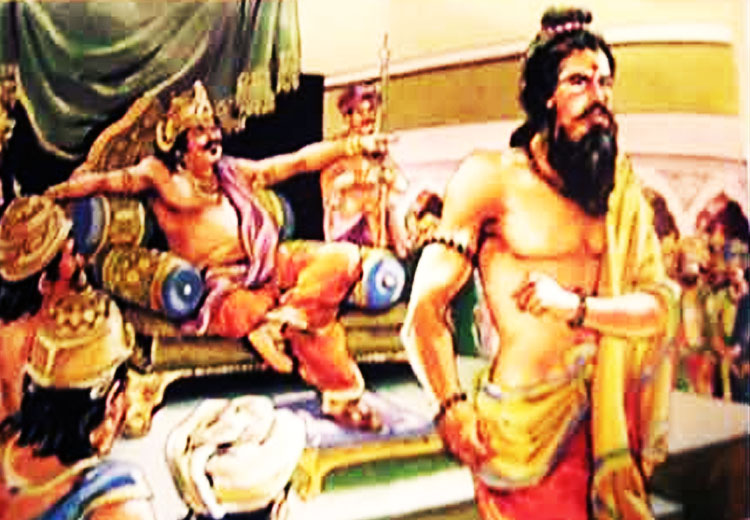 Drupad was the prince of Panchal. His father King Prushata sent him to the hermitage of sage Agnivesh for his education.
There, Drupad got acquainted with a Brahmin, Drona, son of Sage Bharadwaj.
In a moment of camaraderie Drupad swore that they would equally share whatever the two owned.
Both went their different ways after completing their education.
In due course Drupad became the king of Panchal. But life was not good to Drona.
Teaching assignments were hard to come by and he spent most of the time idle and in poverty.
Once, his young son Ashwathama began to cry for milk, which led to an altercation with his wife Kripi.
He then made his way to Drupad's court. After the exchange of pleasantries Drona reminded Drupad of the promise and demanded two cows from his share of the cows in Drupad's cowsheds.
Drupad said that an offhand comment made during ones childhood could not be treated as a binding oath. Drona should realise that friendship exists only between equals.
And one cannot equate a powerful king with a poor Brahmin. He however added that many Brahmins approached him daily for all kinds of donations and if Drona approached him in a similar fashion he would gift much more than two cows.
Drona's self respect was hurt and he went away in a huff. But the insult festered in his soul, waiting for an appropriate time to burst  out.
Dronacharya took revenge of this later on. After teaching archery to Kauravas and Pandavas, Dronacharya asked them to tie Drupad and bring him in front of him. This, he asked them for as Gurudakshina (a gift given to the teacher on completion of education).
Pandavas tied up Drupad and brought him in front of Dronacharya. He took for himself, North part of the Kingdom of Drupad and gave him the part South of Ganga.
Drupad wanted a son who could fight with Drona. In order to obtain such an offspring he requested sage Yagya to conduct a sacrifice.
Yagya was assisted by his younger brother Upayagya (some texts say that Yagya assisted Upayagya) and hence two offerings were prepared.
From his first offering to the sacrificial fire a full-grown son emerged, armed with a sword and a bow.
He was Dhristadrumna, destined to slay Drona.
From the second offering a full-grown daughter emerged, whose dazzle blinded the eyes. She was Draupadi.Draupadi emerged from the fire there was an oracle that she would side with God against the evil Kauravas.
Drupad was the father of Draupadi and Dhristadrumna. He had arranged a Swayamvar (selection of her husband by a princess in public) for his daughter Draupadi.
Drupad held a contest to choose a suitable match for his daughter.
A wooden fish was suspended high above a reflective pool of oil; furthermore, the fish rotated.
Contestants were required to string a heavy bow and then hit the eye of the rotating fish, but were allowed to aim only by looking at the fish's reflection in the pool of oil.
It was Arjun, the peerless archer, who alone was able to accomplish the set task and married Draupadi.
During the war of Mahabharata, Drupad supported Pandavas and was killed by Dronacharya.
After this, his son Dhrustdhrumana killed Dronacharya.