(Other names: Dhurvasa)
In the Puranas, there is a description of Sage Durvasa. He was the son of Sage Atri and Ansuya. He was very thin and tall. It is said that his parents acquired him as the portion of Shiva after devout austerity.
Durvasa had ten thousand disciples who followed him everywhere whom he taught and kept under strict discipline.
To truly understand Rishi Durvasa, it is important to know of the power of the penance done by his parents.
The father of Rishi Durvasa is Rishi Atri who is one of the three Brahma Rishis along with Rishi Gautama and Rishi Bharadwaj. These three Rishi's are known as the givers of AUM for which they are called Brahma Rishi.
All creative process began with A-U-M and is threefold having A which is Brahma (Rishi Gautama); U which is Vishnu (Rishi Atri) and M which is Shiva (Rishi Bharadwaj). Devi Ansuya the wife of Rishi Atri wanted to have a child.
After many years of childlessness she asked her husband for permission to do a penance to the 'Tridev', (Brahma, Vishnu and Shiva) after a dream where she was told she would need to do a penance to have a child.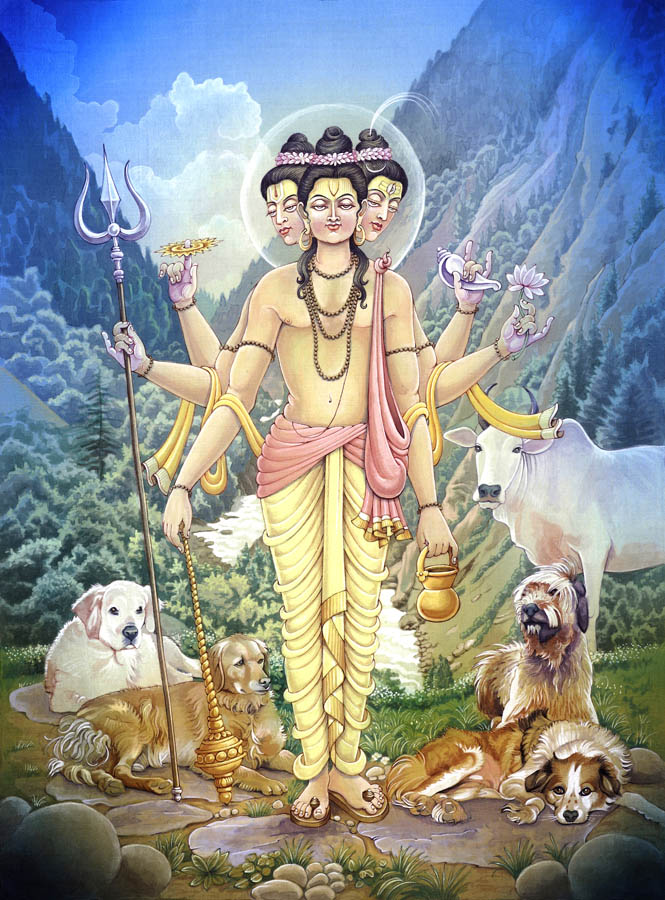 She wanted a child with the attributes and lustre of Brahma Vishnu and Shiva. After many years of penance she was granted the boon of children.
The boon Devi Ansuya was given was that each of the Tridev would incarnate as her sons.
Brahma incarnated as Soma, Vishnu incarnated as Dattatreya the three headed form of Brahma Vishnu and Shiva and Shiva incarnated as Durvasa – a Rudra form of Shiva. Rudra is fiery and angry toward those that fall off the path of Dharma.
Durvasa adopted a similar attitude and was quick to curse those he believed did not follow the path of Dharma. As an incarnation of Shiva he could control and discipline his ten thousand disciples and teach them the real truth.
Durvasa was famous for his angry nature. When Shakuntala neglected Durvasa while at Saint Kanva's ashram, he got angry and cursed her that the one whom she is thinking of and for whom she neglected Durvasa will forget her.
It is because of this curse only King Dushyant forgot Shakuntala. Durvasa did not spare Krishna also from curse. One day, Durvasa was eating kheer (a sweet dish made of rice and milk), Krishna was also there.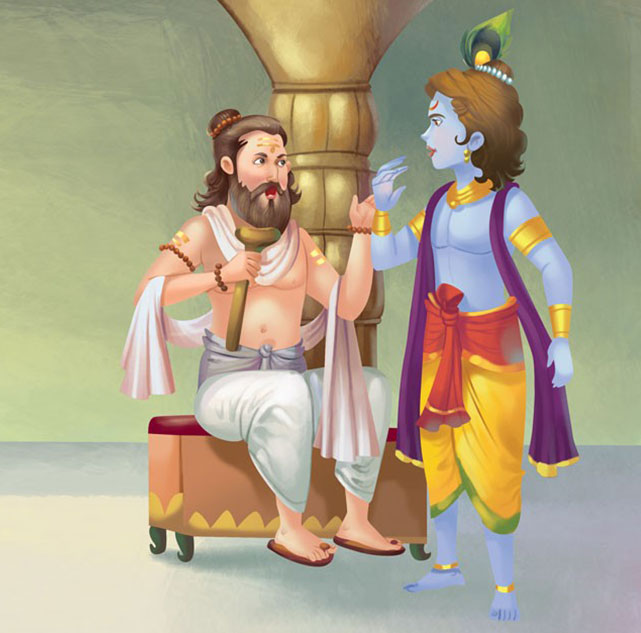 Durvasa ordered Krishna to apply the left over kheer on his body. Krishna applied it on the full body but did not apply on his feet thinking of the kheer to be consecrated.
Durvasa got angry at this and cursed Krishna that since you did not obey my orders and did not apply the kheer on your feet, your feet will not remain impenetrable and unbroken. It is the famous story that Krishna died because an arrow by a hunter hurt his leg.
Durvasa was famous for his angry nature but also for his straight forwardness. If he was welcomed duly with honour, he used to be pleased immediately.
Once, Pandu's wife Kunti had served him. Durvasa was pleased with Kunti's service and so gave her a mantra (charm).
On muttering this charm and just thinking of any deity in her mind, she could summon any one of them.With the power of this charm only, Kunti gave birth to Yudhishthir from Dharmaraj, (Lord of duty and religion), Bhima from Vayudev (Lord of wind), Arjun from Indra (Lord of Devtas in heaven) and Nakul and Sahadev from Ashvinikumars (the celestial twins).
Thus she gave birth to five sons and they became famous as Pandavas. With the power of this same mantra, Kunti also gave birth to Karna from Suryadev (Sun God).
As per Garuda Puran, once upon a time Sage Durvasa (spiritually enlightened sage) visited the capital of Swarg (heaven). The Sage in pleasant mood intended to see Lord Indra and on meeting him affectionately offered garland of 'never wilting flowers'.
Lord Indra took them in a casual way and passed the garland to Airaawat (divine elephant) who in turn crushed the garland under his feet. Angered at Lord Indra's arrogance, sage Durvasa pronounced a curse on him, devoiding him of all the riches, virtues and power.
Knowing this, demon King Bali attacked Lord Indra and snatched away all the riches and virtuous possessions.
The gods were weakened and Lord Vishnu (the preserver of the Universe) advised Lord Indra that to regain his lost powers and splendor he needed ambrosia or Amrita (divine nectar). To extract this from the depths of the ocean, the demons were motivated to churn the ocean along with the Gods.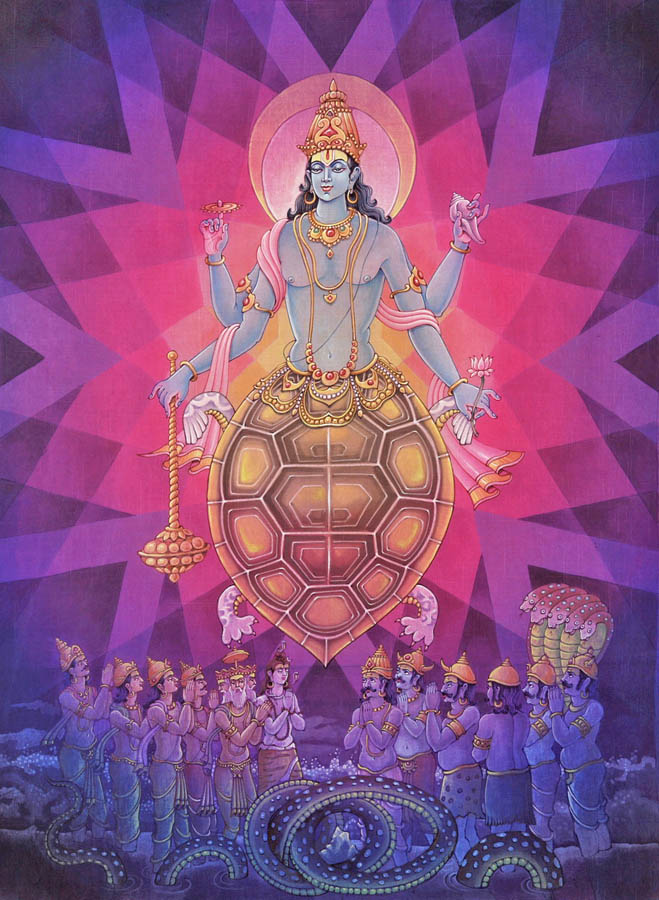 Mighty mountain Mandarachal was used as churn staff, formidable serpent King Vasuki became the string to move the churn, Lord Vishnu in the guise of Koorma (tortoise) gave support from the bottom and Lord Brahma (the creator of Universe) guided the churning from top.
With the churning, fourteen Ratnas (virtuous jewels) emerged from the ocean.It is famously believed that Durvasa is one of the immortal souls.
Durvasa is a more difficult Rishi. He made effort to control his senses and therefore he represents the desires and their abilities to lead us astray. Durvasa is linked to Shiva, tamas and destruction.When Lagna, or the planets are placed in Durvasa Rishi's degrees then the propensity to anger and negative behaviour can be possible.
But it is important to remember that when Durvasa Rishi was angry or gave a curse- it was only if the people fell from the dharmic path. But his discipline and following of the righteous path was unwavering. So humans may express his qualities without being privy to Durvasa Rishi's divine knowledge.
If we develop and work on our spiritual path, then we have earned the right to be angry at others at not doing the right thing or following the higher path.