(Other names: Drona, Drauna)
Dronacharya, son of Bhardwaj was the teacher of Kauravas and Pandavas. The story of Dronacharya's birth is recounted dramatically in Mahabharata.
Bharadwaj went with his companions to the Ganges to perform his ablutions. There he beheld a beautiful Apsara named Ghritachi who had come to bathe.
The sage was overcome by desire, causing him to produce a reproductive fluid. Bharadwaj captured the fluid in a vessel called a Drona, and Dronacharya himself sprang from the fluid thus preserved.
He got the name 'DRONA' because he was born in this vessel named Drona.
Dronacharya spent his youth in poverty, but studied religion and military arts together with the prince of Panchal, Drupad.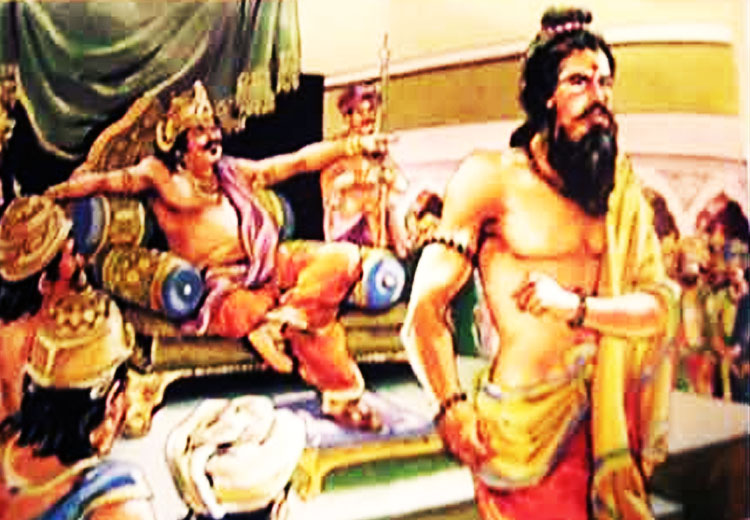 Drupad and Dronacharya became close friends and Drupad, in his childish playfulness, promised to give Dronacharya half his kingdom upon ascending the throne of Panchal.
For the sake of his wife and son, Dronacharya desired freedom from poverty.
Remembering the promise given by Drupad, he decided to approach him to ask for help.
However, drunk with power, King Drupad refused to even recognise Dronacharya and humiliated him by calling him an inferior person.
On being insulted and neglected by his fellow brother King Drupad, he went to Hastinapur and was appointed as a royal guru of the Kauravas and Pandavas.
He was a master of advanced military arts, including the Devastras and during the war of Mahabharata he fought bravely on behalf of the Kauravas. After Bhisma-Pitamah, he was the army-chief of the Kauravas. He was a partial incarnation of Agni.
Arjun was Drona's favourite student. Drona was no doubt partial towards Arjun; in fact his love towards Arjuna was more than that towards his own son. Any great teacher would feel enthralled and satisfied only if his student excels and so was Drona.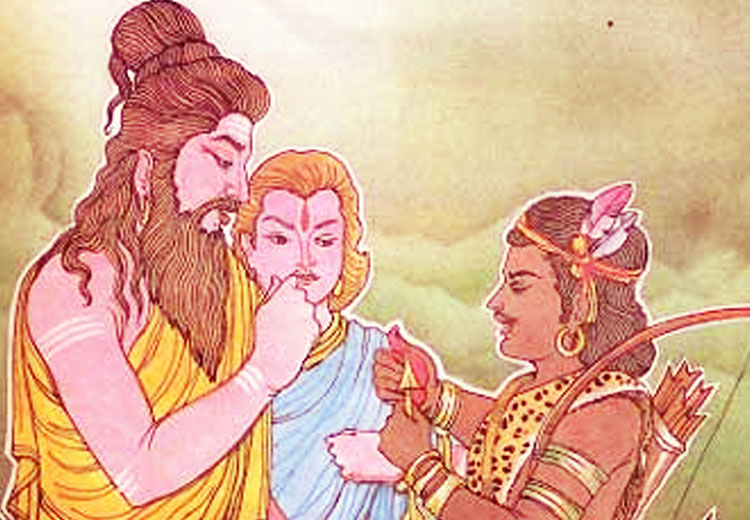 According to a story, on being refused by Dronacharya to be his teacher, Eklavya, son of a bhil (a backward tribe), made an idol of Dronacharya, established him as as his teacher, learnt archery and became such an expert  that  even Arjun was scared of his expertise and thought Eklavya would go ahead of him.
At this, Drona asked for Eklavya's right hand thumb as Guru-Dakshina (gift given to teacher on completing education) and with all his heart, Eklavya cut the thumb of his right hand and gifted it to Guru  Dronacharya.
Drona similarly rejects Karna, as he does not belong to the Kshatriya caste. Humiliated, Karna vows to take revenge. He obtained the knowledge of weapons and military arts from Parshuram, by appearing as a Brahmin, and challenges Arjun in the martial exhibition. Thus, Drona inadvertently laid the foundation for Karna's great rivalry with Arjun.
Dronacharya married Kripi, the sister of Kripa, the royal teacher of the princes of Hastinapur. Kripi and Dronacharya had Ashwathama as a son.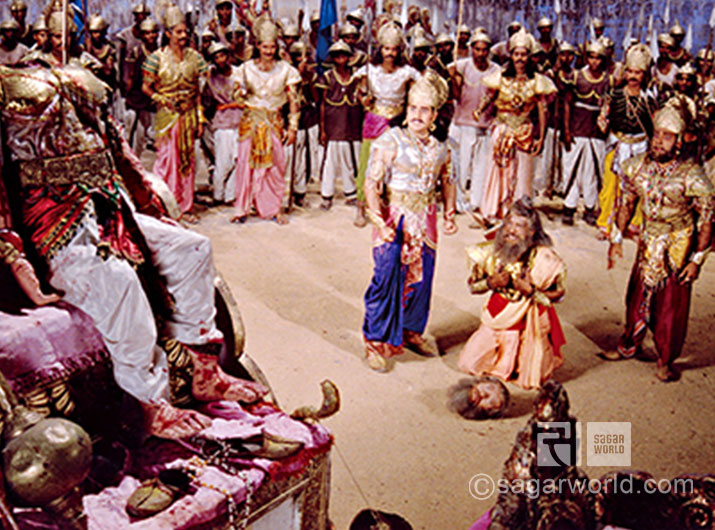 Ashwathama was Drona's son. Both father and son fought on behalf of Kauravas in the war of Mahabharata.
During the war of Mahabharata, on seeing Dronacharya's invincibility, Krishna forced truthful Yudhishthir to announce the death of Ashwathama (Ashwathama was also the name of a horse).
On hearing about his son's death, Dronacharya became slack and Dhrustdhruman, son of King Drupad took advantage of this and killed him by beheading him.
Thus, by using the name Ashwathama, Krishna convinced the truthful Yudhishthir to make an announcement and thereby got Dronacharya killed. Thus, Krishna played a trick with Drona and trapped him.    
Dronacharya's legend as a great teacher and warrior exceeds Hindu mythology by strongly influencing Indian social traditions. Drona inspires great debates about morality and dharma in the Mahabharata epic.